Celebrating 2020 with the Japanese Style at APARTMENT HOTEL MIMARU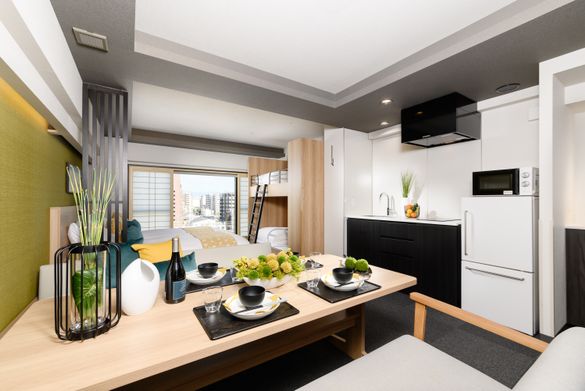 Overview of APARTMENT HOTEL MIMARU
Japan has a stereotype of everything being compact and this is often applied to hotels. However, APARTMENT HOTEL MIMARU will give you a pleasant surprise once you step in. Its spacious rooms could easily accommodate extended families as well as the bathroom where the whole family can experience the Japanese style bathing. While the food can be the issue for kids (especially those with allergies/ picky eaters), equipped kitchens dismiss parent's concerns by cooking what tailored to their needs. The smartphone supplied in each room can be taken outside to assist you when encountering a language barrier as it features Wi-Fi and AI concierge. Located in the centric, it is accessible to all the main public transportations which are essential means to explore around.
APARTMENT HOTEL MIMARU is proud to announce three new sites in winter.
Below are the details.
MIMARU TOKYO GINZA EAST will open on the 14th of November 2019.
Address: 4-4, Shintomi, Chuo-ku, Tokyo 104-0041, Japan
Website: https://mimaruhotels.com/en/ja-jp/ginza-east/?utm_source=travmedia&utm_medium=referral&utm_campaign=ginza-east
 MIMARU TOKYO UENO OKACHIMACHI will open on the 9th of January,2020.
Address: 1-17-1 Ueno, Taito-ku, Tokyo 110-0005, Japan
Website: https://mimaruhotels.com/en/ja-jp/ueno-okachimachi/?utm_source=travmedia&utm_medium=referral&utm_campaign=ueno-okachimachi
APARTMENT HOTEL MIMARU KAWARAMACHI GOJO will open on February, 2020
Spectacular Winter lights to be enjoyed by all family members
Here are some events where the whole family can enjoy to mark Japan journey.
Tokyo Mega Illuminaition (Tokyo)
https://tokyomegaillumi.jp/en/
With the unique combination of 'horse', 'culture' and 'people', the Oi horse racing track displays a new large-scale illumination with the latest technology. The site is divided in two zones 'TIME TRAVEL AREA' and 'TWINKLE MEGA TREE AREA' to showcase the past and present of Tokyo as well as the future image. Every area provides spectacular views illuminated with sparkling lights. The 'TIME TRAVEL AREA' brings visitors back in time to the most traditional and unique periods presented with the breathtaking display of lights. Kids will enjoy experiencing the traditional Japanese culture presented with the digital technology and be stunned by the Rainbow Fountain of Light which the lights and water dance together with the music (this is also played with Japanese traditional instruments- drums and shamisen) making them sparkle and shine.
Kyoto Arashiyama Hanatouro 2019
http://www.hanatouro.jp/e/arashiyama/index.html
Arashiyama is one of the popular tourist places in Kyoto. It has a lighting event 13/12- 22/12(Illumination hours: 5:30pm~8:30pm). Not only Arashiyama but other places such as Flower Arrangement Promenade, the entire Togetukyo Birdge Area and Bamboo Forests Walkways are also illuminated! All these sites are called as 'Arashiyama Flower Lightway.' (Japanese: Hanatouro)Strolling while enjoying the spectacular views will make your night unforgettable.  You will have a special access to the night temple with lights, which has extended opening hours only during this period. Your kids will never be bored of walking around and enjoying every moment of both natural landscapes and cultural heritage displayed with magical lights.
Experiencing the Japanese traditions for the New Year's
Traveling during the New Years to discover the hidden tradition of welcoming the new year.
The traditional bell ringing ceremony is being conducted on New Year's Eve. The temples across Japan will struck their bells 108 times. This number represents the evil desires that lead humans to suffer according to Buddhism. However, they are to be purified from the human's minds by ringing the bell. Most of the temples will offer visitors the opportunity to strike the bell. Trains and buses will operate throughout the night. All MIMARU sites are located close to the transportation and it will be a great chance to welcome the new year following the tradition. This ceremony is also shown on air so the whole family can observe the event in a spacious room provided by MIMARU.
Toshikoshi-soba and Osechi
Foods are another example to represent how unique Japanese tradition is. New Year Soba (Toshikoshi Soba) is a buckwheat noodle dish bowl served and eaten on New Year's Eve just before midnight. The long thin noodles would extend one's healthy life span with prosperity and it would also cut off all the difficulties and calamities of the old year. Despite being served at restaurants, most Japanese would make them at home. Ingredients are available anywhere at the supermarket or convenience store for those who want to experience cooking with the kitchen equipped at APARTMENT HOTEL MIMARU.
Osechi is also traditional food prepared only on New Year's Day. All the ingredients of Osechi have special meanings to pray for good health and great harvest for the new year. You can buy it at basement floors of a department store to enjoy with your family  in the spacious room. MIMARU has bilingual reception staff who can give you good advice about places where you can buy Toshikoshi-soba or Osechi. It is possible for parents with picky eaters to cook for them in the equipped kitchen as well. The smartphone can also assist you with finding good soba restaurant and guide you the way. MIMARU offers you everything to enjoy every single bite and experience the tradition with your family members.
Follow and Share with Jetsettersblog.