Celestyal Cruises Adds Thessaloniki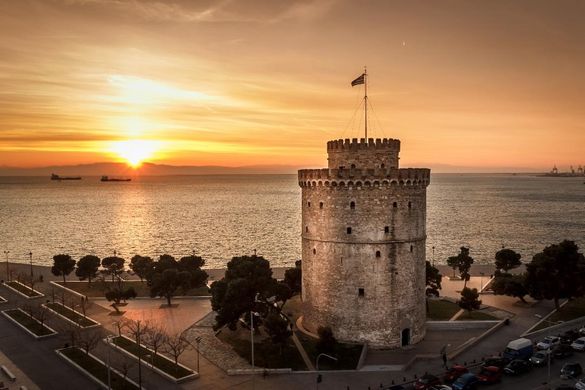 ATHENS, GREECE (January 27, 2021) –Celestyal Cruises, the award-winning, number one choice for cruise travelers to the Greek Islands and the Eastern Mediterranean has announced its return to cruising this spring.  Celestyal, one of the only cruise lines to consistently call upon Turkey, will also return to visiting Kusadasi when it sets sail this spring and adds Thessaloniki, the second largest city in Greece, to its popular seven night "Idyllic Aegean Itinerary." All 2022 and 2023 sailings with all-inclusive pricing start as low as $489, per person, and are currently bookable.
Destination-Enrichment Continues; Highlights Include Thessaloniki, Milos and Kavala
While Celestyal has always offered its guests the marquis destinations such as Mykonos and Santorini, the cruise line has also earned a reputation for being a "trailblazer" in taking travelers to more of the unexplored side of Greece as well as staying longer in port to allow deeper exploration than what is typically offered by other lines visiting Greece. This will continue once again in 2022.  On Celestyal's popular seven-night "Idyllic Itinerary," Celestyal will sail to Thessaloniki.  Celestyal is the only cruise line calling on a regular basis to the historic city of Thessaloniki. The city offers guests stunning Paleo Christian and Byzantine monuments, a UNESCO World Heritage Site, monuments to the famed "Alexander the Great," and the chance to explore the city's rich Roman and Sephardic Jewish heritage. Thessaloniki is also known as a "gastronomic paradise," sitting at the crossroads for trade and drawing upon ingredients from all over the Mediterranean and Asia, which are served in the city's renowned tavernas.  Thessaloniki serves as the gateway to Northern Greece and nearby Balkan drive markets.  As Greece's second largest city, Thessaloniki also offers robust airlift with competitive airfares to and from Northern and Western Europe, thus making cruising and Celestyal more accessible and affordable for these markets.
Celestyal will also return to the less-discovered island of Milos, which was recently named the "World's Best Island" by Travel + Leisure magazine and is an island traditionally not visited by most other cruise lines sailing larger ships. In the coming year, Celestyal will also extend its time in port in Milos from a half day to an entire day.  Additionally, this itinerary calls upon Mykonos, Santorini, Crete, Rhodes and Kusadasi (Turkey).  All-inclusive pricing on the seven-night "Idyllic Itinerary" starts at $1,019, per person.
Celestyal's "Eclectic Itinerary" includes Kavala, the northern, centuries-old Greek port city on the Thracian Sea, often referred to as the "blue city" due to its crystal-clear coastal waters and legendary scenic sea views from the Bay of Kavala, with a picturesque historic town unfolding high atop the triangular Panagia peninsula. This charming old town is comprised of a mosaic of winding lanes of red-tiled houses and a Byzantine fortress known as the Kastro.  Just nine miles from the center of the old town is the ancient city of Philippi, home to the first Christian church in Europe. Philippi became an important early Christian center following a visit to the city by Paul the Apostle in 49 C.E.  This itinerary also calls upon Thessaloniki, Santorini, Volos and Istanbul.  The "Eclectic Itinerary" also offers the option to embark and disembark in Istanbul, offering additional air connection options.   All-inclusive pricing on the seven-night "Eclectic itinerary" starts at $1,019, per person.
Celestyal Brings Back "Three Continents" Itinerary;
Introduces New Christmas and New Year's "Holy Land" Cruises
The end of 2022 will see the return of Celestyal's "Three Continents" seven-night itinerary, last operated in late 2019, calling on Greece, Turkey, Israel, Egypt and Cyprus.   This will be followed by two, exclusive holiday sailings, the ten-night Christmas special sailing calling on Thessaloniki, Izmir (Turkey), Rhodes, Limassol (Cyprus), Alexandria (Egypt) and an overnight visit in Haifa (Israel) to spend both Christmas Eve and Christmas Day in the "Holy Land," and the eight-night New Year's sailing with visits to Heraklion, Santorini, Volos, Kusadasi (Turkey) along with an overnight stay in Istanbul, to take in the New Year's Eve fireworks. This sailing is priced at $1,299, per person. Both sailings can be combined for an amazing, 18-night holiday event covering the whole of the Eastern Mediterranean starting at $2,399, per person.
"This past summer thanks to the dedication and hard work of Celestyal's crew, we were able to demonstrate our ability to safely return to cruising.  We are optimistic that our destination-centric itineraries to undiscovered and exciting destinations will continue to be well received by our core audience, which are 'travelers' by nature. Our confidence is supported by strong levels of interest, inquiry and bookings already for these itineraries next year and into 2023, which has been the catalyst to returning to year-round cruising," said Celestyal's Chief Commercial Officer, Leslie Peden.
For more information visit: https://celestyal.com/us/.
About Celestyal Cruises
Celestyal Cruises has fast built an award-winning reputation and earned recognition as the number one choice for cruise travelers to the Greek Islands and East Mediterranean thanks to its regional expertise and exceptional hospitality. The company operates two vessels, each one intimate enough to provide guests with a genuine and highly personalized experience. The foundation of the company's philosophy is built on a unique Greek heritage which combines outstanding hospitality with genuine cultural destination immersion and provides authentic, lifetime experiences both onboard and onshore.
Health & Safety
At Celestyal Cruises, our main priorities are compliance, environmental protection and the health, safety and well-being of our guests, crew and the communities we visit. As a member of Cruise Lines International Association (CLIA), we have pledged our commitment to adopt mandatory core elements of enhanced health protocols as part of a phased-in resumption of cruise operations.
Informed by leading scientists, medical experts, European and Hellenic health authorities, these protocols apply to the entire cruise experience. Our health and safety measures will be continuously evaluated and adjusted based on the current evolution of the COVID-19 pandemic in Europe as well as the availability of new prevention, therapeutics, and mitigation measures.
Awards      
Between 2014 and 2021 Celestyal Cruises has received top honors in the Tourism Awards, one of the largest and most prestigious awards within the Greek tourism industry. These include one Platinum, 14 Gold, nine Silver and five Bronze awards covering Guest Experience Excellence, Solo Travel, CSR Initiatives and Contribution to the National Economy. In December 2018 and 2019 Celestyal Cruises received the Cruise Critic U.K. Editors' Picks Award for Best Service. In February 2018 Celestyal Cruises received four Cruise Critic Cruisers' Choice Awards: two first place awards for Shore Excursions and Value, and two second place awards for Service and Entertainment. In 2019 and 2020, Celestyal Cruises was recognized for its overall contribution and commitment to the development of the cruise industry in the Eastern Mediterranean region at the MedCruise Awards.
Corporate Responsibility
Celestyal Cruises is deeply committed to sustainability and ethical business practices. The company actively supports the local communities in the destinations it visits, particularly in the field of education. Additionally, Celestyal Cruises supports cultural NGOs to promote youth entrepreneurship, marine student development and child welfare.
ISO Certification
The entire spectrum of Celestyal Cruises' ship management, including technical, hotel and crew management, and offices, are certified in accordance with ISO 9001/14001 standards. The certifying authority is DNV, which is by widely recognized as the biggest and most respected rating agency in the marine industry.
Follow us at:

Follow and Share with Jetsettersblog.