Chelsea Flower Show Tours From £695pp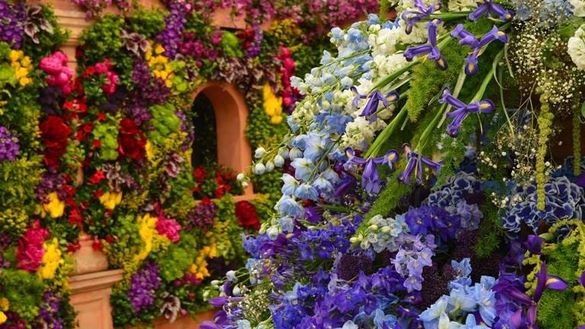 Specialist Journeys brands Andante Travels (www.andantetravels.co.uk, 01722 713800) and Brightwater Holidays (www.brightwaterholidays.com, 01344 657155) have both launched brand new itineraries that take in the RHS Chelsea Flower Show, which has this year moved to autumn for the first time in its 108-year history. Collectively, the companies have seen a 567% increase in bookings since the government shared its roadmap out of lockdown earlier this week and these new itineraries are available to book now.
Andante Travels' brand new History & Horticulture – Hampton Court & RHS Flower Show Chelsea tour will depart on 22nd September and starts from £975pp. Over four memorable days, this short break will allow guests to experience the myriad attractions of the iconic flower show itself and also pay a visit to the historic Hampton Court Palace, all in the company of an experienced tour manager. Combining both visits on the same tour offers guests a chance to compare the ways in which gardening has progressed over the years, looking at the cutting-edge design showcased at Chelsea and the legacy of Hampton Court's gardens, where first small knot garden was laid out in the early 1500s by Cardinal Wolsey.
Brightwater Holidays has three brand new itineraries on offer, which include a three-day behind-the-scenes short break led by a former Head Gardener to HM The Queen Mother, a four-day tour that visits the flower show in addition to some of London's most glorious gardens, and also a five-day holiday that combines the flower show with an exploration of the arts and gardens in England's capital.
The RHS Chelsea Flower Show – Behind-the-Scenes with Colin Crosbie
This unique, specially arranged tour is led throughout by Colin Crosbie, who will give guests personally guided tours of RHS Garden Wisley, of which he is a former Curator, and the RHS Chelsea Flower Show, with which he has been involved for many years and has visited 28 times. After an exclusive private dinner at Wisley, Colin will reveal the secrets of what goes on behind the scenes at the world's most famous flower show, as well as share anecdotes from his time both at Wisley and as a former Head Gardener to HM The Queen Mother in Windsor. The tour ends at the Savill Garden at Windsor and the hotel throughout will be the The Bailey's Hotel, South Kensington.
Departs 22nd and 24th September 2021, 3 days from £695pp.
Arts & Gardens of London and the RHS Chelsea Flower Show
This new tour combines the colour, prestige and excitement of the RHS Chelsea Flower Show with a stimulating blend of some of London's finest gardens, art galleries and historic houses. These include the National Gallery, home to countless art treasures; Eltham Palace, which marries medieval gardens with an Art Deco style; Syon Park, one of the last great houses of London with a wealth of art and Hampton Court Palace, one of London's must-see attractions. This tour will be led by horticulturalist, garden design consultant and broadcaster Trevor Edwards, who is one of Brightwater Holidays' busiest and most popular tour managers and has led many garden tours around the world.
Departs 21st September 2021, 5 days from £1,075pp.
The RHS Flower Show & Gardens of London
At four days long, this short break begins with a visit to RHS Garden Wisley, where the highest standards of practical horticulture are deployed in the setting of a splendid old site rich in fine trees against a backdrop of other plants. This is followed by a full day at the RHS Chelsea Flower Show and subsequent visits to the Royal Botanic Garden at Kew, Ham House & Garden in Richmond, Chiswick House & Gardens, Chelsea Physic Garden and the ultra-modern Sky Gardens in London's city centre. 
Departs 24th September 2021, 4 days from £695pp.
Both companies' tours will operate under an 11-step COVID-19 action plan, which includes steps such as sending out free 'travel safe' kits to guests ahead of departure, enhanced health and safety protocols, and coaches that allow for social distancing. Brightwater Holidays and Andante Travels can also offer guests travel insurance with specific cover for COVID-19 at an additional cost, and both companies are also offering risk-free bookings for 2021, with a free transfer or cancellation included up to eight weeks before departure.
Brightwater Holidays – Notes to Editors: With 29 years of heritage, Brightwater Holidays is a well-established specialist in quality, escorted garden tours. It won gold at the 2019 British Travel Awards in the Best Coach Holiday Company category as well as silver for Best Special Interest Holiday Company, and most recently it won Bronze at the 2020 British Travel Awards for Best Coach Holiday Company. The holidays it offers feature visits to a selection of the finest gardens in the UK and Ireland, Europe and worldwide, as well as the opportunity to see plants in their natural habitat. Itineraries have been carefully crafted and timed to ensure that gardens are looking their best, and special features of the tours often include guided tours with garden owners or designers, visits to private gardens, and behind-the-scenes visits to nurseries and even to potting sheds! As well as benefiting from an experienced Brightwater tour manager, there are often specialist hosts on the tours, too.
As well as gardening tours, Brightwater Holidays also offers a hand-picked range of scenic Scottish trips, including tours to Arran, Orkney and Shetland, the Outer Hebrides, and to Islay and Jura. Additionally, it has a growing portfolio of interesting archaeology holidays throughout the ancient world, escorted by suitably knowledgeable guides, as well as bespoke travel arrangements for private groups and societies.
Andante Travels – Notes to Editors: Founded in 1985, Andante Travels – part of the Specialist Journeys group – has grown to become one of the UK's leading specialist tour operators. The company has previously won the 'Best Small Holiday Company for Customer Service' title at the prestigious British Travel Awards, and thanks to the wonderful support of its travellers, it won the Best Special Interest Holiday and Best Holiday Company to the Italian Peninsula & Malta categories at the 2018 British Travel Awards, and was also shortlisted for the Best Cultural Tour Operator in the 2018 Silver Travel Awards. In 2019, Andante made the shortlist for the Marketing Excellence prize at the South Wilts Business of the Year Awards. It won two prizes at the Luxury Lifestyle Magazine Readers' Travel Awards and, most recently, the company won silver for Best Special Interest Holiday Company and bronze for Best Holiday Company to the Italian Peninsula at the 2019 British Travel Awards. 
Andante's tours have been named 'Trips of a Lifetime' by the National Geographic Traveler on five occasions and in 2018 it appointed Jackie Willis as its new CEO, who brought with her over 35 years of touring and travel experience. Over the years, the company has introduced thousands of people to the wonders of the ancient world. Its tours are all designed and led by renowned experts, who bring a unique, special insight to each site visited in every corner of the globe, and every one of its itineraries boasts exclusive access to either a museum or venue, a specific archaeological site or to a workshop. Andante's tours are peppered with hands-on, immersive experiences that offer an authentic taste of each destination and leave the guest with memories that will last long after they return home.
Specialist Journeys – Notes to Editors: Brightwater Holidays and Andante Travels are part of Specialist Journeys, a collection of escorted tour operators, each offering a highly individual style of special interest holiday. Each company retains a very individual feel and style, yet all share the ethos of providing a truly unique and magical holiday for their customers.

Follow and Share with Jetsettersblog.