Chicago ATTRACTIONS, TOURS and Sports News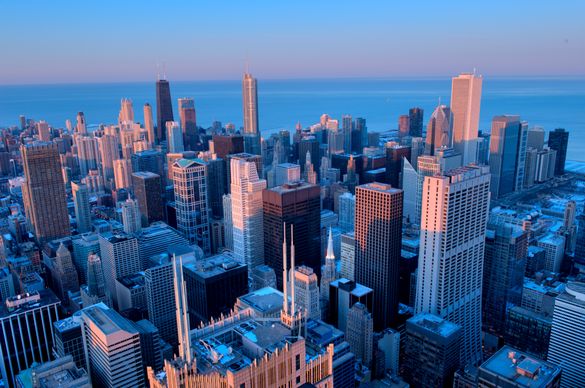 The first-ever Brick Safari is coming to Brookfield Zoo in Summer 2019. Beginning May 11, 2019 and continuing through September 29, 2019, more than 40 life-size animal sculptures will be swimming, stampeding and flying into Brookfield Zoo. Gaze upon wildlife sculptures created from millions of individual LEGO bricks. These never-before-seen-in-North-America LEGO brick sculptures will amaze kids, those young at heart and Adult Fans of LEGO. Walk past lions, tigers and bears, and you might even spot an elephant with his trunk held high or a silverback gorilla watching the crowd.
Chica-GO is offering a new off-the-beaten-path tour:Chica-GO Chocolate Walk with A Belgian. Who knows their chocolate better than the Belgians? Leentje De Leeuw was born and raised in Belgium, but moved to Chicago in 2014 and has been hosting walking tours in the city since 2015. The Chica-Go Chocolate Walk with a Belgianlaunched in January 2019 and includes a behind-the-scenes visit to the atelier of a Belgian chocolatier, chocolate history and, of course, many samples. These private tours require a minimum of four people.
Frank Lloyd Wright's iconic masterpiece, the Frederick C. Robie House, re-emerges fully restored Spring 2019. The Frank Lloyd Wright Trust's historic $3 million interior restoration reveals Wright's original 1910 vision. Considered one of the 20th century's most significant buildings, Robie House is the consummate expression of Wright's Prairie style of architecture and a showcase of his groundbreaking architectural philosophy. Conceived as an integral whole, where site and structure, interior and exterior, furniture, ornament and architecture come together, the residence is the most forward-looking of Wright's Prairie homes. The restored spaces brilliantly reflect Wright's concept of a dwelling place as a work of art.
Discover Chicago's hidden treasures with free, immersive self-guided tours that bring the stories of Chicago's vibrant neighborhoods to life through your mobile phone. Clustered around Milwaukee Avenue are a collection of craft breweries that are taking the brewing scene by storm. Choose Chicago's new Milwaukee Avenue Brews adventure takes you on a wild journey through this unique and wondrous world with stops at five of these noteworthy breweries. This free adventure and hundreds of others, including the Best Kept Secrets of Wicker Park adventure,  Explore Andersonville and Footsteps of Obama adventure, are powered by VAMONDE, the mobile  network for cultural discovery.

The 2019 Squash World Championships will take place in Chicago for the first time February 23 – March 2, 2019 inside Union Station's Great Hall. The championship offers a $1 million prize purse, squash's biggest prize money event. All of the sport's top 64 men and 64 women from all over the world will compete for the title of World Champion. The temporary arena will seat about 600 people and Chicago will host the tournament every other year through 2027.
The 2019 Big Ten Men's Basketball Tournament will be held in Chicago for the 10th time March 13 – 17, 2019, returning to the United Center for the first time since 2015. All 14 teams will advance to the tournament, with two first-round games slated for Wednesday, March 13. The top four teams will receive first- and second-round byes and advance to the quarterfinals on Friday, March 15. CBS Sports will provide coverage of the semifinals and championship game for the 22nd season.
For the first time, Wintrust Arena will host the Women's March Madness Regional for NCAA 2019 Division I Women's Basketball on March 30 and April 1, 2019. This game will determine the best in women's basketball that will advance to the Final Four.
From June 7 – 9, 2019, the Bears will hold the ultimate gathering of fans, players and alumni at the Donald E. Stephens Convention Center to celebrate their 100th Anniversary. The entire 2019 team and coaching staff, along with Bears Hall of Famers and alumni are scheduled to attend. The weekend will feature autograph sessions, photo opportunities, panels, memorabilia and merchandise sales, interactive games, kids activities, a walk-though Bears history zone and more. Bears100 Celebration Weekend is sponsored by Hyundai.
The 312 RiverRun will connect the surrounding Irving Park, North Center, Avondale and Albany Park neighborhoods to three parks with one path for approximately two miles. Once completed, 312 RiverRun will transform the riverfront neighborhood on Chicago's North Side into one of the city's largest recreational hubs that provides residents with an unobstructed network of parks and recreational amenities. It will extend across 95 acres with facilities and programming for every athletic activity supported by the Chicago Park District. The project kicked off with the groundbreaking Riverview Bridge, which is anticipated to be completed in Summer 2019. A second project, the Irving Park Rd. Bridge and Multi-Use Path, due to be completed in Summer 2020, will extend a pedestrian and bike path under Irving Park Rd. and link California Park to Horner Park north. Completion of the Riverview Bridge and the Irving Park Rd. Bridge project will establish the full 312 RiverRun, providing a continuous path from Belmont to Montrose.
Follow and Share with Jetsettersblog.