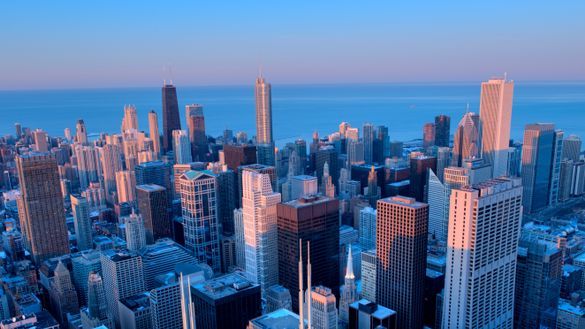 2020 is heating up in Chicago with the kick-off of the Year of Chicago Music, celebrating the city's iconic status as the birthplace of gospel, house, urban blues and modern jazz music. While dedicated, show-stopping music festivals will take place in Chicago throughout the year, crowds will also flock to the city for new hotels, creative dining options and newsworthy arts events such as the new Monet and Chicago exhibit at the Art Institute of Chicago and works by poet and photojournalist Jun Funjita presented by the Newberry Library and the Poetry Foundation. Check out what's new and happening in Chicago this winter and spring below, and visitwww.ChooseChicago.comfor more information.
ACCOMMODATIONS
The 21c Museum Hotel combines a 297-room boutique hotel, a multi-venue contemporary art museum and an independently branded, chef-driven restaurant in downtown Chicago. Building on the founders' mission to bring contemporary art to the public, the hotel has innovative exhibitions and programming that integrate art into daily life. 21c Museum Hotel features over 10,000 sq. ft. of exhibition, meeting and event space showcasing rotating curated exhibitions, interactive site-specific art installations and a roster of cultural programming based on collaborations with local and national arts organizations. Welcoming local residents and visitors alike, the museum is open to the public free of charge, 365 days a year. The property also features a unique food and beverage concept, full-service spa, business center and fitness center.
Offering 115 stylishly appointed guest rooms and suites, Nobu Hotel Chicago is centrally located in Chicago's West Loop Neighborhood and famed "Restaurant Row." Nobu Hotel Chicago will allow guests to enjoy an unmatched luxury dining experience; Indulge in new-style Japanese cuisine at the 10,000 sq. ft., world-renowned Nobu Restaurant on the ground level; and experience 'Nobu on the Roof' complete with elegant indoor and outdoor bar space looking out onto Randolph Street. The hotel is scheduled to open spring 2020.
Experience one of Chicago's most eclectic neighborhoods, Wicker Park, with a stay at the new Hyatt Place Chicago/Wicker Park. Nestled in one of the city's most vibrant neighborhoods, this hotel offers easy access to gourmet restaurants and casual taquerias, interspersed with charming boutiques and bustling coffee shops. Chicago's banner attractions—from the Loop to the Lake—are a quick drive or "L" ride away. The hotel is scheduled to open May 2020.
Hilton Chicago is thrilled to unveil and reintroduce its two newly redesigned iconic Imperial Suites, following an extensive renovation in late 2019. Positioned high above the lush gardens of Grant Park and calming waters of Lake Michigan, the historic north and south Imperial Suites that have crowned the hotel for over half a century have been transformed in an exciting bridge between past and present, where classic meets cool. Offering over 2,100 sq. ft. of space, each Imperial Suite features spacious accommodations with a King master bedroom and separate double bedroom. An expansive living room offers multiple nooks for lounging and admiring the views from the floor-to-ceiling windows. Each suite is also equipped with a dining table for eight, a nightcap station for in-room imbibing, and enough space to entertain up to 100 guests within. The north and south Imperial Suites are available for booking, with rates starting at $5,000 per night.
Opening spring 2020, the exclusive Curio Collection by Hilton Hotel will debut the 222-room hotel at Chicago's famous Navy Pier. The hotel will feature a state-of-the-art fitness center and a 30,000 sq. ft. rooftop restaurant, bar, and event space in addition to floor-to-ceiling windows offering unmatched views of Lake Michigan and Navy Pier.
JW Marriott Chicago, located in the heart of Chicago's financial district, proudly redesigns all 610 guest rooms including 29 suites, hotel corridors and the executive lounge. The hotel, which blends modern elegance into the Daniel H. Burnham Continental & Commercial National Bank Building, opened in November 2010 and is undergoing a multi-million-dollar guestroom renovation to be completed a decade after its inception. The transformation, under the design of Looney & Associates, is a nod to a storied past. Exemplifying a luxury rail car motif, Looney & Associates' design utilizes rectilinear lines and soft curves reminiscent of travel paths both past and present. Layered metal finishes, plush woven fabric, and dark wood tones signal the richness of the Pullman era while soothing neutrals are accented with saturated pops of color to convey comfort and authenticity. With a new sparkle from modern lighting, reminiscent of a conductor's lantern, guests will be transported to another time. JW Marriott Chicago will remain open for the duration of the renovation program, which is anticipated to be completed by spring 2020.
Chicago's old Cook County Hospital has been renovated into a dual-branded Hyatt House Hotel/ Hyatt Place, accompanied by medical office and retail space. The 14-story, 167,000 sq. ft., 200-room development will be the first hotel in the Fulton Market district to cater to extended-stay corporate travelers. Amenities will include an indoor pool, green roof, fitness center, bar and lounge. The hotels are slated to open in 2020.
O'Brien's Hotel will take residence on the site of Old Town's much-loved O'Brien's Restaurant and Bar and will feature 13 stories, with potential plans for a new O'Brien's Restaurant anchoring the site, a high-end restaurant on the second floor, and an open-air rooftop bar. The hotel is scheduled to open fall 2020.
The Reserve Hotel, a member of Marriott's Autograph Collection, will be a 234-room luxury hotel occupying the top five floors of the former Continental Bank building, where the JW Marriott Chicago is also located on the first 12 floors. The Reserve Hotel began construction in late 2018 and is expected to open in late 2020. With its location in a historic office building in the heart of Chicago's financial district and next door to the Federal Reserve Bank of Chicago, the design, finish and artwork throughout The Reserve Hotel will reflect the building's history and the story of the LaSalle Street financial district.
The Vista Tower has recently taken the spot as the third tallest building in Chicago. When completed, this Jeanne Gang-designed building will house the Wanda Vista Hotel, a 192-room contemporary hotel located in the low-rise portion of the tower. The hotel is scheduled to open mid-2020.
Scheduled to open in 2021, the 58-story Equinox will have 165-rooms and 370 residential units in the West Loop. It will include an on-site fitness club and parking for 150 vehicles accessible via Court Place.
Please note: Some hotel information has been compiled from publicly available sources. Project scope and completion dates are subject to change.
Follow and Share with Jetsettersblog.