Chimu Southern Aurora flights from AUSTRALIA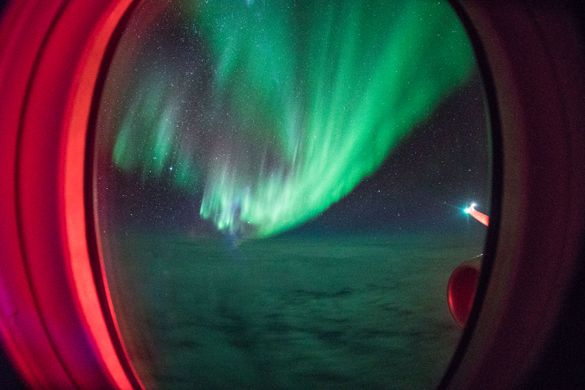 Latin America and Polar specialists, Chimu Adventures have today announced a unique opportunity for Australians to experience the magical Aurora Australis – often referred to as the Southern Lights – via a scenic flight.
Building upon the recent success from Chimu Adventures' sister company, Viva Expeditions in New Zealand, the 10-hour flights will provide Australian passengers with an unprecedented front-row view of the Aurora Australis. Departing and returning to Australia's major domestic terminals, lucky passengers will fly over the Southern Ocean towards Antarctica onboard a QANTAS Boeing 789 Dreamliner, surrounded by the spectacular dancing lights of the Aurora Australis.
For years, Australians have spent a small fortune travelling to the Arctic Circle in pursuit of the Northern Lights, and although the Southern Lights are equally impressive, few have had the opportunity to witness the Aurora Australis in person. The Southern Lights charter flights provide Australian travellers with unprecedented access to the remote Aurora zone at precisely the right moment. The flights will coincide with the Autumn equinox when auroras are brightest and most frequent.
With 30% larger windows compared to other Boeing aircraft, the Dreamliner is the perfect plane for passengers to take in the Aurora Australis. Flying high above the clouds hundreds of kilometres from any potential light pollution, lucky travellers will enjoy Qantas service in both business and economy classes. Expert astronomers will provide information on how an aurora is created, and a photography expert will be available to assist passengers with photographing the incredible scenes.
The flight itineraries have been carefully planned in consultation with renowned astrophysicist, Aurora hunter, and Director of the Otago Museum in New Zealand, Dr Ian Griffin.
Astronomer, Dr Ian Griffin has been Director of the Otago Museum since 2013. Originally from the UK, after falling in love with the clear dark skies of the Otago Peninsula he became a New Zealand citizen in 2018. A self-described aurora fanatic, Ian has led two successful Air NZ charter flights into the southern auroral zone. The first in March 2017 was an 8-hour flight on a Boeing 767 out of Dunedin, whilst the second flew on a Dreamliner from Christchurch in March 2018. On both flights' passengers enjoyed more than three hours of auroral displays as the aircraft flew thousands of kilometres south of New Zealand. Ian has also photographed the southern lights during five flights on NASA's SOFIA Observatory.
"I'm really excited about this charter flight. Flying into the southern auroral zone is a wonderful experience, and you never know quite what you are going to see, as I said on my return from the first flight; "We've travelled two-thirds of the way to the south pole, seen an incredible display of the southern lights, got lovely pictures, and we are home in time for breakfast" – Dr Ian Griffin.
Not only is this a rare and unique travel option for anyone in the world, it is also safe, exclusive and provides passengers with an incredible travel experience without effectively leaving their home state in Australia. And, although state border restrictions won't apply to these flights, should COVID cause the cancellation or delay of flights, passengers are covered by the Chimu Adventures Book with Confidence policy.
"We are thrilled to be bringing something to the Australian market that is not only an exciting product but exclusively accessible from our corner of the world. To be able to undertake such a rare experience, when so many other travel options have vanished, is just what the Australian travel population needs right now." Said Chad Carey, Chimu Co-Founder.
Southern Lights by Flight is sure to sell out fast. Please contact Chimu Adventures to secure your spot today.
the Chimu Adventures Southern Lights By Flight page for further details.
CHIMU ADVENTURES 
Founded in 2004, Chimu Adventures are The Latin America and Polar Travel Specialists. Australian owned, we are the go-to for all Latin America, Antarctica and Arctic travel requirements, from small ship expedition cruises to tailor-made itineraries and small group tours, plus all international and domestic flight and transfer arrangements. Our specialist knowledge means we can offer the best options for everything. We use our own operations on the ground to access to an immense range of accommodation and activities and work personally with our traveller's style and budget, tailoring to their individual needs.
Our team is committed to the destinations which we operate in and are proud members of the International Association of Antarctica Tour Operators (IAATO), the Council of Australian Tour Operators (CATO) International Galapagos Tour Operators Association (IGTOA) Adventure Travel Trade Association and Latin America Travel Association. For more information visit www.chimuadventures.com
Follow and Share with Jetsettersblog.