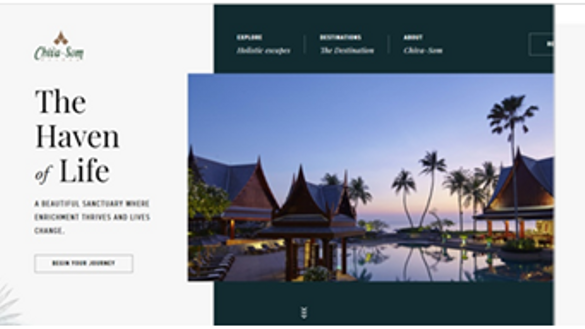 ---
London, 10 April: Chiva-Som International Health Resort, which enjoys a reputation as a pioneer in global wellness, is proud to unveil its new website. The latest enhancement to be announced in a series of developments at Chiva-Som, including a resort-wide renovation and a new visual identity, the new site allows guests to book online for the first time ever.
The new site has a clean, elegant look that is reflective of the calm and serenity guests find at the resort in Hua Hin. Navigation is simplified with enhanced information about all elements of the Chiva-Som journey. Beautiful new imagery has been commissioned to inspire and digitally transport users to the 'Haven of Life'.
A Live-Chat function ensures that Chiva-Som's famed personalised hospitality is available at all touch points.  As part of Chiva-Som's dedication to offering wellness retreats tailored to each guest, users will be able to search the new 'Explore' feature using a series of pre-programmed wellness goals which then intuitively provides suggestions based on their selection.  Each retreat, treatment and activity has been categorized into searchable wellness criteria to clearly outline its objective. For instance, guests selecting the 'Yoga for Life' retreat will see that the retreat is suitable for those looking for 'Emotional & Mental Balance', 'Mindfulness', 'Relaxation' and 'General Health Improvement'.
The resort's famed philosophy of enabling lasting lifestyle changes by educating and inspiring guests to carry on their learnings and healthy lifestyle habits when they return home will be available to users in an ongoing series of topical posts on the brand new Chiva-Som blog and through regular e-newsletters titled 'The Wellness Journal'. Loyal Chiva-Som guests can subscribe to the e-newsletter by submitting their details through the new website.
The new website is part of a brand-wide strategy which will see Chiva-Som relaunch into a new era of wellness.
-ENDS-
ABOUT CHIVA-SOM
Chiva-Som Hua Hin is Asia's first comprehensive wellness resort, providing proven transformations towards optimal wellness.  Nestled in seven acres of tranquil grounds, it's a beachfront resort dedicated to revitalising the mind, body and spirit (represented by its tri-part logo).  Western practices and Eastern philosophies are brought together in the wellness resort which provides services for guests to develop healthy habits and lifestyle transformations; it has been recognised by readers and industry experts alike as one of the outstanding wellness resorts in the world for since its launch 23 years ago.
The Resort is committed to operating at the world's highest environmental standards in all levels of operation. Since its launch, the Resort has been dedicated to operating as ethically and sustainably as possible.  Their dedicated CSR team has implemented many initiatives, policies and practices for energy efficiency and conservation, waste water treatment and reuse, fresh water conservation, waste minimisation and recycling, air quality management and environmentally friendly product usage.
A few other recent awards include:
'Top 5 of Favourite Destination Spas' – 'Condé Nast Traveller Reader's Travel Awards 2017' (India)
'Green Era For Sustainability Award'- Otherways Association Management & Consulting Awards 2017
'Asia's Best Wellness Retreat 2017' and 'Thailand's Best Wellness Retreat 2017' – World Spa Awards 2017 (UK)
'Medi Spa of the year' –  Asia Spa Awards 2017
'Outstanding Wellness Spa Destination in Thailand' – Asian Lifestyle Tourism Awards 2017
'Top 6 of the Best Overseas Luxury Health and Wellness Property 2017 (1st Runner up)' – Luxury Travel Award (Australia)
'Best Global Wellness Resort of the Year' – Spa China Awards 2017
'Top 5 of the Top 20 Destination spas, the number 1 Destination spa in Asia' – Condé Nast Traveller's Readers' Travel Awards 2017
'Top 10 International Destination Spa' –  Travel & Leisure World's Best Reader's Choice Awards
'Top 3 wellness retreats worldwide (runner up)' – Traveller's World Magazine (Germany)
'The World's Best Destination Spa' – Condé Nast Traveller magazine (UK edition) Readers' Travel Awards 2016
'The Best Overseas Hotel (Top 10)' – Voyage Magazine's 2016 Best Value Awards (China)
"The Best Overseas Hotel (Top 10) 'Best International Small Hotel' and 'Best International Spa Hotel'- International Hotel Awards 2016
'Best Wellness Spa + Health Management resorts around the World' – Conde Nast Traveller China Reader's Choice Awards 2016
'Best Luxury Wellness Resort, Thailand 2016' – Global Brands Magazine Awards 2016
The beachfront resort is located in the town of Hua Hin, which lies 185 km south of the capital of Bangkok. It can be reached by car in less than three hours, private plane in 25 minutes from Bangkok and chartered helicopter in 40 minutes from Bangkok.
For further information on Chiva-Som please contact: Kate Faulkner (kate@bacall.net), Kerry Skinner (kerry@bacall.net) or Flora Gandolfo (flora@bacall.net) at Bacall Associates, tel: +44 (0)20 7630 2880
Follow and Share with Jetsettersblog.