Chiva-Som Zulal Wellness Resort, Qatar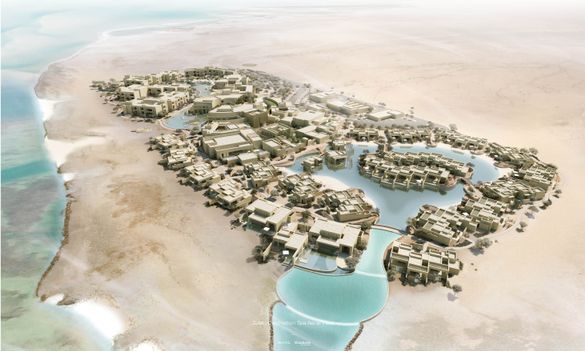 ---
Chiva-Som International Health Resort has announced the launch next year of Zulal Wellness Resort, a new wellness destination in Qatar.  It will be the largest wellness destination in the country, the Middle East's first full-immersion wellness resort, and the world's first centre for Traditional Arabic Integrative Medicine (TAIM), slated to open in the second quarter of 2020. Msheireb Properties, Qatar's leading developer, has appointed Chiva-Som to operate and manage the resort in Khasooma, a private coastal location to the north of Qatar. This is the first management and operating contract undertaken by market-leading wellness resort brand Chiva-Som, whose flagship in Hua Hin, Thailand has won global acclaim.  Representing a key departure for Chiva-Som, the resort will encompass a family wellness offering alongside its more familiar adults-only formula.
The name "Zulal", which refers to "purified water", is inspired by a people's historic journey across land to the sea and the ever-present search for water, the seed of life – a concept that encapsulates the history, culture and heritage of Qatar. Drawing on Chiva-Som's many years of expertise catering to an exacting global audience whilst retaining an inextricable connection with the local culture, Zulal Wellness Resort will offer the highest international service standards rooted in traditional Qatari hospitality. Spanning 280,000 square metres, the resort is around one hour's drive from Qatar's international hub of Doha, offering excellent accessibility from across the globe. A specially developed menu of Arabic and Mediterranean wellness cuisine, as well as cutting-edge architecture and services inspired by local heritage, will ensure the position of Zulal Wellness Resort as a true showcase of Qatari culture, both traditional and modern.
Reflecting Arabic values, Zulal Wellness Resort will actively cater for families alongside its adults-only offer. Underpinned by the belief that wellness is for everyone, the estate will feature a Family Wellness Resort with 120 guestrooms and suites which will welcome guests of all ages, promoting family bonding through shared experiences whilst also offering dedicated children's activities. As part of Chiva-Som's commitment to always respond to guests' feedback and demands, the development of the family offer represents an opportunity for families to experience, learn and practice wellness together, introducing children to healthy living from an early age. The adjacent Wellness Resort with 60 suites and villas will cater for individuals, couples and groups of adult wellness travellers looking for total immersion and world-class programmes and facilities.
Msheireb Properties worked on the resort's design, which reflects the inspiration for the name whilst echoing the principles of the Chiva-Som flagship in Thailand. Landscaping will feature ponds and water features arranged around a series of serene shaded walled gardens; a narrative inspired by memories of sea-bound travellers finding welcoming shelter in local villages.
Chairman and CEO of Chiva-Som International Health Resort, Mr. Krip Rojanastien, said of the launch:  'We are delighted to announce the opening next year of this project, on which we've been collaborating with Msheireb Properties. This is the first time we have embarked on a management and operating contract since the opening of our resort in Hua Hin in 1995.  We are excited and proud to have created something completely new with Zulal Wellness Resort, which is the first in the world to showcase Traditional Arabic Integrative Medicine (TAIM), whilst retaining the Chiva-Som DNA at every touchpoint.   The ability to serve families in particular offers guests great flexibility, and we hope it will inspire wellness for a new generation.'
Ali Al Kuwari, Acting CEO of Msheireb Properties, said: "We are very excited to collaborate with Chiva-Som to operate Zulal Wellness Resort. Our mission as a national real estate developer is to build communities and developments that enrich and enhance the way people live, work and thrive, while remaining true to our Qatari and Arabic cultural heritage. This partnership with Chiva-Som enables us to provide the best in ancient Arabic medicine, not just in Qatar, but across the entire region. Zulal Wellness Resort will no doubt contribute to the growth of wellness tourism in the country."
Staying true to Chiva-Som's core principles, the resort will operate sustainably and adhere to environmentally friendly practices, as well as using some locally developed speciality products.  Exceptional facilities will set a new standard for health resorts the world over, featuring fully integrated holistic programmes alongside state-of-the-art international treatments.
ABOUT CHIVA-SOM
Launched in 1995, Chiva-Som Hua Hin is Asia's first comprehensive wellness resort, providing proven transformations towards optimal well-being.  Nestled in seven acres of tranquil grounds, it's a beachfront resort dedicated to revitalising the mind, body and spirit (represented by its tri-part logo).  Western practices and Eastern philosophies are brought together in the wellness resort which provides services for guests to develop healthy habits and lifestyle transformations; it has been recognised by readers and industry experts alike as one of the most pioneering wellness resorts in the world since its launch.
Since its launch, the Resort has been dedicated to operating as ethically and sustainably as possible.  A dedicated sustainability team has implemented many initiatives, policies and practices for energy efficiency and conservation, waste water treatment and reuse, fresh water conservation, waste minimisation and recycling, air quality management and environmentally friendly product usage.
Some recent awards include:
'1st in Best Spa'- Traveler's World Magazine 2019 (Germany)
'Top ranked Asian Spa in Top 20 Destination Spas'- Conde Nast Traveler The Readers' Travel Awards 2018 (UK)
'Top 5 Favourite Destination Spa'- Condé Nast Traveler Reader's Travel Awards 2018 (India)
'Thailand's Best Wellness Retreat 2018'- World Spa Awards (UK)
'#13 of Top 25 in Asia, Best 100 Spa List'- Condé Nast Traveler (China)
'Green Era For Sustainability Award'- Otherways Association Management & Consulting Awards 2017
'Medi Spa of the year' – Asia Spa Awards 2017
'Outstanding Wellness Spa Destination in Thailand' – Asian Lifestyle Tourism Awards 2017
'Top 6 Best Overseas Luxury Health & Wellness Property 2017 (1st Runner up)' – Luxury Travel Award (Australia)
'Best Global Wellness Resort of the Year' – Spa China Awards 2017
The beachfront resort is located in the town of Hua Hin, which lies 185 kms south of the capital of Bangkok. It can be reached by car in under three hours, private plane in 25 minutes from Bangkok and chartered helicopter in 40 minutes from Bangkok.
ABOUT MSHEIREB PROPERTIES: A national real estate development company and a subsidiary of Qatar Foundation established as a commercial venture to support the foundation in achieving the Qatar National Vision 2030. The company aims to enrich people's lives and improve the overall quality of how they live, work and thrive by creating modern, innovative, and authentic developments.
Msheireb Properties partnered with industry leaders and experts in order to align the architectural lessons of the past with the latest in eco-friendly technologies, in order to employ a new approach to urban planning; one that combines traditional methods and modern technology to preserve the environment as well as the cultural identity of Qatar.
An emerging leader in sustainable development, Msheireb Properties' new language is used to create buildings of a shared DNA, reviving local heritage and culture through a unified architectural idiom. Its signature project, Msheireb Downtown Doha, is developing a blueprint for sustainable urban regeneration. Msheireb Properties received ISO certification from the British Standards Institution for quality
(ISO 9001:2015), environmental performance (ISO 14001:2015), occupational health and safety (BS OHSAS 18001:2007), and Risk Management Standard (ISO 31000:2009).
Follow and Share with Jetsettersblog.