Christophe Harbour, St. Kitts Finish Line for Panerai Transat Classique 2019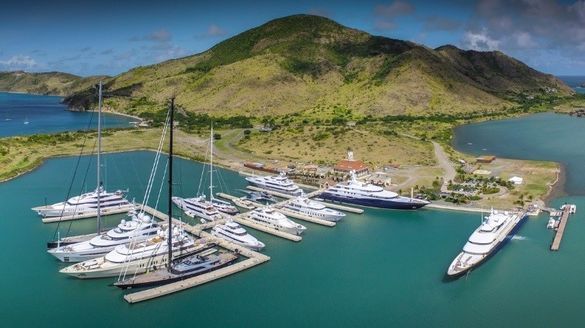 ---
December 2018, London UK: Christophe Harbour, the 2,500-acre resort and superyacht marina destination on the Southeastern Peninsula of St. Kitts, will be the finish point for the prestigious Panerai Transat Classique 2019—a transatlantic race for some of the world's most beautiful classic sailing yachts.
On January 8, 2019, some 20 classic sailing yachts will depart Lanzarote in the Canary Islands traveling nearly 3,000 miles to arrive at Christophe Harbour in St. Kitts approximately two weeks later.
Organised by the Atlantic Yacht Club in partnership with high-end sports watchmaker Officine Panerai, the Panerai Transat Classique race has become a firm fixture in the offshore racing calendar, and following a century-long history of yachting, has established itself as the benchmark for offshore sailing navigation.
The participating yachts and their crews will compete tactically using their seafaring skills to negotiate the archipelago of the Canary Islands, taking full advantage of the trade winds and then tackle the Antilles passing by the island of Antigua from the north or the south, before crossing the finish line at Christophe Harbour in St. Kitts.
"We are very honoured to host this prestigious event in partnership with race organizers, the Atlantic Yacht Club and Officine Panerai and anticipate exceptional exposure for Christophe Harbour and for the Federation of St. Kitts and Nevis as a result," said Christophe Harbour CEO Charles P. "Buddy" Darby III.
"Not only will we host some of the world's most beautiful classic sailing yachts, we also anticipate 200+ elite guests, including yacht owners and guests, captains, crew and some of the world's most influential yachting media in attendance throughout the event. This exposure will certainly be a boon for Christophe Harbour and the Federation of St. Kitts and Nevis as we share our destination with the world on an unprecedented scale," he added.
Designed by Loïc Blanken and François Séruzier, the Transat Classique has been held in 2008, 2012, and 2015. The 2019 race marks the first time the event has been held in St. Kitts and Nevis. With its yachting sector on the rise, St. Kitts and Nevis is poised to welcome the world to its shores.
"I am extremely pleased that St. Kitts was selected as the host destination for this exalted event," said Mr. Lindsay F.P. Grant, Minister of Tourism, International Trade, Industry and Commerce.
"It is a testament to the growth of our yachting sector and the singular appeal of our unique tourism product to be chosen from among all islands in Caribbean, including those well-established among the yachting community, to be the finish line for this race."
Ms. Racquel Brown, CEO of the St. Kitts Tourism Authority, added, "Hosting a regatta of such international prestige and on so grand a scale is yet another historic first for St. Kitts.  We are sincerely looking forward to hosting the yachts along with their owners and crew and showing them the very best that St. Kitts has to offer."
Notes to Editors:

CHRISTOPHE HARBOUR
Under the long-term stewardship of Charles P. "Buddy" Darby III, who created the extensive leisure and real estate destination of Kiawah Island in South Carolina over a period of three decades, Christophe Harbour is an integrated luxury residential resort community with shorelines along the Atlantic Ocean and the Caribbean Sea. Christophe Harbour's topography ranges from 1,000-foot beautiful volcanic mountains and plateaus to tur quoise bays and white-sand beaches. The community features a world-class superyacht marina accommodating berths up to 91m. It is surrounded by oceanfront and hillside homesites, custom homes, turnkey villas, a members-only Pavilion Beach Club, and the award-winning beachside bar, SALT Plage. Quickly becoming the Caribbean's leading destination for superyachts and luxury island living, Christophe Harbour welcomed the Caribbean's first Park Hyatt St. Kitts Christophe Harbour in 2017. The resort will also include a Tom Fazio championship golf course.
www.christopheharbour.com Twitter @ChristopheHrbr | FB and Insta @ChristopheHarbour
Marina at Christophe Harbour VHF71
KITTS AND NEVIS
Intoxicating natural beauty, sunny skies, warm waters, and sandy beaches combine to make St. Kitts one of the most seductive spots in the Caribbean.  Located in the northern Leeward Islands, it offers a diverse tourism product developed from the destination's natural beauty, cultural heritage and rich history.  The island's stunning variety of tourism attractions include hiking through the tropical rainforest, riding the scenic railway that connects the island's former sugar plantations, visiting the Caribelle Batik factory, and touring Brimstone Hill Fortress National Park, which is an UNESCO World Heritage Site. Among the more traditional vacation pastimes available are watersports including catamaran cruises, golf, shopping, tennis, dining, gaming at St. Kitts' exclusive casino or simply relaxing on the beach.  For more information about St. Kitts, visit www.stkittstourism.kn.
OFFICINE PANERAI
Founded in Florence in 1860 as a workshop, shop and school of watch-making, for many decades Officine Panerai supplied the Italian Navy in general, and its specialist diving corps in particular, with precision instruments. The designs developed by Panerai in that time, including the Luminor and the Radiomir, were covered by the Military Secrets Act for many years and were launched on the international market only after the brand was acquired by the Richemont Group in 1997. Today Officine Panerai develops and creates its movements and watches at its Neuchâtel manufacture. Its watches
are a seamless melding of Italian design flair and history with Swiss horological expertise. Panerai watches are sold all over the world through an exclusive network of distributors and Panerai boutiques. www.panerai.com
ATLANTIC YACHT CLUB
Atlantic Yacht Club has been established on very strong foundations consisting of a mixture of key ingredients: sailors and skippers having performed outstanding offshore races, passionate people willing to expand the boundaries of classic offshore challenges, and gentlemen wishing to maintain a strong spirit fair play in line with the finest tradition of seaman ship. After only few years of life, Atlantic Yacht Club has brought together an outstanding group of distinguished sailors who have together
already sailed hundred thousands of miles of offshore races around the Globe. Atlantic Yacht Club makes all its efforts to make this Panerai Transat Classique 2019 a memorable event which will be second to none for all participants and lovers of classic yacht challenges.
Follow and Share with Jetsettersblog.