Colorado Ski News for the 20/21 Winter Season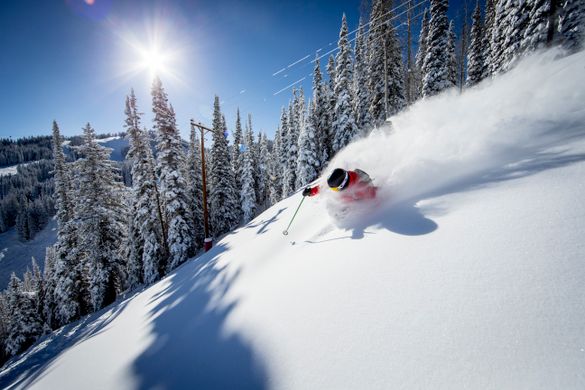 ---
We cannot wait to escape to the mountains for the coming 20/21 winter ski season. With February half term in Europe falling on the same week across, the slopes will be packed and the prices high, which is why it's time to look further afield to where you can beat the crowds. From breathing in the fresh mountain air in Colorado or skiing California's highest peak, to enjoying exquisite food in Japan having indulged in the world renowned backcountry powder.
With 2021 being the year to escape it's time to get planning and booking! Please see some exciting ski news on what's coming to the 20/21 winter season.
USA
Copper Mountain, Colorado to welcome its a new hotel in October 2020
Copper Mountain, Colorado will welcome a new hotel, Element 29 in October 2020. The anticipated four-story hotel will have 127 guest rooms containing sophisticated, modern finishes, and with its proximity to Center Village, guests will be a short walk away from retail, dining and outdoor adventure. With a spectacular panorama of Copper Mountain and the Sky Chutes, the property will feature an outdoor patio nestled along West Tenmile Creek complete with fire pits and two hot tubs, giving guests a chance to unwind and soak in the views after a day on the slopes.
The hotel is part of Copper Mountain and POWDR's $100 million investment in the area, with the aim of enhancing the guest experience. Guests can book now to experience the new Element 29 by visiting CopperColorado.com.
About Copper Mountain
Located just 75 miles west of Denver, Colorado, in the heart of the Rocky Mountains, Copper Mountain Resort is an ideal vacation destination with a laid-back and inclusive vibe that represents the best of Colorado. Three pedestrian-friendly village areas provide a vibrant atmosphere with lodging, retail outlets, restaurants, bars and family activities. During the winter months, Copper's naturally-divided terrain offers world-class skiing and riding for all ages and abilities. Each summer, the mountain transforms into an unspoiled playground for hikers, mountain bikers and those seeking a genuine Colorado experience. Copper Mountain Resort boasts curated events year-round and is home to Woodward Copper – a lifestyle and action sports progression center. Copper Mountain is part of the POWDR Adventure Lifestyle Co. portfolio, a family-owned company that believes there is nothing better for the soul than to spend time with the people we love, doing the things we love.
New Big Burn Chairlift Renaissance Continues in Snowmass, Colorado
This summer, Aspen Snowmass, Colorado replaced the Big Burn lift on Snowmass with a new six-passenger, high-speed chairlift. The new $10.8 million chairlift will have a ride time of almost seven minutes and is another substantial investment on the long list of recent improvements that have taken place at Snowmass in recent years.
The wider Snowmass renaissance has seen the likes of a new on-mountain restaurant called Sam's, which opened last season and offers a modern Italian concept, as well as the significant Snowmass Base Village (SBV) development, which includes the build-out of a new Limelight Hotel Snowmass, a large Four Mountain Sports rental/retail store, an ice skating rink, The Collective Snowmass community building, and new restaurants and shops.
Vail Resorts, Colorado announces plans for 2020/21 ski and snowboard season with comprehensive focus on safety
This season, Vail Resorts' unrivaled commitment to safety takes on more importance than ever amid the COVID-19 pandemic. Vail Resorts has developed a comprehensive plan for all 34 of its North American resorts with the goal of ensuring a safe, enjoyable and successful ski and ride season. Key changes outlined in the plan include:
Guests will be required to wear face coverings to get on the mountain and in all parts of resort operations, including in lift lines and riding in lifts and gondolas.
To maintain physical distancing on our chairlifts and gondolas, we will only be seating related parties (guests skiing or riding together) or: two singles on opposite sides of a four-person lift; two singles or two doubles on opposite sides of a six-person lift; or two singles on opposite sides of our larger
gondola cabins.
Ski and ride school will be offered and on-mountain dining will be open, but with changes to help keep guests safe.
Mountain access will be managed to ensure guests have the space they need. As such, the Company announced a mountain access reservation system and limits on lift tickets to prioritize its pass holders.
Vail Resorts plans to kick off its North American ski and snowboard season with Keystone opening on 6 November, weather permitting.
The Treehouse Kids' Adventure Center Sees Remodel of Check-In Space, Aspen
The Treehouse Kids' Adventure Center is a multilevel, approximate 16,000 square-foot childcare and ski school facility in Snowmass Base Village. The facility is the main access point in Snowmass for both childcare and children's ski school with rentals, childcare and ski school all under one roof. The first of its kind in the ski industry, the Treehouse brings the great outdoors inside with Colorado-themed playrooms such as the Butterfly Room, the Trout Haven Room, the Beaver Lodge room as well as a multi-layered climbing room for exploration.
This summer, the remodel will change approximately 4,000 square-feet of the interior on the check-in level with the goal of better flow, expediency and guest experience for children's Ski & Snowboard School registration. Ultimately, the remodel will help both kids and parents get out on the hill faster and enjoy more time on the slopes.
Aspen Meadows Resort is operating under new health and eco standards
Aspen Meadows Resort, located in Colorado, has taken significant steps to increase its sustainability and environmental credentials as it reopens. The resort has acted on reducing its carbon footprint whilst adhering to increased health and safety standards. The resort's initial actions began with eliminating all single-use plastics replacing them with reusables that have a specialised sanitation system. Aspen Meadows Resort has successfully removed all single-use items from guest rooms saving approximately 22,000 plastic bottles from landfill this year alone. The resort has reduced its carbon emissions by 59% through the introduction of solar, wind and hydro generated energy.
Richard Stettner is leading the initiative, he notes: "We know that the climate crisis will not wait for a more convenient time, so it's imperative that we move forward in making changes that will benefit our employees, guests, community, and planet by reducing our greenhouse gas emissions,".
The resort and its restaurants are operating at 50% capacity under new COVID-related guidelines along with offering reduced rates to $107/night.
Badger Pass, Yosemite National Park, California
Enjoy the oldest ski resort in California! Often touted as one of the most family-friendly ski areas, Badger Pass Ski Area offers downhill skiing, snowboarding, cross-country skiing, tubing and more.
Badger Pass Ski Area makes the mountain experience stress-free with a friendly, affordable ski and snowboard area that's perfect for skiers and riders of all levels. The Badger Pass Ski Area is open from mid-December through mid-March, conditions permitting.
Badger Pass Ski Area visitors love the convenience of vacation rentals in nearby Yosemite West. Find a range of places to stay in Yosemite Valley or just outside the park in Fish Camp, El Portal, and Mariposa. Backcountry travellers can cross-country ski or snowshoe to the rustic Glacier Point Ski Hut.
Additionally, visitors can try the 10.5 miles cross-country ski to Glacier Point's famous vista, where majestic granite peaks and domes stand in snow-capped glory. The Glacier Point Ski Hut offers gourmet food and wine, a bone-warming wood stove, and cozy bunk beds. Experienced cross-country skiers can easily make the trip solo, but for those who are new to the sport, sign up for a guided tour.
How Hokkaido's ski resorts are staying safe post-Covid, Hokkaido
In response to Covid-19, Hokkaido Prefecture launched the 'New Hokkaido Style' campaign, encouraging new lifestyle habits and business customs as part of a new normal. In the resort, protective screens at desks, sanitation of high-touch areas, provision of hand sanitiser, floor stickers for social distancing, daily health checks for employees and temperature and travel history checks for guests are just a handful of the industry-wide approaches that have already been incorporated. Rusutsu resort in Hokkaido is operating reduced capacity on its airport transfer buses in order to better assure social distancing and gondolas are being disinfected between each ride. Kiroro resort has introduced digital menus in its restaurants, as well as implementing a strict guided seating process led by restaurant staff members. Over 500 ski resorts in Japan are operated by hoteliers all of which have brought their own supplementary initiatives to safety measures helping to keep ski resorts up and running in a safe way.
Nozawa Onsen unveils new gondola system, Nagano
Nozawa Onsen resort has announced a new gondola system will be unveiled in time for the 20/21 season. Nozawa Onsen Village is located at the foot of the ski resort spanning across three main areas covering 730 acres. The new gondola will replace the existing system, reducing travel time from 16 minutes to just eight minutes, skipping the mid-station stop making the resort more accessible. Nozawa Onsen ski resort in Nagano is already well set up to welcome international guests and even has a local micro brewery producing beer from the fresh onsen water. This resort has a fully preserved traditional town centre which is extremely rare within ski areas, meaning travellers can enjoy the unique Japanese culture both on and off the slopes.
Nest rebrands as Miru Collection, Niseko
Niseko based hotel Nest, has rebranded as Miru Niseko, part of the Miru Collection group. Miru Niseko is located an eight minute drive from Niseko Mt. Resort Grand Hirafu and Niseko Village Ski Resort. Miru, meaning to see or look in Japanese, embodies a refreshed point of view. Representing a union of design, nature and culture, each of the hotels within the group has a distinct mix of thoughtfulness and surprise, inspired by the richness of its location. Miru Niseko is made up of hotel rooms, apartments and lodges to suit the needs of all guests.
Perfect for a winter getaway, Hangetsukohan Natural Park and Niseko Annupuri International Ski Area are within a 15-minute drive from the property.
The Spirit of the Mountain Welcomes Visitors back to Niseko
Hokkaido's most famous resort area, Niseko, has released a new campaign titled 'The Spirit of the Mountain' to showcase the region and reinvigorate tourism. Niseko Tourism is spearheading the project with the goal of welcoming visitors back to the four-seasons resort. The campaign video reveals to the world 'The Spirit of the Mountain' featuring the faces of dozens of the region's most well known and loved personalities – including the mayors of the three towns that encompass the region. This new video illustrates the depth of the spirit that resonates through Niseko's seasons, with the winter season on the horizon it is the perfect place to escape to.
Ritz-Carlton Reserve in Niseko Village, Japan
Opening in December 2020 Ritz-Carlton Reserve in Niseko Village will bring an unparalleled level of luxury to Japanese skiing. Ski-in ski-out adjacent to the Village Express within the heart of all-season Niseko Village, Ritz-Carlton Reserve adheres to the ethos – providing guests with an exclusive hand-selected "hideaway" destination in a relaxed and casually elegant atmosphere.
Soyumura Village 229 Ski Land Snow Festa, Hachinohe, Japan
Soyumura 229 Ski Land is the southernmost ski resort in Aomori Prefecture located in Tako-cho, north Japan. Soyumura 229 Ski Land offers visitors an abundance of snow. There are plenty of slopes for both beginner and advanced skiers. The slopes are family friendly making it the perfect place for first time skiers and those travelling with kids. 229 Ski Land Snow Festa is a fantastic event that can be enjoyed by children and adults. Family activities include hunting for treasures in the snowy mountains, making snow lanterns, taking part in dual-ski/snowboard races and more. The resort showcases a spectacular fireworks display in the evening for visitors to marvel at.