Colorado's Pikes Peak Region New Winter Wonders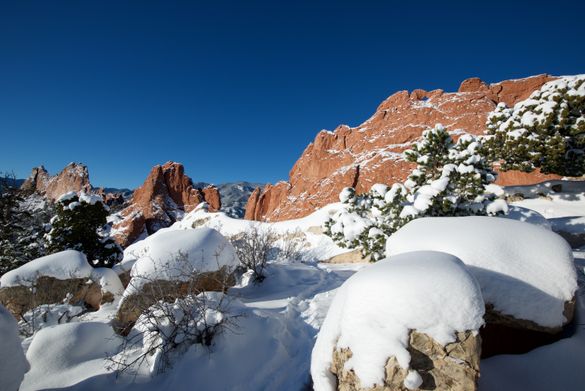 ---
Pikes Peak Region Offers New Winter Wonders
Colorado Springs, Colo. – From the world's first holistic hospitality hotel to remodeled elementary schools and buses, the wonders of the Pikes Peak region are gearing up for a winter full of new experiences, delectable food, pristine mountain trails and even a resurrected Tyrannosaurus rex.
Attractions
Great Outdoors Adventures – Find new adventures and lesser-known trails by taking an off-road tour with a professional guide. Choose from two- and four-seat side-by-side off-road vehicles to climb Rocky Mountain terrain. Feel like someone straight out of the future in a Polaris Slingshot or put the pedal to the metal on a Fat Bike bicycle. Those looking for a little more self-exploration can rent each vehicle on their own. www.goadventures.org.
Pike Ride Bike Share – Colorado Springs' first bike share program launched in June. Bike sharing is the fastest growing form of transportation in the world, now operating in more than 700 cities globally and more than 70 in the United States. Durable bikes are made publicly available for short-term use through a system of densely located downtown stations. Visitors can purchase 24-hour, weekly or monthly memberships. The bikes are easy to ride with comfortable seats, hand breaks and eight gears. Downtown Colorado Springs is bike friendly, with a variety of designated bike lanes and the Emerald Loop, a trail that encircles the entire downtown area. www.pikeride.org
Cheyenne Mountain State Park's Dixon Trail – After nearly a decade of planning, Colorado Springs' newest trail to the top of Cheyenne Mountain is open to the public. Mainly constructed by volunteers, the trek navigates 914 meters of elevation gain. The trail's challenging upper section is only open to hikers due to the steep terrain. Those looking for an easier option can hike, bike or ride horses on a turnaround near the two-mile point. http://cpw.state.co.us/placestogo/parks/CheyenneMountain
The Tyrannosaurus rex lives again at the Royal Gorge Dinosaur Experience. The original, larger-than-life replica of the toothy reptile was lost (but not rendered extinct) to an electrical fire in March. The prehistoric attraction has installed its new animatronic replica, and it's ready to roar and delight visitors as they take on the challenge of the adventure ropes course. Learn about a variety of creatures in the museum or head to the walking path to get up close and personal with other animatronic dinosaurs. www.dinoxp.com
Lodging
SCP Colorado Springs is centered around the concept of holistic hospitality, where guests stay consciously. The first property of its kind in the country provides a range of opportunities for guests to refresh their bodies and souls, to connect with community and to make better choices for the planet. www.scphotel.com
Colorado Adventure Hostel is passionate about creating an impactful experience for guests and love to share all the adventure that Colorado Springs has to offer. Each room is themed after Colorado landmarks with colorful murals courtesy of local artists. Landscapes include places like The Broadmoor Seven Falls, the Great Sand Dunes and an all-female room with purple mountain backdrops. The site features 66 beds and a 420-friendly room. https://radhostel.com
Food and Drink
Stacked with colorful, fresh ingredients, Smørbrød brings a taste of Scandinavia to the Pikes Peak region. The restaurant is named for the traditional and hearty open-faced sandwich assembled on rugbrød rye bread, often featuring fresh cuts of fish and seafood. Complete this international escape with mead or a Lingonberry Mojito. https://smorbrod.com
Lincoln Center is the hottest new kid on the block. This re-developed former elementary school, built in 1948, houses several tasty tenants like Goat Patch Brewing, Nightingale Bread, Building 3 Coffee Roasters, Tailgate BBQ, Smørbrød and several food trucks throughout the week. Wander the halls without feeling guilty for skipping class. www.lincolncenter-cosprings.com
Climb aboard the Local Motive Party Bus or book a Colorado Craft Tour to enjoy an array of local hot spots like distilleries, eateries and of course, microbreweries. Be whisked away on an entertaining afternoon full of new friends, libations and some great history from around the region. www.localmotiveevents.com https://coloradocrafttours.com/
Springs Beer Tours combines the great history of Colorado Springs and Manitou Springs with stops at several local breweries. The standard two-hour walking tour can accommodate up to 12 or book a private tour for an extra memorable experience. Those who are more history buff than beer aficionado can book a prohibition tour with no adult beverages at a discounted rate. https://springsbeertours.com/
The Bench – Head to this upscale sports bar to cheer on favorite sports teams and sip refreshing cocktails and on tap brews. The completely renovated space offers delicious menu items from a Peanut Butter and Jelly hamburger to an over-the-top brunch with a cheese curd and a grilled cheese "Cheesus and Mary" beverage. www.facebook.com/thebenchcs
Streetcar520 – One of downtown's newest eateries strives to indulge the curious, welcome wanderers and inspire the conversationalist. With walls adorned with colorful goddess murals and a cascading bar chandelier, the globally-inspired menu impresses with everything from fries and curry sauce, to duck confit macaroni and cheese. Wash it down with a creative cocktail featuring absinthe or cachaca. www.streetcar520.com
Denver Biscuit Company – Atomic Cowboy – Fat Sully's – This trio's newest location boasts one of the best downtown views around. In the a.m., tackle towering biscuit creations smothered in house-made gravy or whipped cream. In the p.m. into the early morning hours, guests can grab a slice of authentic New York City style pizza. Atomic Cowboy rounds out the menu with mimosas, draft beer and a variety of other cocktails. https://denbisco.com/colorado-springs/
# # #
About Colorado Springs, CO
Founded as a resort town in 1871, Olympic City USA has drawn travelers from around the world for decades offering unrivaled natural beauty, endless blue skies, a mild climate and more than 55 man-made and natural attractions. Home to iconic landmarks such as Pikes Peak – America's Mountain, Garden of the Gods Park, the Colorado Springs Olympic Training Center and U.S. Air Force Academy, the city and surrounding region is a popular destination for families, outdoor enthusiasts and couples.
#VisitCOS on Social Media
Facebook/Twitter/Instagram/YouTube/Pinterest//Blog

Follow and Share with Jetsettersblog.