Come See What's New in North Carolina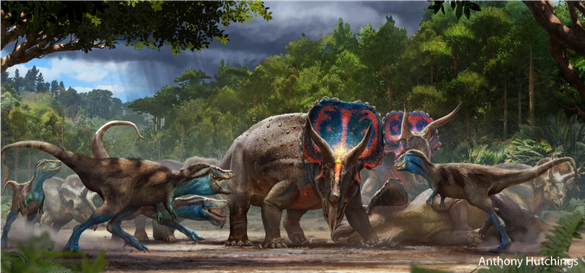 ---
Public Will Encounter 'Dueling Dinosaurs' in Raleigh in 2022
Two stars of the dinosaur world will take center stage in Raleigh in fall 2022 with the opening of "Dueling Dinosaurs," a permanent exhibit at the N.C. Museum of Natural Sciences. The most complete fossils of a Tyrannosaurus rex and a Triceratops ever unearthed will be displayed as they were found: locked together as if dueling at the time of their death. The museum is building a state-of-the-art research center, called SECU Dinolab, where the public can get a close-up view and meet scientists seeking to uncover secrets that were buried for 67 million years. The museum announced the acquisition of the T. rex and Triceratops in May 2020, 14 years after they were excavated at a Montana ranch.
Outdoor NC Initiative Aims to Inspire Travelers to Enjoy and Sustain
With travelers craving open space as never before, Visit North Carolina and the N.C. Outdoor Recreation Industry Office have joined with the Leave No Trace Center for Outdoor Ethics on a campaign to inspire outdoor experiences and manage natural assets for future generations. With Outdoor NC, North Carolina becomes the first coastal state to partner with Leave No Trace, a nonprofit dedicated to protecting the outdoors and inspiring people to use it responsibility. As people seek the relative safety of fresh-air spaces to escape confinements imposed by COVID-19, the partnership focuses on ways to welcome travelers and engage them in protecting the natural places they crave. Connect with the principles and outdoor travel inspiration at Outdoor NC.
Destinations Map History With New African American Experience
With a timely Juneteenth launch, the African American Experience of Northeast North Carolina invites travelers to explore the contributions of Black communities along a history-rich coastal corridor. The self-guided tour, accessed at NCBlackHeritageTour.com, highlights histories in a six-county region that includes the Outer Banks, the Dismal Swamp, and the riverfront towns of Elizabeth City, Hertford and Edenton. Among the featured sites are the Pea Island Cookhouse Mueum in Manteo, Mariners' Wharf in Elizabeth City, the Dismal Swamp Canal in South Mills, the U.S. Colored Troops monument in Hertford, the Historic Jarvisburg Colored School in Jarvisburg and sites on the Harriet Jacobs Trail in Edenton. The experience was developed by tourism leaders in Camden, Chowan, Currituck, Dare, Pasquotank and Perquimans counties with assistance from Raleigh-based BRANDilly Creative Group.
Black Food and Wine Festival to Debut in Charlotte
Charlotte restaurateurs Greg and Subrina Collier, who found the national spotlight with the 2020 opening of Leah & Louise, will debut the BayHaven Food & Wine Festival this fall as part of a mission to highlight Black culinarians. The list of participants includes James Beard-recognized chefs (Atlanta's Todd Richards, Asheville's Ashleigh Shanti, Wilmington's Keith Rhodes and Alabama's Duane Nutter) along with Charlotte-area notables Lindsay Williams of Davidson Wine Co., Greg Williams and Jamie Barnes of What the Fries and Michael Bowling of Hot Box Next Level Kitchen. The festival, which takes place Oct. 22-24, will include a lively food truck carnival; demonstrations and tasting experiences; and special chef dinners. The festival is named for the couple's newly formed restaurant group, called BayHaven in a nod to their Memphis roots. In addition to Leah & Louise, No. 2 on Esquire's list of the country's best new restaurants, the Colliers own the Uptown Yolk, which for 2020 earned Greg Collier his second James Beard semifinalist spot.
Van Gogh, Monet and da Vinci Experience to Travel to Biltmore
"Legends of Art & Innovation at Biltmore" will illuminate the lives of Vincent van Gogh, Claude Monet and Leonardo da Vinci in a yearlong series of multisensory experiences at the George W. Vanderbilt's 8,000-acre estate in Asheville. Each component of the series connects to Vanderbilt's collection of treasures in the 250-room Biltmore House. Grande Experiences in Melbourne, Australia, developed the technology behind the immersive displays of enormously scaled images of the artists' masterworks, which gain power from a synchronized classical score. "Van Gogh Alive" opens Nov. 6 to coincide with the spectacular "Christmas at Biltmore" event and runs through March 5. It will be followed by "Monet & Friends — Life, Light & Color" (March 9-July 6 during "Biltmore Blooms") and "Leonardo da Vinci — 500 Years of Genius" (July 10-Nov. 20). The series will be included with regular daytime admission, but reservations will be required.
Gaming to Begin at Catawba Two Kings Casino Resort
The Catawba Indian Nation is fast-tracking operations in Kings Mountain with a "pre-launch" facility for the Catawba Two Kings Casino Resort. The temporary facility, which is targeting a July opening, will feature 500 slot machines with limited food and beverage service and other amenities. The first permanent phase of the $273 million project, which is under construction on 17 acres of ancestral land off Interstate 85 southwest of Charlotte, is expected to open in 2022 with construction of a hotel and event center to follow. Casino operator Delaware North and developer Wallace Cheves' Skyboat Gaming are working with the Catawba Nation on the resort, whose name refers to 18th-century Catawba Chief King Hagler and the City of Kings Mountain.
Harrah's Cherokee Adds Sports Betting, New Conference Hotel
The two Harrah's Cherokee properties in the Great Smoky Mountains have become the first legal sports betting venues in North Carolina with the opening of The Book. At Harrah's Cherokee Casino Resort in Cherokee, fans can place their bets and watch the action on a 90-foot-wide screen or opt for a customizable experience in one of three Fan Caves or an exclusive raised seating area. In Murphy, The Book at Harrah's Cherokee Valley River features a 32-foot screen and bar-top gaming. In other action, new meeting and convention space are on track to open  and 725-room hotel tower are on track to open this fall at the Cherokee resort, which is known for its 3,000-seat Event Center, Mandara Spa and Sequoyah National Golf Club as well as the casino.
NC Zoo to Extend Displays to Include New Asia Habitat
The North Carolina Zoo, the world's largest natural habitat zoo, adds a third continent to its realm with an 8-acre Asia exhibit, targeted for a 2023 opening. Construction on the $46 million expansion is set to begin this fall. Tigers, red pandas, Komodo dragons and Chinese alligators are among the species expected to occupy the space, which will also include a glass-walled restaurant with views of the animals. The Asheboro zoo, which opened in 1974, currently features Africa and North America displays plus desert habitat and an aviary with exotic birds and tropical plants.
New Tropical Aviary to Expand Bird Park's Conservation Efforts
Raggiana birds-of-paradise, green pygmy geese and plum-headed parakeets will be among the residents of a new aviary opening Oct. 9 at Sylvan Heights Bird Park in Scotland Neck. The "Birds of Paradise" aviary, which will house more than 300 birds native to New Guinea and the South Pacific, is a collaboration with California's Pandemonium Aviaries, which shares Sylvan Heights' commitment to preserving rare and endangered species by maintaining sustainable breeding populations. The new aviary will allow Sylvan Heights guests to experience close-up encounters with the colorful birds, whose breeding will be supported in a separate propagation facility. Sylvan Heights, home to more than 2,000 birds, features the world's largest collection of waterfowl as well as parrots, flamingos and other exotic species in an 18-acre setting that includes paved trails and a wheelchair-accessible treehouse.
Restored 'Green Book'-Era Property Will Soon Book Overnight Guests
Jackie Robinson slept here. So did James Baldwin, James Brown, Gladys Knight, Ike and Tina Turner, and other African American travelers who needed a place to stay in the Jim Crow South. The Magnolia House, whose listing in "The Negro Motorist Green Book" was starred as a recommended Greensboro site, faded after the motel closed in the 1970s. But steady progress on restoring the 1914 structure has been made since Sam Pass bought it in 1996 and created the Magnolia House Foundation. From hosting weddings and other private events, use of the Magnolia House has grown to include Sunday jazz brunches, concerts, and a museum highlighting the history of the property and the families who have owned it. This fall, guests will again be able to book the five rooms where celebrities once spent the night. www.thehistoricmagnoliahouse.com
Planetarium Joins the Lineup at Mayland Earth to Sky Park
Mayland Community College's Earth to Sky Park adds another enticement for stargazers to visit the Blue Ridge Mountain campus in Burnsville: the 60-seat Glenn and Carol Arthur Planetarium, opening in 2021 dates TBA).  A certified International Dark Sky Park in the Blue Ridge Mountains, the 6-acre Mayland park is home to the Bare Dark Sky Observatory and its 34-inch telescope, a viewing terrace, walking trails and gardens. Under the planetarium's geodesic dome, visitors will be able to gaze at a 36-foot screen to view the skies from around the world, watch laser light shows and enjoy other experiences. Even before the planetarium opens, a visit to the Earth to Sky Park will be enlivened by a Matt Willey bee mural, set for completion in May.
USGA to Establish 'Golf House Pinehurst,' Adds U.S. Open Dates
A new equipment-testing facility, innovation hub, museum and visitors center will become part of the landscape at the U.S. Golf Association's "Golf House Pinehurst," a second headquarters for the USGA. The developments also include a new 36-room boutique hotel at the resort. In announcing the plans and a 2023 target completion date, the USGA added U.S. Open dates for the famed No. 2 course at Pinehurst Resort. Recognized as legendary architect Donald Ross' masterpiece, the No. 2 course adds 2029, 2035, 2041 and 2047 to its U.S. Open card and becomes the USGA's first U.S. Open anchor site. As previously announced, the 2024 U.S. Open will mark the fourth time the tournament has been played on No. 2. The plans are part of the USGA's strategy to expand its impact and extend its mission to champion and advance the game.
Oyster Trail Connects Coastal Cuisine, Heritage
Oyster farmers, restaurants. markets and educators invite travelers to indulge and learn along the N.C. Oyster Trail, which highlights an industry whose colorful history includes a war against out-of-state poachers. Stops extend from the Outer Banks to Bald Head Island with oyster farm tours, exhibits, excursions and dining with inland markets and restaurants sharing the delicacy with their customers. The Outer Banks Seafood Festival and other events will also elevate oysters at their 2021 celebrations. The Oyster Trail is administered by the N.C. Coastal Federation and N.C. Sea Grant in partnership with the N.C. Shellfish Growers Association.
UTV Rentals Add Adventure Plus Easy Access to Seashore History
Travelers to the Cape Lookout National Seashore have a new option for experiencing barrier island nature and history with 4WD Kubota UTV rentals from Island Express Ferry Service, the National Park Service-authorized service to the seashore's most popular areas. Beginning in March, the UTVs can be rented from the Cape Lookout Lighthouse area and driven to the point for fishing and shelling or to the Cape Lookout Village Historic Site, where a former life-saving station, an old Coast Guard station and the remains of a World War II Army defense complex share 810 acres with former fishing cottages and vacation homes. Island Express offers tours and ferries from Beaufort and Harkers Island with landings in the lighthouse area and Shackleford Banks, famous for its herd of wild Colonial Spanish mustangs.
Nantahala Outdoor Center Marks 50th Season
In a year that saw the 7 millionth guest escorted on a whitewater rafting trip, Nantahala Outdoor Center is looking ahead to celebrate its 50th season in 2021. The nation's largest outdoor recreation company, NOC offers more than 120 different river- and land-based itineraries at its main location on the Nantahala River in Bryson City and along seven other Southeastern rivers. Special offerings for 2021 will include a women's whitewater kayaking retreat and a "Week of Rivers" in five different national forests as well as wilderness first aid and survival. NOC, whose resort amenities include three restaurants and multi-tiered lodging, has been recognized by The New York Times as the "Nation's Premiere Paddling School," Outside as "The Best Place to Learn" and National Geographic Adventure as "One of the Best Outfitters on Earth."
Lodging News
High Hampton Resort Reopens as Elevated Experience
High Hampton, a mountain retreat well-loved by generations, has turned the welcome lights back on after a consummate renovation by the team behind Blackberry Farm with guidance from the N.C. Historical Preservation Office. The revitalization includes the 18-room inn and its restaurants, 40 cottage rooms and three separate cottages plus a redesign of the 18-hole golf course by Tom Fazio with new club amenities. Located at 3,600 feet on the edge of Nantahala National Forest, the 1,400-acre resort retains its hallmark rustic character with modern accents in the mix. Guests can access more than 15 miles of hiking trails; a pool and hot tub overlooking Hampton Lake, a 35-acre spring-fed lake with beach; and a kids camp with supervised activities and programs. High Hampton had been owned by the McKee family for 95 years until 2017, when Daniel Communities and Arlington Family Offices acquired the property and brought in team from Blackberry Farm/Blackberry Mountain. highhampton.com
JW Marriott Joins Charlotte Luxury Lodging Landscape
JW Marriott Charlotte, the first of Marriott International's luxury flagship hotels in North Carolina, is poised to open in July across the street from the Charlotte Convention Center. With 381 oversize rooms and suites, the property will feature 22,240 square feet of meeting space, a Spa by JW, rooftop lounge and pool, Dean's Italian Steakhouse and Caroline's Oyster Bar. The hotel is part of the Ally Charlotte Center project. In other developments, the 175-room Hyatt Centric SouthPark Charlotte opened in June. The first of the millennial-minded brand's properties in North Carolina, the hotel features such colorful touches as a 6-foot-tall peacock sculpture and murals saluting Charlotte's Revolutionary War history and the nation's first gold rush. Dining options include IRO in the lobby and Mizu, a  seafood-focused rooftop restaurant. These new arrivals follow the August 2020 opening of the Kessler Collection's 254-room Grand Bohemian Charlotte, complete with art gallery, spa and fitness center, and restaurant with rooftop bar and lounge.
New Era of Glory Arrives for 1838 Hillsborough Tavern
Two decades after the last guests were served, the Colonial Inn in Hillsborough's downtown historic district is again welcoming travelers and diners. Originally known as Spencer's Tavern, the landmark enjoyed a long history as an inn and later a popular restaurant that closed in 2001. The two-story structure houses a restaurant, bar, event center and 28 guestrooms. Additional lodging will be available in a new wing with a target competition date is 2022. Hillsborough, once destined to be the state's capital, has been dubbed "America's little literary town" for its concentration of writers.
colonialinn-nc.com
Long-Awaited Boutique Lodging Booms in Downtown Raleigh
The arrival of boutique lodging downtown completes the appeal of a capital city known for stellar chefs (including Ashley Christensen, the James Beard Foundation's Outstanding Chef), craft beverage, nightlife, culture and outdoor spaces. The latest opening is Heights House Hotel, a restored 1860 Italianate-style mansion that becomes a nine-room boutique hotel with indoor and outdoor spaces for private and community events. Promising "casual luxury," Heights House features 15-foot ceilings, original hardwoods, 10 fireplaces and grand common spaces. It follows the 2020 openings of the 126-room Origin Hotel Raleigh and the 57-room Longleaf Hotel, a stylish reinvention of a mid-century motor lodge. Looking forward, a late 2021 opening is targeted for a 124-room AC Hotel by Marriott as part of The Willard development.
The Swag Joins Relais & Châteaux Collection
The Swag, an all-inclusive guest house near Waynesville, has joined the international Relais & Châteaux association of individually owned and operated luxury hotels and restaurants. The Swag, whose name refers to a low-lying area connecting two ridges, sits on 250 acres at the edge of the Great Smoky Mountains National Park. The all-inclusive hideaway has 14 rooms, each of them individually furnished and decorated with original artwork, rustic antiques, woven rugs and handmade quilts. David and Annie Haslam Colquitt of Knoxville purchased The Swag in 2018, and in 2020, they joined another couple in acquiring nearby Cataloochee Ranch, whose history is tied to the national park's creation. With operations currently limited to horseback rides, Cataloochee Ranch is expected to reopen in 2022. The Swag joins two other North Carolina properties, Fearrington House in Pittsboro and Old Edwards Inn and Spa in Highlands, on the Relais & Châteaux roster of about 500 properties on five continents.
Uptown Greenville to Welcome Boutique Hotel
A new boutique hotel in Greenville will elevate the destination status of the lively Uptown neighborhood when it opens in summer 2022. Taking its name from the historic tobacco factory the hotel will occupy, The Ficklen will feature 70 rooms, a chef-driven restaurant and lobby bar, and a 10,000-square-foot event space plus a community-focused food hall and market in the adjacent the Star Warehouse. The property is poised to draw on the energy of the adjacent Dickinson Avenue Arts and Innovation District, downtown events and activities at East Carolina University. The Ficklen will be affiliated with Marriott's Tribute Portfolio collection of independent hotels. City officials are working with developers on three additional hotel projects nearby, including one that will be part of ECU's new Intersect East campus.
\\

Follow and Share with Jetsettersblog.