Conquer These Rocky Mountain Rails-to-Trails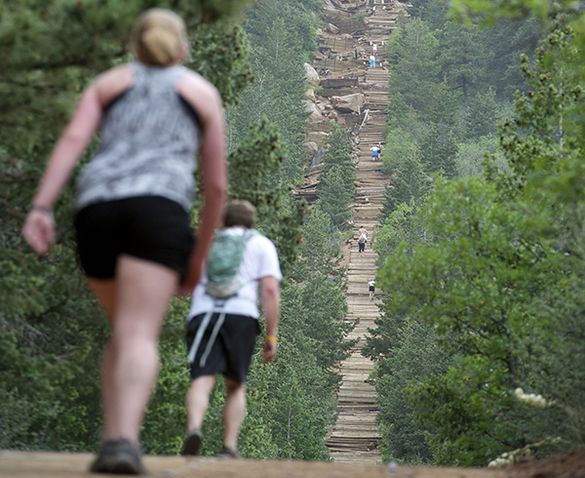 ---
The Pikes Peak region boasts four official rails-to-trails routes for travelers to enjoy. To find more outdoor recreation and the region's top 25 trails, head to www.VisitCOS.com/top-25-trails.
Arkansas River Walk
This seven-mile trail winds up and down the Arkansas River through Cañon City. The trail offers everything from lush foliage to native wetlands. Nature enthusiasts can spot various Colorado bird species including great blue herons, fowl, thrashers, magpies and ferruginous hawk.
New Santa Fe Regional Trail
Wander this 20-mile trail that follows the abandoned Atkinson, Topeka and Santa Fe Railroad tracks. Following a largely unpaved path that extends between Colorado Springs and Palmer Lake, this trail shows off picture-perfect views of grassy hillsides and Piñon Pine trees.
Manitou Incline
Perhaps the most popular and challenging hiking trail in the Pikes Peak region, the Manitou Incline has one of the largest increases of elevation around. The incline railway was originally created for reaching access to a hydroelectric plant, then later turned into an incline railway tourist attraction. After the train closed in the early 1990's the trail gained fame for its 2,788 steps that reach 2,000 feet of elevation in under a one-mile trek.
Rock Island Regional Trail
This 14.8-mile course runs parallel to Highway 24 between Colorado Springs and Peyton. Several landmarks can be viewed from the trail including Pikes Peak, Rampart Range and the Rattlesnake Buttes at Homestead Ranch Regional Park.
# # #
About Colorado Springs, CO
Founded as a resort town in 1871, Olympic City USA has drawn travelers from around the world for decades offering unrivaled natural beauty, endless blue skies, a mild climate and more than 55 man-made and natural attractions. Home to iconic landmarks such as Pikes Peak – America's Mountain, Garden of the Gods Park, the Colorado Springs Olympic Training Center and U.S. Air Force Academy, the city and surrounding region is a popular destination for families, outdoor enthusiasts and couples.
#VisitCOS on Social Media
Follow and Share with Jetsettersblog.