Cornwall Family Surf Breaks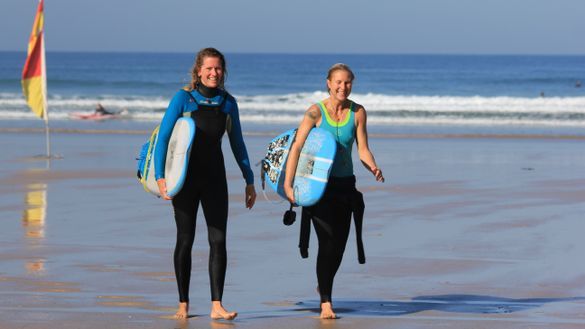 1
---
Family Surf Co. – the UK's only specialist family surf travel company – has launched a new range of family breaks in Cornwall, focussing on surfing and me-time for mums. Taking a new approach to family surf retreats, the weekenders include luxury accommodation at Watergate Bay Hotel, small group surf and yoga sessions for mums, and fun-packed beach activities for the whole family.
From surf lessons to beach fitness and yoga, the itinerary is designed to build mums' strength and confidence in the ocean. The weekend also includes a Sea Surf Safety Session for the whole family, where you'll learn about rip currents, wildlife and ocean skills, while having a splash and enjoying life with your toes in the sand. There are plenty of optional activities for Dads and kids and childcare is available – ensuring the whole family enjoys a snapshot of family beach life in Cornwall.
"We're mums who put surfing and beach life at the centre of our family lives," says co-founder Celine Bennet. "We understand that your fitness and ocean confidence can ebb after having kids, and that it's difficult to muster the time and energy to hit the waves around family life. But we also believe that time out in the waves is just what's needed to re-connect with yourself and your family, embrace nature, and boost your wellbeing."
Watergate Bay's two miles of wave-lashed sands is the perfect destination to enjoy family surfing life, from the comfort of a family apartment or suite at the stylish Watergate Bay Hotel. Having travelled the globe with kids and surfboards, the Family Surf Co. mums create the perfect environment for a family surfing break in Cornwall, including a stylish beach pad, peace of mind and excellent facilities including childcare.
"Whether you're complete beginners or already have some surfing experience, these weekenders are a great way to hone your surf skills and fitness, enjoy family fun by the sea, and meet like-minded families who love the beach and are keen to take up surfing," says co-founder Hayley Lawrence.
SEA YOU ON THE BEACH
Book your space on 12-14 March or 7-9 May at Watergate Bay.
More info: www.familysurfco.com/mums-family-surf-breaks/
Dads family breaks and family surf retreats coming soon.
Follow and Share with Jetsettersblog.