Corsica Family Holidays Savings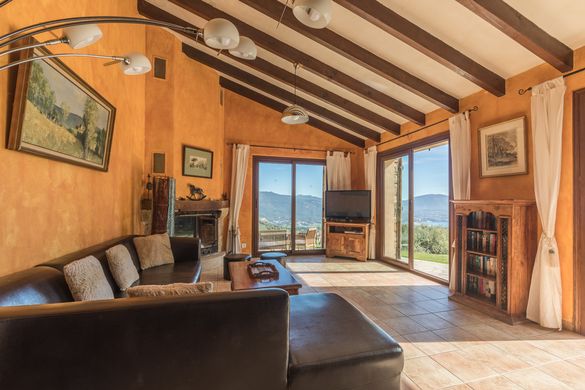 ---
Corsica provides a perfect location for a family break, suitable for the very young, teens and older families. With beaches comparable to the Caribbean, and just a two-hour flight, it's also a low-stress holiday choice. There's plenty to occupy all ages and aptitudes – from beach play and water sports to forest canyoning and zip wiring, or exploring the island's rugged landscapes, its tumbling rivers and rock pools, scenic nature reserves, medieval villages and historic fortress towns.
Corsican Places, the UK's destination specialist, has a selection of holiday offers which include a wide range of self-catering options in sought after locations with sea and mountain views. Offering a wide choice of flights there is great travel flexibility with easy access flying into all four of the island's airports: Calvi and Bastia in the North West and East, along with Ajaccio in the South West and Figari in L'Extrême Sud. Flights, luggage allowance, transfers or car hire are included in packages, with no hidden extras.
Child discounts of up to 15% off holidays are available through the tour operator and baby seats, booster seats and pushchairs can be transported free of charge on all its flights. Highchair and cots are available with all accommodation and all pools are alarmed, covered or fenced off for security under French law.
With 30 years' experience, Corsican Places staff, both in the UK and in resort, have excellent knowledge of the island and accommodation and can advise on the best suited holiday.
Corsican Places highlights its top 5 family offers among its self-catering collection, providing great savings and value for a family escape:
Casa di l'Olivu, L'Extrême Sud (Sleeps 4) from £499pp – saving £154pp, 18 May
https://www.corsica.co.uk/casa-di-lolivu 
Convenient for those wishing to explore the south of the island, this beautiful bergerie-style property is set in a peaceful, countryside location with private pool and extensive grounds surrounded by ancient olive trees. The must-see towns of Bonifacio and Porto Vecchio are within easy driving distance. Stansted- Figari flights and car hire included.
Maisons Bervily in Calvi, La Balagne region (Sleeps 4) from £499pp – saving £109pp, 18 May
https://www.corsica.co.uk/maisons-bervily
A collection of six terraced houses and two apartments with a shared pool just a 10 minute walk from the beach, restaurants and pretty town of Calvi with its impressive citadel . Well equipped, these attractive properties provide a great option for those wishing to mix with other families. For those wishing to explore more the little train, U Trinicellu, which runs along the coastline and stops at all the beaches enroute, provides a great opportunity to explore without the need for a car. Embark at Calvi and 45 mins later arrive at the laid-back seaside town of L'Ile Rousse with its white sand beach, ice cream parlour and bustling market. Stansted or Manchester-Calvi flights and transfers included in above package.
Villa Cléa in St Florent, North East Corsica (Sleeps 9) from £299pp – saving £278pp, 28 April
https://www.corsica.co.uk/villa-clea
This spacious and modern villa complete with private pool occupies a sought-after position on the Fromentica hillside and has been built to take full advantage of the magnificent view over the bay of St Florent and across to the western coastline of Cap Corse and the Désert des Agriates. St Florent is just 3kms drive away and this chic seaside resort has a wealth of facilities which include quayside restaurants, ice-cream parlours and water sport activities at la Roya beach. Stansted-Bastia flights and car hire included.
Villa 18, L'Extrême Sud (Sleeps 10) from £399pp – saving £254pp, 11 May
https://www.corsica.co.uk/villa-18
Premium villa offering state-of-the-art luxury living close to Santa Giulia, one of Corsica's most beautiful beaches just south of Porto Vecchio. This spacious, contemporary villa with striking interiors has excellent facilities which include a private heated pool, fitness room and its own cinema room. Villa 18 guests will also enjoy free parking at Santa Giulia beach and restaurant Playa Baggia on Palombaggia beach – also famous for its beauty. Stansted-Figari flights and car hire included.
Santa Giulia Palace, L'Extrême Sud (Sleeps 2-4) from £499pp – 02 May
https://www.corsica.co.uk/santa-giulia-palace
A collection of apartments with views over the beautiful bay of Santa Giulia. Situated within extensive gardens and just a short walk downhill to one of Corsica's most magnificent beaches with gently shelving white sands, facilities include: a shared pool with children's area, sauna and lap pool with restaurants within 600 metres. Stansted flights to either Figari, Bastia or Ajaccio and car hire are included.
All the above packages include the services of a local Corsican Places rep with extensive knowledge of the island. To book, call 01489 866 931 or visit Corsica.co.uk
-ENDS-
Press Information: For more information or imagery please contact Louise Thomas or Stacey Parsons on 01489 866 963 or email press-office@serenityholidays.co.uk.
Corsican Places is a trade name of Serenity Holidays Ltd, a fully bonded operator under ATOL 1866 and a member of ABTA, ABTOT, AITO and IATA. Corsican Places is renowned for its superior service and diverse choice of holidays and received the Silver award for Best Tour Operator to Western Europe and Ireland at the 2018 British Travel Awards held in November. The company' has 30 years' experience in both self-catering and hotel-based holidays throughout Corsica.