Cricket in Sri Lanka: Recreation or Religion?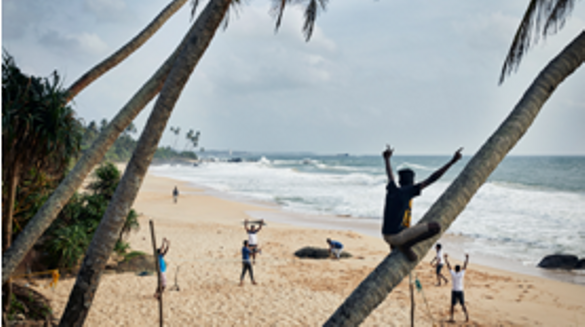 ---
9 May 2018
CRICKET IN SRI LANKA: RECREATION OR RELIGION?
As the England cricket team prepares for a season that will culminate with the recently announced autumn tour of Sri Lanka, bespoke holiday specialist Experience Travel Group has the inside track on how to catch the key tour matches, where to stay – and why England will have their work cut out against a country whose national sport may be volleyball, but which has cricket running through its veins.
Sometimes it is the unexpected moments that reveal the true fabric of a destination – but in Sri Lanka, it's invariably something to do with cricket. Find any patch of green in Sri Lanka, and the chances are you'll also stumble across the magic of an ad hoc game being played with nonchalant brilliance. Come five o'clock, the grassy fringes of beaches like Kumu and Balapitiya spring into life as hotel staff pass break times with an impromptu game in the late afternoon sun. Experience Travel Group team members Chandana and Chami – both stereotypically brilliant with bat or ball in hand – say it's just something Sri Lankans grow up with, playing at school and with friends, with whole families enjoying the game together.
Fans eager to follow the England cricket team on tour in Sri Lanka can sign up with Experience Travel Group at www.experiencetravelgroup.com/info/england-tour-sri-lanka to get exclusive access and first refusal on the best rooms at the key test match locations. A week-long trip to Galle during England's cricket tour to Sri Lanka starts from £2,985 per person including flights, transfers, deluxe five-star accommodation at Le Grand Hotel, as well as five days at the cricket and ample opportunity to spot local games. For further information and reservations call tel: +44 (0)20 33557873 or visit www.experiencetravelgroup.com.
For curious travellers more interested in experiencing Sri Lankan cricket in characteristically insouciant local style, Chandana, Chami and the rest of Experience Travel Group's Sri Lanka team will be only too happy to lead the way to a late afternoon game on the beach. Experience Travel Group's Cricket in Sri Lanka: Game or God? holiday costs from £2,490 per person, including international flights from London to Colombo; all accommodation; all breakfasts; private chauffeur transfers; and an English speaking guide who knows all the best spots to catch an impromptu game before winding up at the beautiful, luxurious Kumu Beach hotel. Other non-cricketing highlights include private tours of Notary's House and Kandy's Sacred Temple of the Tooth; tours in Kandy and Ella; visits to Udawalawe's National Park and Elephant Transit Camp; and enjoying boating, tuk-tuk rides and local snacks in the Galle countryside.
Experience Travel Group specialises in bespoke holidays for passionate travellers who don't believe in choosing between luxury and adventure. Experts in Sri Lanka, Maldives, Vietnam, Thailand, Burma, Laos, Cambodia, Malaysia, Borneo, Indonesia and India, Experience Travel Group tailor-makes trips that enrich their clients' travel experiences.
For more information about Experience Travel Group, please visit the website, or find out what the team has been up to recently by checking out their blog or Twitter page.
About Experience Travel Group:
Founded in 2004 by Tom Armstrong and Sam Clark, Experience Travel Group has grown from featuring Sri Lanka to also specialise in Cambodia, Vietnam, Thailand, Laos, Malaysian Borneo, Burma (Myanmar), Maldives, the 17,000 islands of Indonesia and India. Tailor-made holiday experts for the travel curious, Experience Travel Group curates extra-ordinary adventures without sacrificing luxury, offering engaging personal service and in-depth destination expertise to create lifelong memories.
Experience Travel Group is a fully bonded ATOL agent (ATOL number 9324); a member of ABTA (membership number Y544X); and a member of AITO. The company's Sustainable Travel Policy is about continual improvement, monitoring and evaluation, and is available online at www.experiencetravelgroup.com/info/responsible-travel.
Follow and Share with Jetsettersblog.