Croatia's Boutique Hotel Alhambra Launches Vegan Wine-Pairing Menu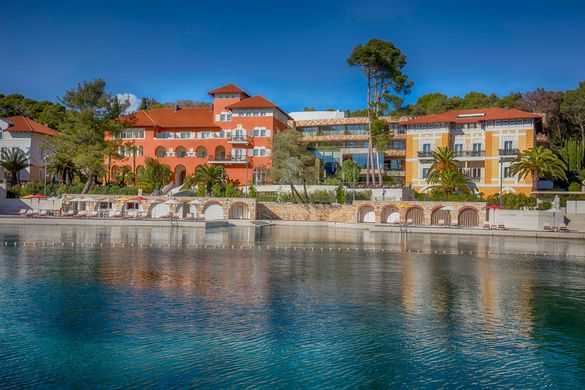 ---
New five-course tasting menu showcases Croatia's finest seasonal vegan ingredients
Croatia's five-star Boutique Hotel Alhambra & Villa Augusta, located on the little known island gem of Lošinj, has introduced an innovative seasonal five-course vegan degustation menu with wine pairings at the hotel's renowned Restaurant Alfred Keller. Executive Chef Thomas Brasleret, alongside his talented team, has crafted an impressive menu filled with flavour and artistry using organic, locally sourced ingredients to create delectable dishes which put plant-based dishes centre stage.
Showcasing the freshest, high quality seasonal produce from the island, menu highlights include celery soup with black Istrian truffle; Cres island egg-free pasta 'fuzi' in local herbs with marinated aubergines; zucchini pie with smoked tofu in a fresh island tomato and basil sauce; and orange marmalade cake served with a refreshing sorbet. To enhance and complement the fresh flavours, Restaurant Alfred Keller produces its own oils and vinegars infused with herbs and spices from the hotel's very own herb garden.
Wine lovers can also savour Boutique Hotel Alhambra's premium vegan wine list with recommended pairings including a selection of Gravner varieties such as the Ribolla Amphora (2008 and 2009) and Bianco Breg Amphora (2008 and 2009). Italian winemaker Gravner was among the first to combine bio-dynamic winemaking with a more traditional, nonintrusive style to create a natural, or 'raw', wine selection that is made without casein, chitin, egg albumen or any other animal products, as well as being free from GMO grapes, chemicals, added yeasts and sulfites and fining agents.  
As well as a wide range of vegan and vegetarian-friendly dishes, and in response to the growing, ethically-minded guest profile, diners can also enjoy tucking into a mouth-watering array of plant-based dishes on Lošinj Hotels & Villas' extensive Dine Around programme. Diners can choose from eight restaurants dotted around the pictureseque Čikat Bay, each offering an impressive array of Croatian and Mediterranean delicacies.  From sautéed wild mushrooms to pumpkin gnocchi, courgette carpaccio to cauliflower burgers, the plates are elegant, comforting and delicious.
Lošinj Hotels & Villas is renowned for its exceptional gourmet credentials, with an extensive portfolio of 11 restaurants and bars, including Alfred Keller, awarded a two chef's hat rating by Gault & Millau; and the acclaimed Matsunoki, the only Japanese restaurant in the Croatian islands. All share a commitment to using top quality, fresh ingredients sourced via an unprecedented network of local producers in Lošinj and Cres, as well as over 60 suppliers throughout Croatia. All are family farms that use eco-certified production methods, ensuring all the restaurants in the Lošinj Hotels & Villas' portfolio benefit from an unrivalled supply of the very best natural ingredients, while providing support to small Croatian entrepreneurs.
Lošinj Hotels & Villas' luxury portfolio also includes the five-star Hotel Bellevue and three five-star villas, Villa Augusta, Villa Mirasol and Villa Hortensia.  All are ideal for indulgent getaways, active breaks and family holidays.
The five-course vegan degustation menu at Boutique Hotel Alhambra's Restaurant Alfred Keller costs EUR61 (GBP52) per person and with wine-pairing EUR102 (GBP87) per person. Menu available on request with 24 hour prior notice.
Kirker Holidays (020 7593 2283; kirkerholidays.com) offer a four night holiday at Boutique Hotel Alhambra, Lošinj from GB£1,198 per person based on two sharing a Deluxe Double. Price includes daily breakfast, return flights from London Gatwick to Pula with allocated seats and hold baggage included, private airplane transfers from Pula airport direct to Lošinj airport and shared car transfer to the hotel.
A relatively undiscovered jewel to the north of Croatia, the intimate Adriatic island Lošinj – 'island of vitality' – is famed for its rich nature; counting more than 1200 aromatic and healing herbs, more than 2600 hours of sunshine every year and the cleanest seas. At the end of 19th century, Lošinj was recognized as a 'healing location' due to its unique microclimate. Set in the idyllic Čikat Bay and dotted amongst the pine forests, Lošinj Hotels & Villas boasts two five star hotels (Hotel Bellevue and Boutique Hotel Alhambra) and three five star villas (Villa Augusta, Villa Mirasol and Villa Hortensia) – ideal for luxurious getaways, active breaks, family holidays and more. Passing through a comprehensive renovation in 2014 and an upgrade of Bellevue Spa Clinic in 2018, the group's wellness resort Hotel Bellevue offers fully integrated health programmes, extensive spa facilities and beauty treatments by world-famous French podiatrist Bastien Gonzalez, 45 Degrees, Forlle'd Japan, Pharmos Natur and Valmont facials.
Lošinj is reached by private plane or luxury car transfer from all many European airports (namely Ljubljana, Pula, and Zagreb). Silver Air offer direct scheduled flights to Lošinj, from Venice, Zagreb and Lugano. www.silverairtravels.com
Follow and Share with Jetsettersblog.