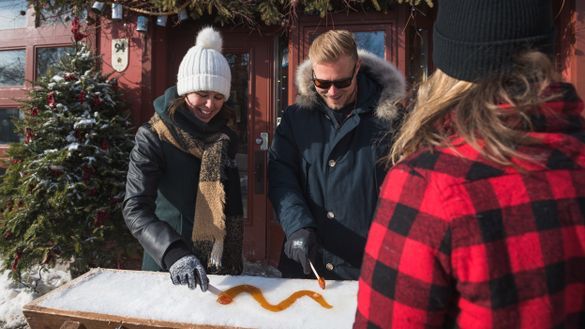 ---
Uniquely Canadian Foods
Canada is home to a cornucopia of culinary traditions, many tied intimately to the nation's heritage, culture and historic milestones.
Why now: With Canadians staying close to home, residents are rediscovering their country's cuisine and influences of the past that have shaped contemporary interest in farm-to-table, slow food and sustainable dining. From hearty bannock that once provided fuel for Indigenous trappers to actor Seth Rogan's favourite Nanaimo Bars, here are some of Canada's most unique culinary traditions to tempt your tastebuds.
Carb-licious: Adapted from the fry bread that originated in Scotland and was brought to Canada by explorers and traders, bannock swiftly became a key staple in the diets of Canada's Indigenous peoples. Stemming from the Gaelic word bannach, or "morsel", the hardy bread was particularly popular among the Métis of Western Canada, who swapped out the wheat flour favoured by Europeans for local corn flour or plants. Quick to make and perfectly portable, bannock proved ideal for travelling with energy-rich carbohydrates fuelling long days of exploring and hunting.
Taste: lelem' in Fort Langley, BC, is renowned for its fried bannock tacos, stuffed with shredded beef, mexi-tofu and smoked salmon. Kekuli Café in Prince George, BC, recently introduced sweet bannock donuts in flavours ranging from Skor to apple spice.
French-Canadian icon: Originating in Quebec in the 1950s, poutine (local slang for "mess") is a satisfying concoction of French fries smothered in cheese curds and gravy. Several towns in Quebec lay claim to poutine's creation, particularly those in close proximity to fromageries producing fresh curds. Today, poutine is found in fine dining establishments and fast-food chains around the world, with each region adding its own spin, such as Montreal's smoked meat poutine and Gaspésie's chicken and green peas variation.
Taste: Le Chic Shack in Quebec City offers poutines for every palate, ranging from classic house made poutine smothered in cheese curds, gravy and fresh herbs to inventive alternatives incorporating wild mushroom ragout or red ale-braised beef. At Fritz European Fry House in Vancouver, BC, diners can customize their poutine with a selection of savoury toppings and dips.
Canada's cocktail: The Caesar was invented in 1969 by Walter Chell, restaurant manager of the Calgary Inn in Calgary, Alberta (now The Westin), who was tasked with crafting a signature drink to celebrate the opening of the inn's new Italian restaurant. Spicy and strong, Chell's traditional Caesar was composed of vodka, hot sauce, Worcestershire sauce and clamato (tomato and clam) juice. While Caesars are typically garnished with olives or celery sticks, bartenders have applied their inventiveness over the years by adding pepperoni, mini corn-on-the-cobs, and even full-sized burgers or macaroni-and-cheese.
Taste: The Westin Calgary, of course. The hotel's Liquid Lounge pours an updated version that goes above and beyond Chell's original blend by adding cherrywood for an intoxicating smoky flavour. At L'Gros Luxe in Quebec City, Quebec, order the Walter Chell Caesar if you're feeling peckish – the original vodka-and-clamato combo is topped by a decadent grilled cheese sandwich.
Just desserts: Nanaimo, British Columbia, is the namesake of the Nanaimo Bar, the popular no-bake dessert square composed of custard icing sandwiched between rich chocolate ganache and a base of graham wafer crumb and shredded coconut. The first known recipe for the Nanaimo Bar appeared in the 1952 Women's Auxiliary of the Nanaimo Hospital Cookbook, labelled as a "chocolate square". One year later, Edith Adams' Cookbook published a similar recipe called the Nanaimo Bar. But the Nanaimo Bar truly skyrocketed to fame when it was highlighted as a classic Canadian dessert at Expo '86.
Taste: Nanaimo, obviously. In fact, Tourism Nanaimo designed a self-guided Nanaimo Bar Trail that showcases several cafés dishing up the classic version, as well as Nanaimo Bar macarons, Nanaimo Bar waffles, Nanaimo Bar cocktails and even a Nanaimo Bar spring roll.
Pandemic panacea: Invented in the 1970s by Hostess (now Lays), ketchup chips, the red-dusted snack coats standard potato chips in ketchup-flavoured seasoning for a smoky-salty-sweet treat.
Taste: Any grocery store or convenience store worth its salt in Canada carries them – these addictive chips are too beloved by Canucks.
Liquid gold: How sweet it is to drench pancakes, waffles and French toast in maple syrup. Crafted from the sap of sugar maple, red maple or black maple trees, maple syrup was first made and used by Indigenous peoples, and later adopted by European settlers who refined production methods. Indigenous legends share stories of using the trees' "sweet water" to cook venison and cure meats. Canada is the world's largest producer of maple syrup, responsible for more than 70 percent of global output, or 13.2 million gallons in 2019; within Canada, Quebec dominates with 92 percent of the country's total production coming from the Eastern province.
Taste: Grocery stores in Canada (and around the world) carry maple syrup – but, it's particularly sweet to try the treat at one of Quebec's many maple farms, such as Sucrerie de la Montagne in Chemin St-Georges, or Cabane à sucre Leclerc in Neuville.
The original energy bar: Based on the Cree word pimikan ("manufactured grease"), pemmican is a combination of dried berries and dried meat (usually bison, deer, elk or moose) invented by the Indigenous peoples of Canada, particularly the Métis. The nutritious snack was prepared by drying the meat in thin slices until it became hard and brittle, then pounding it to a nearly powder-like consistency and mixing it with melted fat and dried fruits. Like bannock, pemmican was valued as highly portable and energy-rich, to sustain long treks and expeditions.
Taste: several First Nations artisans and shops sell pemmican online, including Silver Moccasin.
Daring drink: One of Canada's more eccentric culinary traditions, the sourtoe cocktail hails from the Prohibition era in the Yukon, where a nasty case of frostbite stole the toe of rum-runner Louie Linken. His brother Otto, who chopped off the toe, placed it in a jar of moonshine, which they left in an abandoned cabin. Decades later, in 1973, Captain Dick Stevenson discovered the jar and was inspired to found the Sourtoe Cocktail Club, whose members were admitted only after drinking from the dreaded "Sourtoe cocktail". Today, visitors to Dawson City in the Yukon can follow tradition by swigging a shot of the famed drink — but only by paying heed to the most import rule – "You can drink it fast, you can drink it slow, but your lips have gotta touch the toe" – will imbibers be inducted into the Sourtail Cocktail Club themselves.
Taste: the Sourdough Saloon in Dawson City, where a shot of the dastardly drink welcomes visitors into the official club, complete with certificate.
Pairs with seafood: Nova Scotia's wine country is the only place in the world that produces Tidal Bay wines – crisp, cool and lively, they're described as "the essence of Nova Scotia in a glass". All Tidal Bay wines are comprised of 100 percent Nova Scotia-grown grapes and demonstrate a distinctive taste profile evoking hints of fresh green fruit, acidity and minerality. Perfect for sipping throughout the long winter nights, Tidal Bay wines are relatively low in alcohol (no more than 11 percent).
Taste: Nova Scotia's wineries are the perfect spot to sample the province's signature vino. Try Jost Vineyards and Lightfoot & Wolfville to start.
There's more: Still hungry? Canada's cornucopia of homegrown dishes also includes butter tarts (flaky pastry shells loaded with a filling of butter, sugar and eggs), BeaverTails (deep-fried dough pastries flatted to resemble a beaver's tail), Saskatoon berry pie (made from Saskatoon berries, whose sweet almond flavour pairs perfectly with pastry), Montreal-style bagels (smaller and sweeter than their New York counterparts, they're boiled in honey water then baked in a wood-fired oven) and Nova Scotia lobster rolls (tender, juicy lobster served in a grilled bun).
Readers wanting more information should go to www.explore-canada.co.uk
For
Follow and Share with Jetsettersblog.