Destination Madison: A New Name and New Experiences Make for an Exciting 2019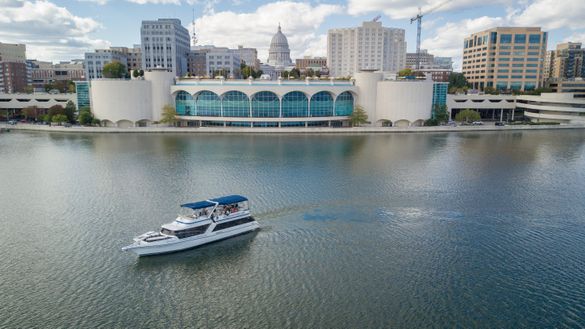 ---
From cocktail secrets to mustard mysteries, State Street sights to sassy cows, the former (more on that later) Greater Madison Convention & Visitors Bureau (GMCVB) opens 2019 by embracing the spirit of adventure found in today's travelers with the new Essential Madison Experiences program. The Experiences offer more than a dozen deep dives into the things that make Wisconsin's state capital such an awesome place to be: lakes, art, cocktails, and cheese… oh so much cheese.
Additionally, the 2019 calendar flip unveiled another exciting undertaking as the GMCVB became "Destination Madison" – a name that reflects the passion, pride and spirit shared by the people who call the greater Madison area home. The name is a shorthand, a calling card, to appeal to the type of "seeker" visitors who soak-in the region. The new organization name tells visitors that Madison isn't a place people stumble across on a map; it's a city and region that inspires people to pick up a map to seek out.
Developed between Destination Madison and local business and attraction partners, the Essential Madison Experiences take visitors and residents behind-the-scenes of beloved local sights and sites to showcase the best that the greater Madison area has to offer.
One classic Madison restaurant experience introduces visitors to Wisconsin's favorite drink: the brandy Old Fashioned (yes, brandy – we leave the whiskey version to the other 49 states). Visitors may enlist in Bitters Boot Camp at the Avenue Club and Bubble-Up Bar and learn the ins and outs of this happiness-eliciting cocktail. Participants will sample several versions of the Old Fashioned (fine, we'll do one with whiskey) and use an array of spices, herbs and flavors to craft their own unique bitters that they can take home and impress their friends with.
Another cocktail adventure is found at Madison's iconic Olbrich Botanical Gardens. Participants will get an insider's view of this indoor, tropical oasis and learn about stories, people, and some of the 650 species of plants that made the Conservatory special. Guests will finish with a signature drink created from ingredients within the garden and walk away with a limited edition glass.
The new website experiencemsn.com has video and photo previews of the Essential Madison Experiences – each of which tells Madison's story in a memorable and Instagrammable way. The full list of experiences includes:
Bitters Boot Camp – Avenue Club & Bubble Up Bar
Build a Wisconsin Cheese Board – The Madison Concourse Hotel & Governor's Club
Paint Madison with Wheelhouse Studios, Paddle to the Point, Winter Walk with Wisconsin Union (three separate experiences) – Wisconsin Union
Mustard Bites: A Tasteful Adventure – National Mustard Museum
Distillery Tour – Death's Door Distillery
Stroll Down State – Capital City Food Tours
Garden to Glass: Totally Tropical – Olbrich Botanical Gardens
Launching Summer 2019:
Meet the Sassy Cows – Sassy Cow Creamery
Gardens to Glass: Iconic Olbrich Botanical Gardens – Olbrich Botanical Gardens
A Betty Lou View of Madison – Betty Lou Cruises
Essential Madison Experiences are available for groups, including conventions, meetings, motorcoach groups, and reunions. Individuals and small groups will be able to take part in regularly scheduled drop-in events set up by each partner. For more information visit experiencemsn.com. Additional images are available upon request.
Follow and Share with Jetsettersblog.