Discover a Magical New Outdoor Treasure Trail Through Watford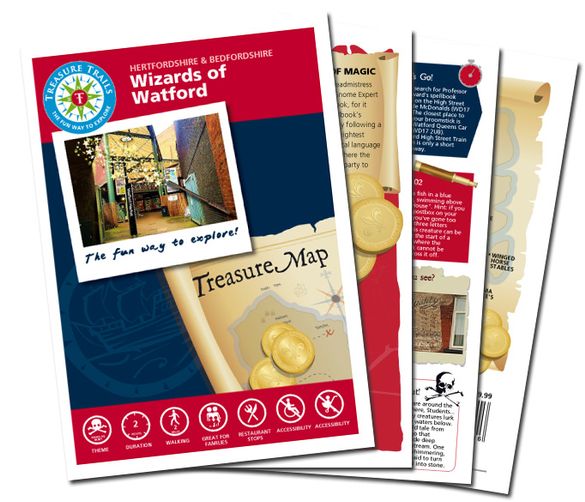 A new 'Wizards of Watford' Treasure Trail around Watford's hidden corners and winding backstreets gives wannabe wizards the chance to crack secret clues to complete a mystical quest.
Treasure Trails are themed self-guided walking trail booklets (£9.99 each) providing outdoor discovery fun for all ages, all across the UK. Lasting around two hours, the aim is to solve clues on a circular route of approximately two miles, incorporating plaques, signs, statues, monuments, images, engravings or other quirky features found in the area. The clues unlock incredible stories from the past and solve a mystery at the end of the trail.
There are over 1,200 Treasure Trails across the UK. The new 'Wizards of Watford' trail complements the Watford-based Leavesden Studios, where the Harry Potter films were produced and home of the 'Warner Bros. Studios Tour London – The Making of Harry Potter'.
So, what is your quest?
Headmistress of Hecate School of Magic, Professor Wayward, has gone missing! You are tasked with following the directions in the Trail Booklet and solving the clues to locate the Professor's spellbook, which contains a charm to summon her from wherever she may be.
Grab your wand and embark on this social distancing-friendly outdoor experience with a difference, in and around the highstreets and winding backstreets of Watford. The tour begins at the Waterfields Recreation Ground, before transporting adventurers back to the recently refurbished High Street, filled with a mix of beautiful old buildings and eye-catching public art.
As well as using plaques and monuments to solve the clues, you'll also discover fun facts, such as the link between Watford and the magical novel 'The Lion, the Witch and the Wardrobe'.
The central location means it is easy to stop for refreshments along your journey or, alternatively, Waterfields is a great picnic spot.
Treasure Trails are designed for anyone with a sense of adventure; from young detectives and budding spies to adult sleuths alike. There are three themes of Trails to choose from: Treasure Hunt, Spy Mission or Murder Mystery.
To download the 'Wizards of Watford' trail and browse the full list of trails by region, visit treasuretrails.co.uk. The trail booklets are available to buy online and download to print at home, or can be sent via post within 3-5 working days. Kids can get creative and add their own photo and text to the front cover using the website's online editing tool.
This autumn, Treasure Trails is partnering with the British Heart Foundation to help fight heart and circulatory disease, and will be donating £5,000 of proceeds each month to the charity.
NOTES FOR EDITORS
For more information please contact:
Sarah Runnacles | sarah@flamingo-marketing.co.uk | 01637 873379
Treasure Trails have entertained over two million people since 2005 and are rated 4.8 out of 5 stars on Ekomi, the independent review site.  Treasure Trails cost £9.99 (plus P&P as required).
Treasure Trails Covid-19 Code of Conduct:
Treasure Trails are ideally suited for everyone to re-discover what's around them in a fun and responsible way.
Follow social distancing rules at all times. Be prepared to skip a clue if social distancing is not possible.
If planning a trail with people outside your household group, make sure you are still following the latest guidelines for England, Scotland, Wales or Northern Ireland on how many other people you can meet up with outdoors.
Avoid touching any hard surfaces such as plaques, signs, information boards, gates, walls or benches that clues may be based on.
Don't linger for too long – if you need to, take a photo of a plaque or sign and move to a quieter area.
Respect others– remember that there are many vulnerable people who still need to self-isolate. While walking, keep a safe distance from residential homes, schools and other premises.
Follow and Share with Jetsettersblog.