Discover a Unique Holy Week in La Palma, Canary Islands, Spain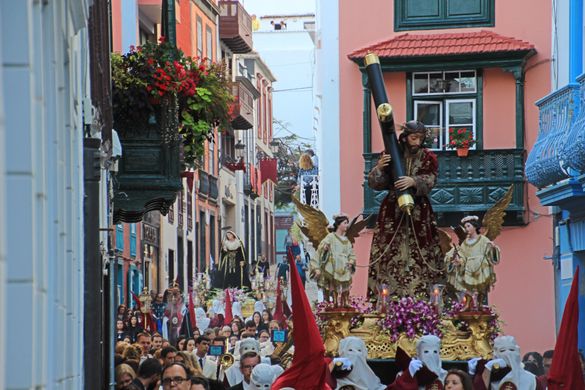 ---
The Easter celebrations are upon us, and Semana Santa (Holy Week) on the 'pretty island' of La Palma, is full of mesmerizing processions depicting religious stories through Flamencan art.
For most Catholic countries, Holy Week is one of the most important celebrations of the year, and for the largely undisturbed island in the Canaries, La Palma, the festivity is no different. During Holy Week, the island's capital Santa Cruz de La Palma comes to life, with grand processions covering the cobbled streets and thousands joining in the festivities adorning themselves with ornate garments, carrying colourful local flowers.
During the 16th century, as a result of the strong trade relationship between La Palma and the Netherlands, the exchange of cultures and local customs flourished, creating the emotive Flamencan style of art which is seen today. This impassioned style of art is proudly paraded through the cobbled streets of La Palma during the Easter celebrations, characterised by its depiction of prominent religious figures.
One of the most famous statues seen during Semana Santa is the Lord of the Cold Stone- a sculpture of a bloodied Christ, is paraded through the streets on Maundy Thursday, followed by crowds of thousands paying their respects to the religious symbol. The most emotive procession on the island, Santo Entierro, follows on Good Friday, and serves as a memorial for the burial of Christ. The holy figure's body is carried in an ornate gold painted coffin decorated with glass panes, accompanied by religious songs and members of the local parish carrying candles and flowers.
The impressive sculptures seen during the Easter period can be admired all year round at local churches and among religious parishes and ceremonies. The local charm and tradition of Holy Week in La Palma demonstrates the authenticity of the island. The passion of the locals and visitors who participate in the extensive festivities, make Easter on the island a moving and unforgettable experience.
Flights to La Palma are available with EasyJet from London Gatwick from £220 departing on March 24 and with TUI from Manchester Airport from £219 departing on March 22.
For more information on La Palma, please visit http://www.visitlapalma.es/en/
–
Follow and Share with Jetsettersblog.