Discover Shipwrecks and Sunken Treasure in Cornwall's Historic Harbour Town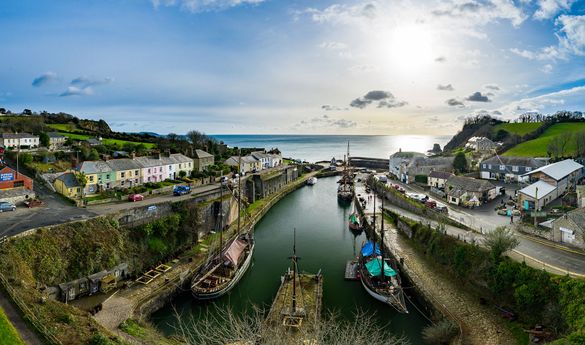 The historic harbour town of Charlestown is the perfect destination to discover Cornwall's rich and mysterious seafaring heritage.
Originally a fishing village, the port played a vital role in the late 19thcentury China clay industry, transporting the precious mineral from the nearby quarries around the world.
Today it's a UNESCO World Heritage Site and its Grade II listed granite quay and resident tall ships provide the perfect backdrop for period dramas and pirate tales ranging from BBC's Poldark and Treasure Island to Alice in Wonderland.
The town is also home to the fascinating Shipwreck Treasure Museum. Located just above the harbour, it houses one of Europe's largest collections of shipwreck treasures.
The Shipwreck Treasure Museum offers a fascinating insight into the story of shipwrecks, telling the tales of their ill-fated final journeys and their amazing re-discoveries.
The museum showcases over 8,000 finds recovered from the seabed, ranging from Ancient Egypt and Rome to surprising modern-day discoveries. It's also home to the world's only intact barrel of coins to ever be recovered from a shipwreck.
Curated over the last 40 years, the museum is a treasure trove of unusual and interesting items, unlike any other open to the public.
Visitors can travel back through time to view artefacts from Henry VIII's famous war ship, The Mary Rose, and props from the blockbuster Titanic, including the 'Heart of the Ocean'.
For an in-depth museum experience guided tours with our resident historian are available and give visitors the chance to ask questions they may have whether they're concerning sinking, to seabed, to salvage.
Groups are welcome at the Shipwreck Treasure Museum with advanced booking for groups of 10 or more. Coaches are able to use the drop off and pick up area outside the Merchants of Charlestown, which houses the Shipwreck Treasure Museum, and drivers can make use of free entry to the museum.
The town is also home to an array of eateries including cafes, restaurants and pubs; many with views overlooking the sea. Charlestown's also the perfect place to pick up local crafts, an antique or even some country lifestyle inspired clothing at Joules.
Issued by Flamingo Marketing on behalf of the Shipwreck Museum. For more information please contact: Jaimie Poyner | jaimie@flamingo-marketing.co.uk|01637 873379 or 07896744943
Notes to editors
Shipwreck Treasure Museum, Quay Road, Charletsown, St Austell, PL25 3NJ
For group booking enquiries please contact info@shipwreckcharlestown.com
Guided group tours with our resident historian must be booked in advance and are at an additional cost of £2.50 per person.
Charlestown's Rebellion Roast House, serving locally sourced produce, is situated directly above the Shipwreck Treasure Museum and can add a simple addition to any itinerary. With advanced booking, reservations for large parties are available and recommended.
Follow and Share with Jetsettersblog.