Discover the Magic of Blenheim Palace, UNESCO World Heritage Site, Oxfordshire UK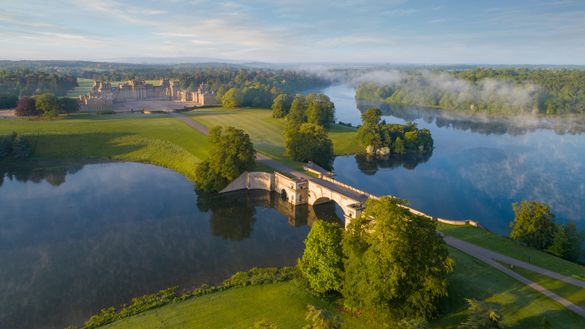 Discover the Magic of Blenheim Palace
Blenheim Palace has been playing host to monarchs and heads of state for more than three centuries.
Home to the Dukes of Marlborough since 1704, Blenheim Palace was designated a UNESCO World Heritage Site in 1987.
The Oxfordshire palace is among around a 1,000 locations globally to be recognised as having outstanding value to humanity.
Set in over 2,000 acres of 'Capability' Brown landscaped parkland and designed by
Vanbrugh in the Baroque style, it was financed by Queen Anne, on behalf of a grateful nation, following the first Duke of Marlborough's triumph over the French in the War of the Spanish Succession.
At the time the victory was hailed as the greatest British military success since Agincourt.
Blenheim Palace is also the birthplace of one of Britain's most famous leaders, Sir Winston Churchill and it was his father who described the vista on entering the Estate from the village of Woodstock as the 'finest view in England'.
'At Blenheim I took two very important decisions; to be born and to marry. I am content with the decision I took on both occasions.' Sir Winston Churchill
Winston Churchill was born at Blenheim Palace in 1874, spent much of his childhood there, and proposed to his beloved wife Clementine in the Temple of Diana in 1908 during a summer downpour.
The Palace and its surroundings were a constant source of inspiration for Churchill, who was a regular visitor throughout his long life.
Winston's love of Blenheim Palace remained to his dying day. Following his state funeral in 1965 he was buried beside his parents in the cemetery of St Martin's Church in Bladon – located on the south western edge of the Estate.
Located just a 90-minute drive from Central London and 10 miles north of the historic university city of Oxford the Palace and its stunning grounds plays host to hundreds of thousands of visitors from around the world.
In addition to the Palace's rich heritage there is also a full calendar of activities and events taking place throughout the year from summer garden parties and outdoor musical performances to magical Christmas lights and historical re-enactments.
For more information please contact: Melodie Manners | melodie@flamingo-marketing.co.uk | 01637 873379 or 07815 70954.
Resources
Blenheim Palace Image Library
Included here are high res downloads of the Palace, Park and Gardens. We have further imagery if you require something specific.
www.blenheimpalace.com/imagelibrary
Username       blenheim
Password        worldheritage
Exploring the Area
Discover Woodstock, founded almost 900 years ago just outside of the city of Oxford. The picaresque town has a number of galleries, restaurants, pubs and shops to explore.
After their conquest if England, the Norman kings indulged their love of hunting by setting aside vast swathes of countryside as royal parks. One of the most important was the Manor of Woodstock.
King Henry I enclosed the park with a wall seven miles long – the earliest known park wall in England – and moved residents to what is now known as Old Woodstock. New Woodstock, the main part of the town, was a medieval new town created in the late 12th Century by Henry II. Spending a good deal of time there, with his mistress 'Fair Rosamund' – whose well can still be seen at Blenheim Palace.
Woodstock Manor was an important royal palace for several centuries until the English Civil War. It then stood derelict with the town in decline until the estate was granted to John Churchill, 1st Duke of Marlborough in 1704. The next century saw the regeneration of Woodstock which still has the predominantly Georgian appearance.
Explore the rich history of Woodstock on the Woodstock Town Walk – available from oxfordshirecotswolds.org.
The Ashmolean is Oxford University's museum of art and archaeology. Opened in 1683, it is the oldest public Museum in the world! Enjoy visiting temporary exhibitions as well as permanent collections ranging from Egyptian mummies to Pre-Raphaelite paintings to contemporary art. ashmolean.org
Luxury shopping destination Bicester Village is home to more than 130 boutiques of world-famous brands, each offering exceptional value with savings of up to 60% on the recommended retail price. The Village offers a suite of services that include Valet Parking, Hands-free Shopping, and an onsite tax refund and money change service. bicestervillage.com.
The Soldiers of Oxfordshire Museum, "Conflict and County", is a Military Museum located in the heart of Woodstock which is dedicated to displaying the rich histories and telling the stories of two County Regiments; The Oxfordshire and Buckinghamshire Light Infantry and the Queens Own Oxfordshire Hussars in which Churchill served and was associated with for 64 years. The museum is well regarded for its significant and important collection of documents, letters, artefacts and images which are a record of the social and development history of Oxfordshire. Visitors can delve into the County's past with static and special exhibitions on display. sofo.org.uk
Follow and Share with Jetsettersblog.