Discover the Secret Bike Routes Around London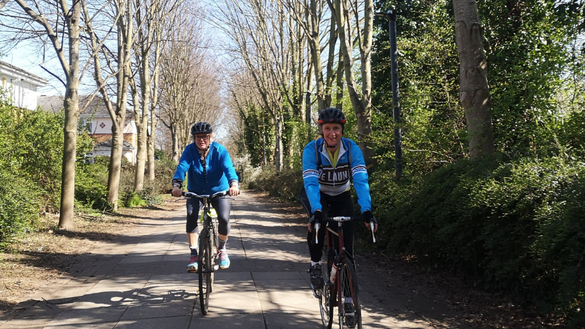 ---
Over the past year, increasing numbers of people have discovered the joys of cycling for fun, fitness and mental well-being.
Now, for those eager to escape the city and discover secret routes around both the capital and the South East, there's Hidden Tracks Cycling.
The new hyper-local travel company, led by veteran British Cycling coach Charlie Codrington, takes cyclists at all experience levels off-road and on to guided rides both around the city and out of London, linking up bridleways, cycle tracks, woodland paths and the odd quiet road.
Most rides last between 4.5 to 5 hours to complete a circuit, or up to a whole day for more experienced off-road enthusiasts. The guided tours cost between £40 and £85.
Go to Finkleshole, explore the seven windmills on the Miller's Trail, or set out 'Hunting Wombles', across Wimbledon and along the Thames; investigate routes around Hampton Court Palace, go off-road all the way from London to Brighton, or follow the pilgrim's trail from Southwark to Canterbury Cathedrals.
These hidden routes, linking up off-road areas around London have been pieced together by competitive cyclist Charlie Codrington who has spent months of lockdown exercise sessions out on his bike meticulously tracing all kinds of tracks close to London. Now he's plotted them out for others to enjoy.
Not only will riders see unexpected scenery as the seasons unfold, through ancient woodland, bluebell woods, carpets of wild garlic and cow parsley; they will also pick-up coaching tips about off-road cycling along the way and be treated to Charlie's famous vanilla fudge and flapjacks.
Hidden Tracks Cycling takes groups of up to 10 people. Rides are suitable for novices and experienced riders alike, and for children of 14 years plus. For further details of all rides visit  hiddentrackscycling.co.uk. 
About Charlie
Veteran cyclist, coach and ride leader, Charlie is well known on the South London cycling scene.
Initially a Cat 3 Racer in the SERRL leagues before moving off-road, first to cyclo-cross and then to MTB, he's raced across Europe and gained a certain notoriety in Transylvania as being 'the Englishman' who kept winning races in the 'Wise Man' category!
Starting his coaching career with Herne Hill Youth CC, he established the club's older group, before moving on to establishing Dulwich Paragon's Youth Squad, guiding groups of kids through their teens, keeping them in the sport, out of trouble and whilst having a lot of fun and achieving some respectable results.
Latterly, he's leading the Dulwich Paragon Cyclocross team – a rapidly expanding group of over 50 riders actively competing in the local CX leagues with regular coaching sessions and support for all riders regardless of ability – he's affectionately known as 'Coach' to over 100 riders in the group!
He's organised many Cyclocross races for the London Cyclo-Cross Association, including the infamous Leeds Castle CX race with 'the Wall', 'Moat' and that marching band!
Charlie's lockdown was spent discovering or 'creating' off-road routes in and around London, these proved so popular that, 'doing a Charlie route' entered the club lexicon. These routes form the backbone of his new company Hidden Tracks Cycling.
A taste of the cycle rides
Currently guiding 5 rides a week the above rides are a small selection of the 18 routes on offer – for more details https://hiddentrackscycling.co.uk/pages/our-adventures-2
Sunday 30 May – Tidal Traveller 10:00 – 16:00 leaving from Wapping
Green – Easy: routes around 20 miles, with minimal hills suitable for novices or near novices as well experienced riders who want a leisurely ride.
This is an experience! 20 traffic-free, pan flat miles of easy riding exploring 1000 years of London's industrial and maritime history. This ride discovers heaps of London's surprises and how they have changed over time.
Hidden architectural gems, street art, beaches, canal boats, ships, cable cars, aeroplanes, trains, over 88 football fields and 2 stadia interspaced with cycling that's just fun – floating boardwalks and cool curly wurley bits make this an all-round great day out on a bike.
Friday 16th April – Wonderful bluebell woods.
Blue – Moderate: routes around 20 to 25 miles with some hills, suitable for novices and near novices with reasonable levels of fitness and those looking to progress their riding ability.
The local woodlands are at their best in April and May, with swathes of bluebells and that amazing light that only happens when the leaves are newly out. This guided off-road ride explores our nearby woodland in all its Spring glory.
Friday 21 May – Four Uncommon Commons!
Red – Difficult: gravel routes around 60 km, moderately intense physical challenge suitable for reasonably fit riders with minimal off-road experience.
A varied, predominantly off-road ride connecting four commons, an 18th Century folly, Neolithic remains, bird hides, WWII history and a Giraffe and Gorilla – this is surprising South London at its best.
Saturday 22 May – Brighton Bound – the quiet way!  09:00 – 19:00 leaving from Streatham Common
Black – Expert: gravel routes greater than 80 km, for regular fit off road cyclists and road cyclists looking for an introduction to off road riding.
Brighton, the default destination for London's cyclists. There are numerous routes and many organised rides to the seaside but very few of these are off-road adventures across the North Downs, the Greensand ridges, High Weald and finally the imposing (well for Southern England, they are imposing) South Downs.
This ride is a challenge, largely off-road the route passes through some of the most outstanding scenery in the South East along some of the more challenging bridleways.
Follow and Share with Jetsettersblog.