Discover Zen at Four Seasons Resorts Thailand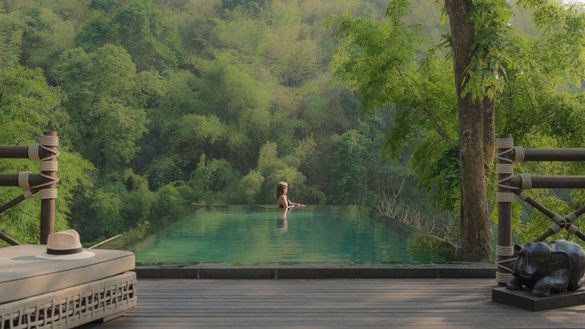 ---
If Thailand is on the bucket-list to discover "zen" this New Year, guests should look no further than Four Seasons Resorts Thailand. The perfect time to unwind, slow down and begin the year on a rejuvenating mode, Four Seasons Tented Camp Golden Triangle, Four Seasons Resort Chiang Mai, and Four Seasons Resort Koh Samui offer unique experiences aimed at improving wellbeing, while channelling the inner zen to prepare for the year ahead.
For the Adventurous
Promising an adventure of a lifetime in the wondrous natural surroundings of Northern Thailand, bordering Myanmar and Laos, Four Seasons Tented Camp Golden Triangle is the perfect escape from the hum-drum of day-to-day life. Offering a memorable experience for the entire family, the Camp is a perfect balance of nature and culture, adventure and relaxation, luxury and austerity.
"With just 15 tents and one two-bedroom Explorer's Lodge, patchy WiFi and no in-room television – guests have no choice but to detox – digitally, mentally and emotionally," smiles Camp Manager Tobias Emmer, adding, "Expect to hear birdsong from the spa, cicadas humming at night, frogs calling, and even an elephant or two chatting in the distance! If you wake up early enough one morning, you can soak in the thick fog banks as they wash away to reveal the lush bamboo jungle just a few feet away."
The two-bedroom Explorer's Lodge is perfect to reconnect with family. "It's a safari-style jungle refuge with a spacious deck, featuring an outdoor plunge pool and stunning views of the surrounding bamboo jungle," explains Tobias. "During the day parents and children can interact with gentle giants or explore the vibrant Golden Triangle, before settling down to enjoy the sunset with a refreshing cocktail. Our team will prepare a private barbecue of perfectly grilled meats, giving families a chance to bond and recharge."
What's more, guests who choose to stay for three nights, get the fourth night with the Camp's compliments.
For the Wellness Seeker
Overlooking verdant terraced rice fields and with misty mountains beyond, Four Seasons Resort Chiang Mai naturally lends itself to healing. The Resort is a perfect place to immerse in a multitude of wellbeing experiences, where guests can find their balance by curating their own personalised itineraries with the help of the Resort's experts. From wellness cuisine, Resort activities and cultural exploration to spa, yoga and holistic healing experiences, there's plenty to help rejuvenate, recharge and refresh in the New Year.
"We create customised itineraries for guests who would like to take their first step into the world of holistic health, as well as provide the perfect vacation option for guests who are already on a wellbeing path and would like to continue on the journey," says Ashok Nair, Director of Experiences. "We have a robust wellness program – be it active or relaxed – from yoga led by our in-house yogi Dheeraj Patwal to tennis with a former WTA ranked player by Nichapa Rungtein (Khun Nut), to meditation and focus on breath by our visiting masters who can share a holistic approach to managing day-to-day stress and finding ways to decompress and rejuvenate," adds Ashok.
Families looking to find their zen this New Year can stay in the luxurious 2-4 bedroom Private Retreats where the Resort offers the third night with the Resort's compliments. "There's no better way to rejuvenate than with the entire family! Our Private Retreats come with personal attendants and several other perks, making family travel memorable!" shares Ashok.
For the Beach Lover
"Fancy a beachside retreat, nestled in the tropical beauty of Thailand's island life? Four Seasons Resort Koh Samui has what you're looking for!" smiles Reza Jafari, Resort Manager.
The Resort offers a series of well-designed experiences for guests to connect with Thailand's vibrant culture and those who are keen on active wellness. Muay Thai is synonymous with Thailand and what better place to learn the "art of 8 limbs" than at the hill-top ring, with panoramic views of the ocean. The program at the Resort is a full-day immersion, where guests can choose a private lesson from intermediate to advanced level with the Resort's in-house Muay Thai pro and former fighter Kru Aan Anuphong Deesamer. Here, guests learn the basic moves and techniques of the traditional Thai sport or refine existing skills. A much-needed Muay Thai Recovery at The Secret Garden Spa follows, where Thai herbal steam balls filled with home-grown ingredients. "We also offer the opportunity for our guests to go local for a day by visiting the Muay Thai Stadium and watching a Muay Thai match in the evening," adds Reza.
For the perfect family getaway, the Resort's plush 2-4 bedroom Private Retreats offer the most luxurious stay, with a private butler, private chefs on call, canapes in-residence and stunning accommodation with infinite views of the Gulf of Thailand from the multiple pools. "We are spreading festive cheer: enjoy the fourth night with our compliments when you stay with us at the Private Retreats!" shares Reza.
Follow and Share with Jetsettersblog.