Dive and Drive on Costa Cálida + Golf in Spain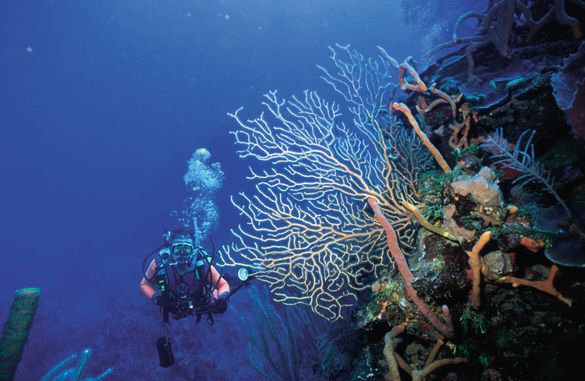 ---
Golfers spend a large part of their time on the course desperately trying to avoid finding the water – but holiday packages in Murcia next year will invite them to dive in for further fun.
Several tour operators are combining golf and diving in a variety of different break opportunities, with a great choice expected to be available when prices are revealed later this year.
Whether an expert at each, or neither, there will be an opportunity to embrace both sports while also experiencing all the sights for which the region has become renowned.
There are 22 golf courses from which to choose, in a radius of 35km, on the Costa Cálida, ranging from relatively benign holiday tracks to highly regarded championship layouts, including the South Course at La Manga Club – five-time host of the Spanish Open and one of three 18-hole courses at the resort.
Renowned course designer Dave Thomas has his signature on no fewer than seven of the courses, while arguably the world's greatest golfer, Jack Nicklaus, and the design company which bears his name, account for another six.
Likewise, the choice of diving sites is extensive. And the region's seabed is blessed with a variety of marine life and flora, and numerous, fascinating historic shipwrecks, making the Cabo de Palos-Islas Hormigas-Isla Grosa, Cartagena-La Azohía- Cabo Tiñoso, Mazarrón, and Águilas exceptional places for diving.
All offer the opportunity to enjoy everything from easy dives in shallow waters, to more challenging routes recommended only for more experienced divers. For assistance, there are numerous diving centres offering courses and dive experiences for all levels: from beginners, to more technical dives to large shipwrecks, underwater caves and crevices, suitable for the experienced diver.
Package prices for 2019 are expected to be available from tour operators and travel agents in November – but it's never too soon to check it out for oneself, with a diving 'baptism' costing from €55, a full diving course from €340 and golf starting at just €34 per round.
Access to Costa Cálida, Región de Murcia, is simple as it is served by Murcia-San Javier airport all year round, while Alicante airport is also nearby. Both airports are served by numerous other airlines flying from a wide variety of UK and Irish airports and flights in June cost from just £23 one way.
Information for journalists
Press release written and distributed, on behalf of the Instituto de Turismo de la Región de Murcia, by Azalea.
About Región de Murcia
The Costa Cálida, Región de Murcia is an ideal leisure and sport destination for UK travelers. The area offers year-round sunshine with an average temperature of 19.4°c and 315 days of sunshine per year.
The picturesque region is just two hours from the UK by plane, in the south-east of Spain. Región de Murcia  is in a privileged setting within the Mediterranean basin and includes 252km of coastline, known as the 'Costa Cálida' or warm coast. Visitors can take their pick from numerous sandy beaches; a variety of water sports and diving locations; 22 top-quality golf courses, all within easy reach of each other; delicious culinary delights; relaxing spas; and the opportunity to explore the beautiful countryside and regional parks.
The Mar Menor is a saltwater lagoon with warm shallow waters, gentle wind, sheltered coastline and many hotel facilities and sports infrastructures, which make it the ideal setting for water sports at any time of year, for all tastes and ages. Here, visitors can enjoy kite surfing, canoeing, sailing, windsurfing, water skiing and much more.
They can also enjoy diving in the marine reserve of Islas Hormigas, settled in Cabo de Palos, which has been recognised as one of the best places for diving anywhere along the Mediterranean and where you can explore everything from historical wrecks to amazing underwater landscapes.
The port of Mazarrón offers visitors a rich artistic heritage and a range of interesting leisure options, with more than 35km of beaches, unspoiled coves and rocky sea beds. Mazarrón Bay is sheltered by the foothills of the Sierra de la Almenara, while the port offers visitors many opportunities to learn about the town's seafaring tradition.
And just half-an-hour along the coast, another delightful port city, Águilas, blends a tradition of seafaring with a wide range of tourist facilities, making the most of one of its main attractions, the extensive coastline. There is much to remind visitors of its 19th-century heyday, when it was a major mining enclave, such as the Hornillo jetty, where iron, lead and silver were loaded on to ships.
There is always something going on in the region with a host of big events and festivals taking place throughout the year, including the international music festival 'SOS 4.8' in Murcia at the beginning of May, or the varied summer festivals including 'La Mar de Músicas' in Cartagena, or the International Jazz Festival in San Javier, both in July. And visitors can also enjoy August's 'El Cante de Las Minas Flamenco Festival' in La Unión.
Región de Murcia  is the perfect holiday destination – for sea, spa, or sport, countryside, culture or cuisine – at any time of the year, whatever your passion.
For more information, please visit www.murciaturistica.es/en
Follow and Share with Jetsettersblog.