Dive Into the World's Deepest and Largest Underwater Attraction With PADI in Dubai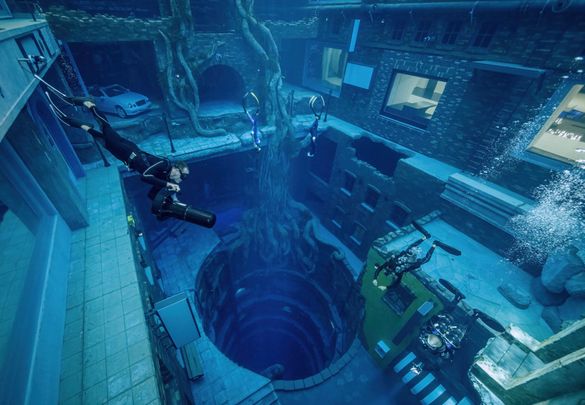 If you're looking for a truly unique and exciting experience on your next trip to Dubai, take the plunge and learn to dive with PADI, the world's largest diver organisation, at Deep Dive Dubai, home of the world's deepest swimming pool for diving, as verified by Guinness World Records.
With a depth of 60 metres and holding 14 million litres of water, the equivalent of six Olympic sized swimming pools, the new state-of-the-art facility offers thrill-seekers, from beginners to professionals, access to a world of exciting scuba and freediving experiences and courses at this PADI® Five Star Development Centre.
If you've never dived before, Deep Dive Dubai is the perfect place to start your dive adventure. Whether you want to try a single dive to experience something new or take the first steps towards certification as a diver, you'll do your first dive in safe and controlled conditions with PADI Instructors.
Featuring the latest technology and unrivalled facilities, Deep Dive Dubai boasts an array of exciting underwater attractions including a sunken city with an abandoned streetscape, fully furnished apartment, garage, telephone booth and games arcade complete with table football, amongst other surprises. New divers are limited to exploring depths up to 60 feet.
The pool's warm freshwater is filtered and circulated every six hours through siliceous volcanic rock, NASA-developed filter technology and UV radiation, and is maintained at a comfortable 30 degrees Celsius.
Inspired by the UAE's rich pearl-diving heritage of the past, this venture sets new heights, and depths, in the nation's ambitious vision for an incredible future and is also home to a dive shop, gift shop, an 80-seat restaurant as well as a variety of meeting, event, and conference spaces.
Large viewing areas on the lower floors of the building allow diners at the restaurant and other rooms to peer into the underwater environment and observe their friends during their dives.
PADI Experiences and Courses
01.
PADI Discover Scuba® Diving
Perfect for those who want to take their first breaths underwater and try a single dive. No diving certification is required and your experience starts with a short briefing on the basics of scuba diving and an introduction to the equipment, followed by shallow water practice and then off to explore the underwater city in the world's deepest pool. Your non-diving guests can share the experience through the large viewing windows.
Price from £357.00 including all dive equipment, a video to share with your friends and access for one non-diving guest to share your experience through a large viewing window.
PADI Open Water Diver Course
If you've always wanted to learn how to scuba dive, Deep Dive Dubai's team of talented PADI Instructors will lead you through your PADI Open Water Diver course. Upon completion, you'll earn your PADI certification, a lifelong passport to adventure, recognised around the globe.
Price from £786.00 including all necessary equipment, teaching materials and certification fees.
Guided Scuba Experiences
Whether you are a new diver or a veteran technical diver with thousands of dives, or anything in between, Deep Dive Dubai has something for you. Explore the different sections of the underwater city up to the depths allowed by your certification with open water divers to 20m, advanced to 30m, and trimix-trained technical divers up to 60m. All experiences include a PADI professional dive guide to show you around and make sure you get the most out of your experience.
Price from £238.00 including equipment and gases, access for up to three guests to share your experience through a large viewing window.
For more information visit: www.deepdivedubai.com
For more information about PADI visit www.padi.com
NOTE: If you are travelling to Dubai and would like to visit the facility or would like to see a short video clip of the facility, please contact Becky Roberts at Junction on M: 07960 718712 or email: padi@junctioncomms.com
About PADI
PADI® (Professional Association of Diving Instructors®) is the world's largest ocean exploration and diver organisation, operating in 186 countries and territories, with a global network of more than 6,600 dive centres and resorts and over 128,000 professional members worldwide. Issuing more than 1 million certifications each year, and with over 28 million certifications to date, PADI enables people around the world to seek adventure and save the ocean through underwater education, life-changing experiences and travel. For over 50 years, PADI is undeniably The Way the World Learns to Dive®, maintaining its high standards for dive training, safety and customer service, monitored for worldwide consistency and quality. With a longstanding commitment to environmental conservation, PADI is leading the way for millions of people to actively explore, steward and protect the ocean through its course offerings and partnerships with like-minded, mission-driven organisations. PADI embodies a global commitment to ocean health with its mission to create a billion torchbearers to explore and protect the ocean.
Seek Adventure. Save the Ocean.