Diverse Cultural Gems in Norfolk and Suffolk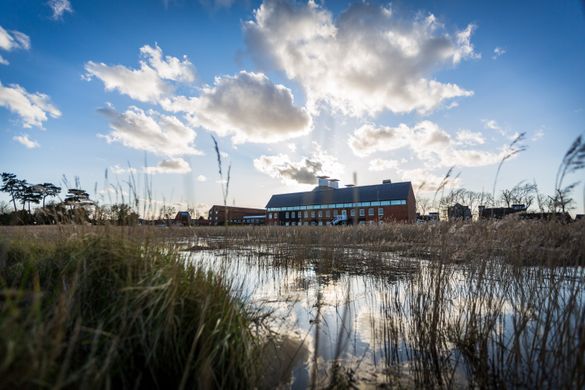 With fewer crowds, almost-empty train carriages, and a range of inviting accommodation and dining options, Norfolk and Suffolk are relatively undiscovered cultural gems. However, they are emerging destinations for visual arts, theatre, music, festivals, physical theatre, and more.
Here is a curated list for your autumn listings and round-ups. Please mention Head East in your copy if you cover any of the events. For images, please download from this page, or get in touch.
September
Imagining the City – City walks by writers, Norwich (from September)
The National Centre for Writing hosted a virtual writer's residency during lockdown earlier this year that connected five writers from five fellow UNESCO cities of literature. The writers have each written an imaginary walk around Norwich – exploring the city from afar. It includes writers from Iceland, Poland, Edinburgh, Ireland and New Zealand. The booklets are free to pick up from the Millennium Library in Norwich and independent book shop The Book Hive. It's essentially a celebration of Norwich as a UNESCO City of Literature and international collaboration. The booklet includes writing prompts and space for readers to try out their own writing.
https://nationalcentreforwriting.org.uk/ncw-publications/imagining-the-city/
Banksy comes to Bury St Edmunds!, Bury St Edmunds (until 30 September)
Probably the hottest modern art exhibition in the UK this year, Moments: an Exhibition of Modern Art features eight original works by the world's most exciting and controversial street artist, Banksy! This incredible exhibition will feature art by 23 of the world's best-known contemporary artists, including original works by Banksy, the Connor Brothers, My Dog Sighs, Pure Evil, Blek le Rat, Rachel List and Kaws!
Grayson Perry: The Pre-Therapy Years at The Sainsbury Centre of Visual Arts, Norwich (19 September – 30 January 2022)
Grayson Perry's groundbreaking 'lost' pots have been reunited for the first time to focus on the formative years of one of Britain's most recognisable artists. Often challenging and explicit, these works reveal the early development of Perry's distinctive voice that has established him as a compelling commentator on contemporary society. This exhibition is the last on the collection's tour in the UK, and will not be going to London.
https://www.sainsburycentre.ac.uk/whats-on/grayson-perry-the-pre-therapy-years/
Leiko Ikemura: Usagi in Wonderland at The Sainsbury Centre, Norwich (until 12 December)
Discover the Japanese-Swiss artist, Leiko Ikemura, who presents a selection of paintings, sculptures, drawings and photography in her first UK exhibition. Ikemura has selected 50 works that span three decades of her career. Her art appeals to our imagination with its childlike purity.
The exhibition's dominant theme is the connectivity of all aspects of nature, be it human, animal, plant or mineral, in an eternal circle of life. Through her fantastical figures and primeval landscapes, Ikemura explores fragility, transience and slow evolutionary change – choosing to address environmental issues from an empathetic, global perspective.
www.sainsburycentre.ac.uk/whats-on/leiko-ikemura-usagi-in-wonderland
YARMONICS Festival of sonic art and new music, Great Yarmouth (25 – 26 September)
YARMONICS is a free sonic art and new music festival that celebrates the sounds, people and places of Great Yarmouth. It features installations, performances, workshops with local groups and talks. YARMONICS has invited a number of sound artists, musicians, writers and artists to create work that responds to specific spaces and places in Great Yarmouth.
Norfolk Open Studios, various locations (25 September – 10 October)
Norfolk Open Studios has established itself as one of the largest and most successful open studios schemes in the country. It gives visitors the opportunity to see new art, meet artists, and – with many of the works on display being for sale – to buy original artworks directly from their creators. Over 260 studios and schools are taking part. Studios are FREE to visit and visitors don't need to book in advance, unless they are a large group.
Rider Spoke, across Norfolk (on weekends between 29 September – 7 November)
Part of the Norfolk Wonder EXPLORE programme, Rider Spoke is an art project by Blast Theory which mixes art, theatre and location-based technologies. An audience favourite for NNF 2021, it invites you to cycle through the streets of the town. Guided by a smart phone attached to your bicycle, you search for a hiding place and record a short message there. And then you search for the hiding places of others. Working in partnership with GroundWork Gallery, Kings Lynn; Sheringham Little Theatre; and St Georges Theatre, Great Yarmouth, the Festival will present Rider Spoke over six weekends in October and November 2021. Part of the Norfolk and Norwich Festival 2021.
https://nnfestival.org.uk/norfolk-wonder
Power of Stories, Ipswich (until 24 October)
Three iconic costumes from Marvel Studios' Black Panther are currently on display in a new exhibition at Christchurch Mansion. The outfits of T'Challa, Shuri and Okoye featured in the ground-breaking film sit alongside Marvel comics, historic museum objects and local stories.
From folklore to fake news, people have told stories for thousands of years. These three costumes from Marvel Studios' Black Panther are woven into a patchwork of storytelling traditions from across time and place. From music to movies, carvings to cartoons, this exhibition asks how the stories we know shape the way we see the world.
The exhibition has attracted more visitors than Made in Suffolk – the Ed Sheeran exhibition at the same venue in 2019.
Ipswich is an emerging cultural centre – why not hang out for the weekend to explore other events?
Who Ate My Uncle? The 25 Paintings World Tour by Bill Drummond, Primeyarc, Great Yarmouth (10 September – 17 October)
'The 25 Paintings', is the first stage of Bill Drummond's World Tour 2014-2026; an epic sculpture, 25 years in the making and the culmination of the life's work of the artist, legendary music maker and infamous myth maker. The 25 Paintings World Tour lasts for twelve years. The 25 Paintings World Tour is a twelve-step programme. On each step of the tour so far, Drummond has spent a period of the year working in a different city, in a different country that has held a personal significance for him (outside of the pandemic).
http://originalprojects.co.uk/category/projects
October
THE INTERGALACTIC HANSEATIC LEAGUE (IHL) – a fictional sci-fi, time-travel adventure, King's Lynn (1 – 17 October) 
Kate Dickie of Game of Thrones and Star Wars features in a fun, sci-fi, time-travel adventure between 1 – 17 October, which focuses on climate change. The town-scale arts project sees visitors from King's Lynn's future making contact with 21st century Lynn with an urgent request for help. It includes nightly large-scale projections, outdoor interactive game and sound installations, live-action film in local cinemas and on high street screens and more!
The IHL is produced by Collusion, a Cambridge and King's Lynn based arts organisation that creates public artworks exploring the creative use of technologies and the impact of emerging technology on society.
The promo video 'Transmission 1' features the actor Kate Dickie, who will also be appearing on cinema screens directly addressing the town's citizens!
Altered Feast, Norwich (1 October -19 November)
We could all do with a laugh right now, which is why we're holding our first Comedy Fest this autumn – packed with stars of TV and some of the best stand-ups touring the UK right now.
Altered Feast, Norwich's favourite alternative comedy cabaret night, takes over The Garage with Clutterbuck's Comedy Club (1 October). Organised and hosted by Tom Clutterbuck, Altered Feast ran at The Birdcage for five years before moving to Norwich Arts Centre in 2021. Expect the witty, the weird and the wonderful.
Rhythm and Geometry: Constructivist art in Britain since 195, The Sainsbury Centre, Norwich (2 October – 30 January)
Drawn from the Sainsbury Centre collection, Rhythm and Geometry: Constructivist art in Britain since 1951, celebrates the abstract and constructed art made and exhibited in Britain since 1951 and comprises of c.120 objects across sculpture, reliefs, mobiles, painting, drawing and printmaking.
Rhythm and Geometry: Constructivist art in Britain since 1951 examines the rise of this dramatic strand in post-war British art led by the example of Victor Pasmore, who famously converted to abstract art in the late 1940s.
This is the first time this collection is exhibited together.
www.sainsburycentre.ac.uk/whats-on/rhythm-and-geometry
Suffolk Shorts Film Festival, Ipswich Film Theatre, Ipswich (8 – 10 October)
Short films are the future! Suffolk Shorts was established as a Community Interest Company in 2019 with the aim of bringing exceptional short films to Suffolk as well as encouraging local filmmaking. The Suffolk Short Film Festival is a new festival taking place in Ipswich in October.
Sound City Ipswich, various venues, Ipswich (1- 2 October)
Showcasing an array of musical talent is Sound City in Ipswich this October, it will be taking place across multiple venues in Ipswich town centre. This year's venues include The Smokehouse, The Corn Exchange and the Cornhill. Sound City Ipswich returns between 1st and 2nd October with an exciting array of upcoming and established artists. You will see new wavers Working Men's Club, jazz poet Alabaster dePlume, lyrical indie pop from The Goon Sax, West African folk-electronica from Falle Nioke and experimental dance-punk from Deep Tan.
https://soundcityipswich.co.uk
The Moon, meet out nearest neighbour, Ipswich Art Gallery (until 10 October)
Discover what the Moon is made of, how it has influenced our history, culture and natural world, and how we have explored it from ancient times to the present and future. This touring exhibition features fascinating objects such as a large inflatable Moon, scientific instruments, and actual Moon rock on loan from Bespoke Scientific. Admission to the exhibition is FREE. Safety procedures are in place, including timed entry. Free tickets will be available to book soon.
https://www.ipswichentertains.co.uk/the-moon-exhibition
Wild Paths Festival, Norwich (14 – 17 October)
Described as 'A new breed of music festival', with the organisers priding themselves on hosting and delivering unique festivals and live events. Confirmed headliners include Biig Piig, Emma-Jean Thackray, Flamingods, The Big Moon and many more.
Promo video here.
Inventing The Future (theatre writing festival), Ipswich (22 – 24 October)
Leading UK theatre company, HighTide, presents a festival of new work at the New Wolsey Theatre, Ipswich in Suffolk, from Friday 22 to Sunday 24 October. Celebrating new, diverse voices of theatre, Inventing the Future is made up of two elements – a live programme of rehearsed readings, workshops and industry events for theatremakers in the East of England; and an online symposium in partnership with the Writers' Guild of Great Britain (WGGB). Press release here.
https://hightide.org.uk/inventing-the-future
Chalk*Clay*Sand*Salt – Autumn Art Festival, Cromer (21 – 31 October)
This is a new and dynamic Arts festival in Cromer with a wide range of activities and events themed around the local natural and social environment. Come along, experience and celebrate the unique and lesser known aspects of living and working in this inspirational area.
https://cromer-artspace.uk/festival21
UEA Live, Norwich (6 October – 17 November)
This autumn UEA Live will bring together a stellar line-up of writers and change-makers from the worlds of literature, media and politics, to mark 30 years of UEA's flagship literary festival. We look forward to welcoming you back to campus to meet our inspiring roster of speakers in a safe and managed way.
SPILL Festival of Performance, Ipswich (27 – 31 October)
Contemporary performance arts festival, SPILL, offers a packed festival programme of thrilling indoor and outdoor events, all taking place across Ipswich and themed around Memory. We are presenting works by artists from across the UK and from countries around the world, as well as projects that we have grown with people living locally. The SPILL OPEN returns and is full of surprises, and this year we have a strand of programming especially put together for the festival by a group of 17 and 18 year old SPILL Young Curators. There are some big treats in store!
www.spillfestival.com/festival
Fire on Water, Great Yarmouth (21 October – 6 November)
Fire on Water is an immersive experience with dramatic outdoor arts, hypnotic water projections and shining installations, glowing embers leap and twirl in the night, warming the hearts of all who spectate. As the chosen location of the immense and mesmerising event, the Venetian Waterways will be transformed into a spectacular scene that will provide amazing cross-site visibility and offer plenty of car parking space, wheelchair accessibility and suitable space for visitors to adhere to social distancing guidelines.
https://outtherearts.org.uk/fire-on-the-water  
BBC Radio 3's New Generation Artists Weekend 2021, Snape Maltings (30 – 31 October)
An exciting chance to hear young performers from the BBC New Generation Artist Scheme. Concerts will be recorded for broadcast on BBC Radio 3. Performances by tenor Alessandro Fisher, Consone Quartet, pianist Alexander Gadjiev and duo Johan Dalene (violinist) and Nicola Eimer (pianist).
https://brittenpearsarts.org/whats-on/category/bbc-radio-3-new-generation-artists-weekend
November
The Norfolk Wonder Walk Experience Packs, various locations (from November)
Three new walks in the form of Experience Packs, have been created by artists to frame a winter walk in towns on the Norfolk coast. Visual artists Rebecca French and Andrew Mottershead has created an experience in Kings Lynn; in Cromer local author and artist Sarah Lowndes' walk explores the history and experience of past visitors to the town; and composer Ela Orleans has created a sound-score for Great Yarmouth.
Each pack will be more than a booklet or a map, it will be an artistic interpretation of place, providing materials and instructions for an audience to undertake a self-directed walk. Each walk will start at Cromer Museum, Time and Tide Museum in Great Yarmouth, and Lynn Museum, Kings Lynn. Part of the Norfolk and Norwich Festival 2021.
https://nnfestival.org.uk/norfolk-wonder/
Thursford Christmas Spectacular, Thursford (9 November – 23 December)
The Thursford Christmas Spectacular is an extravaganza of non-stop singing, dancing, music, humour and variety. It's a fast moving celebration of the festive season featuring an eclectic mix of both seasonal and year round favourites. With a cast of 130 this is the biggest Christmas show of it's kind in Europe!
www.thursford.com/christmas-spectacular
Illuminated Garden Trail, Helmingham Hall (17 November – 19 December)
Make the most of the dark winter nights by stepping into a magical world of light, colour and sound, as you explore the grounds of Helmingham Hall adorned with thousands of lights transforming the gardens into an enchanted winter wonderland.
www.helmingham.com/events/illuminated-garden-trail
Norwich Film Festival, Norwich (November)
The Norwich Film Festival is an exciting place to discover new talent, and to be discovered. We have become a key annual event for emerging and established filmmakers from all over the world. We are proud that our festival programme is curated with original, diverse, bold and culturally rich content. Films submitted to our Festival have gone on to win awards at BAFTA and the Oscars as well as other festivals such as Sundance, Tribeca, SXSW.
December
Fi Glover & Jane Garvey – Did I Say That Out Loud?, The Apex, Bury St Edmunds (19 December)
Award-winning broadcasters, Fi Glover and Jane Garvey, don't claim to have all the answers (what was the question?), but for this show, to celebrate their new book 'Did I Say That Out Loud?', they guarantee an evening of behind-the-scenes revelations and inconsequential, but strangely compelling, chat about living some of their lives in front of and behind the microphone.
https://www.whatsonwestsuffolk.co.uk/whats-on/details.cfm?id=640547&ins=877390
Please mention Head East in your copy if you cover any of the events. For images, please get in touch.
Head East is a celebration of arts, culture and heritage in the East of England, delivered around a series of 'headline' place-specific cultural initiatives. Led by the New Anglia Culture Board, the year-long targeted cultural tourism campaign aims to promote and build a national profile of the East as a 'must see' UK cultural destination. The original campaign was focused on 2020, but the pandemic triggered a strategic re-focus.
Head East is designed to amplify the profile of Norfolk and Suffolk's outstanding cultural offer and to boost the gradual recovery, adaptation and re-stabilisation of the region's visitor economy in the wake of the pandemic.
The campaign consortium includes New Anglia Local Enterprise Partnership (LEP) Culture Board, Norfolk County Council, Interreg EXPERIENCE project, Suffolk County Council, City and District Councils, the Business Improvement Districts, Destination Management Organisations, University of East Anglia, Visit East of England and cultural partners. This Project has been supported by New Anglia Local Enterprise Partnership, through the Innovative Projects Fund. It aims to contribute to the delivery of Restart, Phase 1 of the New Anglia LEP Economic Recovery Plan and Visitor Economy Recovery Plan.

Follow and Share with Jetsettersblog.