Dream Yacht Charter By the Cabin Cruises in Croatia and Italy for 2021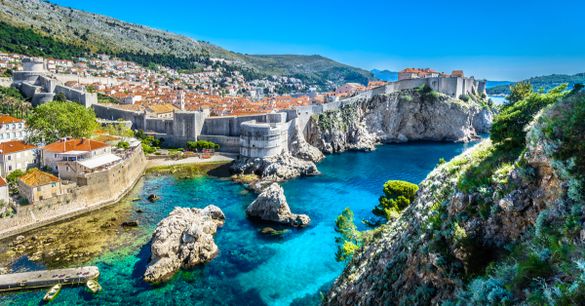 ---
Dream Yacht Charter, the world's leading charter company, has launched two new by the cabin routes in Croatia and Italy, available from May 2021.
The announcement comes as the UK travel industry continues to adapt to a new way of travelling following COVID-19 and will be welcomed by those who want to experience the Med from the sea but either can't sail themselves or want a holiday where they are able to sit back, relax and enjoy the surroundings.
The new Capri Dream 8-day charter will depart from the company's base in Naples, and guests will discover the best of Italy from the water's edge with a carefully curated cruise of the Amalfi coast and Phelgraean Islands. Moorings at Procida, Ischia, Capri and Li Galli islands are included, along with Positano, Sorrento and Ravello.
In addition, the new Croatia Dream 8-day charter will set sail from Dubrovnik and will give guests the opportunity to discover the beautiful Adriatic coastline, visiting popular locations including Zaton, Lopud, Mljet, Korcula, Peljesac vineyards, Marculeti and Ston, as well as Dubrovnik.
Enjoy these two new charters from the deck of a Lagoon 620 catamaran while Dream's experienced crew take care of the sailing and meal preparation. Reserve your own comfortable double cabin with private ensuite today and treat yourself to the delights of Italian culture and cuisine
Prices for both cruises start from £1341 per person based on two adults sharing a cabin, with private ensuite, including all meals and drinks with meals.  International flights and transfers are not included.
Dream Yacht Charter founder, Loic Bonnet, said: "We are delighted to add two brand new by the cabin charters to our portfolio, further cementing our position as the world's leading yacht charter company. We now offer cabin charters in 18 destinations around the globe, four of which are located in the Mediterranean and look forward to helping non-sailors and those who are looking to relax in a different environment discover the joy of chartering."
For more information call 02380 457023 or visit DreamYachtCharter.co.uk.
Ends
ABOUT DREAM YACHT CHARTER
●      View our media pack
●      Our latest brochure
Dream Yacht Charter – The World's Leading Ocean Tourism Company
Part of the Dream Yacht Group, we were founded by Loïc Bonnet in 2000. We set out right from the start to revolutionize the industry by making sailing accessible to all. We began in the Seychelles with just six boats, now we've got 1,200 yachts in more than 60 exciting destinations worldwide, including the Caribbean, Bahamas, Indian Ocean, Pacific Ocean, Asia, Americas and Europe.
Worldwide Sailing Holidays
We've pioneered ways to help non-sailors discover the freedom of being on the water. We're also known for our innovation in bringing new sailing destinations to market and our sheer range of choice. We offer a range of charters, including bareboat, skippered, by the cabin, crewed, sabbaticals, power catamarans and corporate events.
We pioneered by the cabin charters with guaranteed departures and we now offer 40+ routes across 15+ destinations. We strive for constant innovation, introducing new sailing grounds such as New Caledonia and Cuba. We've also introduced six ownership programs for potential yacht owners who want flexible options that suit their objectives. We offer the lowest entry price on the market.
In 2018, NextStage made a longterm investment in Dream Yacht Charter alongside cruise catamarans manufacturer Fountaine Pajot. This investment provides the company with a secure platform for sustainable growth.
Committed to Changing the Industry
●      Sustainable Sailing
Sailing responsibly is of great importance to us. For the last 10 years, our Australian base has held an ECO Certification from Eco Tourism Australia in recognition of our commitment to sustainable, environmental practices. We also take part in beach cleans around the world and are working to reduce our impact on the planet where we can.
●      #MoreWomenAtSea
Since 2019, we've been encouraging more women to get out on the water and learn to sail. We've been sharing inspirational stories through our #MoreWomenAtSea campaign and appointed a brand ambassador, Anna Mourou, founder of She Captain. Our interviews include record-holder Lisa Blair, who holds the fastest time for circumventing Australia in a monohull, and three times Volvo Ocean Race competitor, Liz Wardley.