easyJet Traveller magazine top travel experiences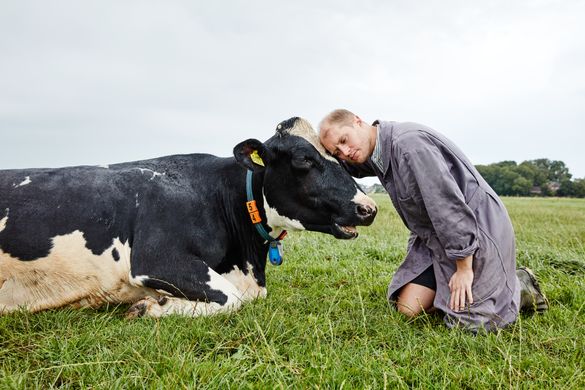 ---
easyJet Traveller magazine reveals the top travel experiences for 2021 with new inspirational website
A cow-cuddling experience in the Netherlands, a wild swimming school in Slovenia and an underwater museum in Greece have been named the best things to look forward to.
LONDON: easyJet Traveller – the award-winning inflight magazine for easyJet, published by Ink – has gone digital, with a new website that's already had a quarter of a million visitors since launch: traveller.easyjet.com
Looking ahead with optimism, its editors and writers have picked the best travel experiences in Europe for when we can all enjoy them once again.
The easyJet Traveller Best-Of list for 2021 includes an alfresco bed in the Swiss Alps, a dry ski slope in Copenhagen, a rooftop farm in Paris and a roving naked retreat that last appeared in Tuscany.
The list is live now at: https://traveller.easyjet.com/best-of-awards-2021
Ink's Editor-in-Chief, Jonny Ensall, said:
"easyJet Traveller's Best-Of is all about celebrating the travel experiences that matter – things that are unusual, delicious, funny, moving and, most importantly, real. And the list for 2021 is especially inspiring, given how much we're all hoping to have new adventures later in the year."
The new easyJet Traveller website features in-depth guides to more than 40 destinations on the easyJet network, and helps travellers decide where to visit next, whether they're looking for a family, beach, city or adventure break.
Though the magazine is set to return later in 2021, the new website reflects the digital future of the easyJet Traveller brand, and the company behind it, Ink.
Editor-in-Chief, Jonny Ensall, continues:
"easyJet Traveller's unique sense of humour and heartfelt storytelling really comes across online and people are already using it to discover the best stories from the magazine's archives, as well as find heaps of fresh recommendations. We're proud to have made something that complements our magazine and is simply a fantastic source of inspiration for anyone who loves travel."
The experiences featured in easyJet Traveller's Best-Of are innovative, individual and often represent the culmination of years of effort and planning.
Sophie Hardy, site director for Nature Urbaine (Best rooftop farm), said:
"It is a great honour for NU Paris to be included among the winners in the easyJet Traveller Best-Of list. We want to contribute to a world that's more resilient, more responsible and more connected to nature – we act to defend these values on a daily basis."
While Els Milatz-Hiemstra, co-owner of Kastanje Hoeve (Best animal therapy), said:
"Winning this prize acknowledges that we're doing something people appreciate. The cows are very pleased to win the award too, especially our famous cow Max. She is now 11 years old and we hope she will stay on the farm for many years." 
Ink is the world's leading travel media company, working with carriers globally including easyJet, American Airlines and Singapore Airlines. Its portfolio now includes seven travel websites, supporting Ink's airline partners and their customers, as well as print magazines and the livestreaming network Reach TV.
The list in full:
Best room with a view
Zero Real Estate, near Zurich (imagery available)
Bestdry ski slope
Copenhill, Copenhagen (imagery available)
Best brdge
Footbridge over VøringsfossenWaterfall, near Oslo (imagery available)
Best underwater museum
Peristera, near Volos
Best biking trail
Cycling Through the Trees, near Brussels (imagery available)
Best non-alcoholic cocktail
Let's Talk About Sekt, Baby, Berlin (imagery available)
Best aocado restaurant
Avobar, London (imagery available)
Best wild swimming school
Strel Swimming Adventures, near Ljubljana (imagery available)
Best rooftop farm
Nature Urbaine, Paris
Best garment-free getaway
NAKED The Retreat, near Pisa (imagery available)
Best animal therapy
Kastanje Hoeve cow cuddling, near Amsterdam (imagery available)
Best sleepover
Sleeping with Sharks at Oceanogràfic Valencia, Valencia
About Ink
Founded in 1994 in London, Ink is the world leader in travel media, connecting thousands of advertisers and brands to a highly receptive, and huge global audience. Ink creates and delivers inspiring, award-winning content for the world's biggest and greatest airlines, railways, travel companies and their passengers, by producing magazines in multiple languages and video content for all digital platforms. Partners include American Airlines, Amtrak, easyJet, Etihad Airways, Norwegian, United Airlines, Singapore Airlines and Virgin Atlantic.
From offices around the world, Ink's media connects brands, advertisers and marketers to a highly receptive, and real, global audience through inflight publications, video and online content and ambient and experiential advertising opportunities. In 2019, Ink won 24 prestigious design, editorial and business awards.
Ink recently became a member of the Stagwell group of companies.  Stagwell was founded in 2015 with the aim of bringing together a collaborative group of pioneering and successful marketing and media, digital-first agencies. For more information: www.stagwellgroup.com
In addition to its headquarters in London, Ink has offices in Singapore, Miami, New York and São Paulo.
For more information regarding please visit www.ink-global.com
Follow and Share with Jetsettersblog.