Elemental Adventure Offers a 2021 Week of Pioneering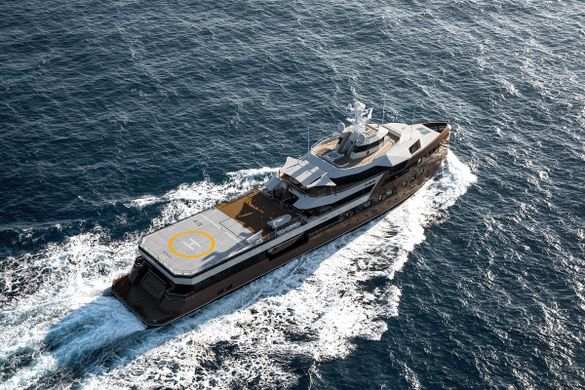 First Descents in Russia's Kamchatka and the Kuril Islands Aboard Luxury New Icebreaker Superyacht La Datcha
---
Dates: March-May 2021 and 2022
NEW LAUNCH ski Expedition Yacht 77 La Datcha (77m, 252ft) is pioneering first descent heliskiing in remote locations. Both luxury superyacht and long-range endurance ice-breaker, it is the most hotly anticipated ski launch of 2021.
London-based Russian billionaire owner Oleg Tinkov, a passionate skier and adventurer, has co-designed the six-deck superyacht, with Dutch shipbuilder Damen Yachting, as part of the SeaXplorer series, to take the concept of yacht based heliskiing to a new level.
The Itinerary has a strong focus on accessing 'off the charts' world-first ski terrain on The Kamchatka Peninsula, The Kuril Islands, Chukotka, Alaska, Arctic and Antarctica.
The world's first purpose-built icebreaker superyacht, La Datcha is compliant with the International Maritime Organisation's Polar Code, and houses two on-board helicopters in a below-deck hangar. She is available for private charter with heliski specialists Elemental Adventure.
James Morland, founder-owner of Elemental Adventure, says: "La Datcha is extremely exciting because she gives us the floating platform to explore even further afield and pioneer new ski areas. Having the backup helicopter is crucial to operating with total autonomy and safety in remote areas.
"It is also 007-Bond-like in that it has all the toys on-board, alongside the luxury of a 'floating chalet', and offers a CV-19 safety bubble."
Chamonix based Elemental Adventure are THE heliski experts in this area, having specialised in yacht based heliskiing since 2003, with trips to Kamchatka since 2005.
"We have been running trips to Russia since 2001 – to The Caucasus, Kamchatka, Siberia – and in 2016 I was lucky to be part of a pioneering ski trip to the Kuril Islands where we made many first descents including the first heli-drop on Onekotan Island," says James: https://www.eaheliskiing.com/journal/the-kuril-islands-kamchatka
Booking now for exclusive charter to THE KURIL ISLANDS & KAMCHATKA 2021 and ANTARCTICA 2022
Price: from €1m
Includes:
»» Full visa support service.
»» Meet & greet in Petropavlovsk Kamchatka and transfer to the yacht.
»» 7 nights' accommodation for up to 12 guests.
»» Breakfast, lunches, snacks and evening meals prepared by gourmet chef.
»» All non-alcoholic beverages, beer and a selection of house wines.
»» Housekeeping and daily turndown service.
»» Two commercially certified on-board helicopters and a set amount of flying time.
»» Service of internationally certified mountain guides.
»» Skis and avalanche safety equipment.
»» Use of on-board three-person expedition submersive and pilot.
»» Full use of extensive on-board fishing equipment.
»» Use of all on-board amenities, including Jacuzzi, spa, gym, wi-fi, video on demand system and cinema.
Booking:
www.eaheliskiing.com, +44 (0)20 3059 8787, james@eaheli.com
– Ends –
Notes for editors:
About Itinerary:
The Land of Fire and Ice:
Please see separate EA Itinerary for La Datcha in Russia's Kamchatka and the Kuril Islands, a chain of volcanic islands, with 150+ volcanoes, 39 active, stretching over 1,000km, with a native Kuru population, between the Sea of Okhotsk and the Pacific Ocean.
About Elemental Adventure (EA) – Interview with owner-founder James Morland:
Elemental Adventure was founded by "obsessed" British skier James Morland in 1999. The product of a passion for skiing and adventure in remote wilderness areas, its offering focuses on unique and immersive ski experiences which are about as far-removed from the tourist track as you can get.
"Skiing a run in perfect powder is an amazing feeling but if you take that run and put it on a smoking volcanic island in the middle of the ocean where you can make hundreds of turns all the way down to the beach, it takes skiing to an entirely different level…And that's really what everything we do is about – taking it to the next level," says James, 46, an experienced heliski guide and yacht skipper, speaking from his Chamonix base.
He adds, "This offering is timely as we have seen enquiries for yacht-based adventures rise in recent years, particularly since the epidemic. La Datcha is set up with two master suites, a spa, cinema, chef, and all the toys, so offers a luxury floating 'ski bubble' for two families – for skiers and non-skiers."
About La Datcha
Staff of 25, includes private chef, heliski guides, pilots and submersible pilot
Fully certified heli-deck & below-deck heli-hangar, two Airbus helicopters
Toy Store – includes Triton 1650 three-person submersible (dives to depths of 1,000m), jet-skis, snowmobiles, polar kayaks, snow bikes, diving equipment etc
Hull made of strengthened steel, can change direction
Observation deck to view narwhals, beluga wales and walruses
Can stay at sea for up to 40 days at a time
Full spa: steam bath, hammam, sauna, massage, gym, indoor/ on-deck jacuzzi
Glass-encased elevator
Double master-suite, for two families
Builder: Damen Yachting
SeaXplorers are specially strengthened with extra steel frames in the hull, forming an 'ice-belt' capable of withstanding the pressure of pack ice. If surrounded, it can be turned to be stern-led. Effective against ice up to a metre thick, La Datcha will reach regions previously accessible only after summer ice-melt.
Built for discovery, this luxury explorer also has a state-of-the-art scuba centre and certified emergency room with a direct link to 24/7 medical aid. The significance of the two-heli setup comes into its own, once the yacht reaches the extremely remote waters of Kamchatka in March. Rarely visited by superyachts, it is a diverse cruising ground rich in wolverines, geysers, bears, volcanoes and…heliskiing.
Interview with La Datcha owner-explorer Oleg Tinkov:
After many years of chartering yachts and exploring the world's most beautiful destinations, owner-explorer Oleg Tinkov is launching La Datcha, his first heliski superyacht, to add to his chalet collection, and pioneer a new approach to the explorer-expedition ski market.
"The Earth is so big and our life is so short, we have to explore as much as we can," says Tinkov, who is fighting a personal battle with leukaemia.
"Some people think that fans of outdoor activities should stay in fleabag motels and dry their wet socks on radiators. I believe you can combine heliskiing in the world's most challenging environments and still return to exceptional service and ultimate comfort."
Follow and Share with Jetsettersblog.