Elite Island Resorts + East W8 Gym Caribbean Fitness Partners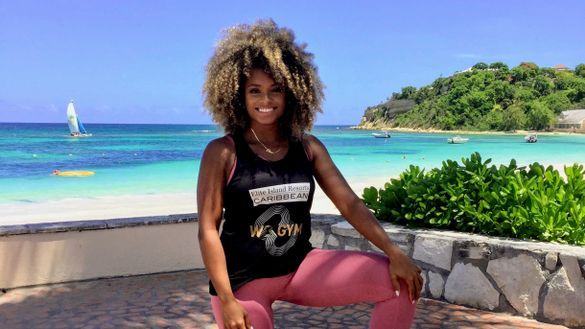 ---
Elite Island Resorts Group, a collection of beachfront resorts in the Caribbean, is to team up with W8 GYM, an innovative 'GYM-in-a-Box' created by singer Fleur East and her cousins Nick Meaney and Clive Payne, for an exclusive partnership.
The recently launched W8 GYM is like no other single piece of fitness equipment on the market. Innovative, portable and multi-functional with interchangeable dumbbells, it allows the user to perform over 200 exercises with just one unit.
The W8 GYM has taken over 4 years to develop and the multi-purpose unit can be used as a Step, Kettle Bell, Barbell, Medicine Ball, Dumbbell and much more. The W8 GYM smashes through the three main challenges to fitness:
Convenience: small and compact, the W8 GYM is portable and can be easily stored
Time: W8 GYM's flexibility makes it easier to fit exercise into busy lifestyles
Money: No need for expensive gym memberships or classes, the W8 GYM offers over 200 exercises meaning you can keep your training fresh and interesting
The W8  GYM will be available in Elite Island Resorts locations to use in-room or on the beach on Antigua, St Lucia, Barbados & The Grenadines from May 2019.  The partnership marks another phase in Elite Island Resorts' commitment to bringing even more innovation to the group's growing "wellbeing included" menu. This exclusive partnership between W8 GYM and Elite Island Resorts will launch in May 2019 and comprise of the following elements available to resort guests, marking another fitness "first" in the Caribbean:
An In-room video workout with Fleur using the W8 GYM on TV screens filmed exclusively for guests. The video will feature a workout designed specifically for continuing fitness on holiday
A W8 GYM beach workout class – scheduled daily – designed by Fleur East
W8 GYM Elite Island Resorts exclusive tracks and playlists in partnership with Spotify
Fleur East said: "Being on tour with my music really brought home how challenging it can be to maintain a fitness routine without all your usual gym equipment at your fingertips. That was the beginning of our journey to creating W8 GYM. I needed a 'GYM-in-a-Box' and that's exactly what we made!  Over 200 exercises, infinite combinations, weight and fitness levels, anytime, anywhere. We're delighted to take W8 GYM to the Caribbean and partner with the guys at Elite Island Resorts, so it'll be easier than ever for guests to keep their fitness routines steady whilst on holiday – either in their room or on the beach, they'll just grab a W8 GYM and go.  Back home?  Their newly acquired W8 GYM moves can continue, as it's easy to order one directly from us, even schedule it for delivery right after you land.  Simple!" 
Paula Whitehead, European MD, Elite Island Resorts, said: 'From the launch of our mobile free beaches 11 years ago, we add ideas that encourage guests to maintain or begin wellbeing habits on holiday that benefit them long after their stay with us. Collaborating with Fleur, Nick and Clive on this brilliant fitness innovation ensures that we build on that in a way that allows guests to keep wellbeing easily at the core of their routine both at home and away"
Customers booking a 10 night stay at selected Elite Island Resorts locations between 15th  November  2018 and 31st January 2019 will receive a W8 GYM delivered to their home prior to travel making it easy to train with W8 GYM before, during AND after their holiday.  To book: https://eliteislandholidays.com/w8-gym or Tel: 01245 459900.   Details and T&Cs can be found on the website.
The W8 GYM collaboration is the latest addition to the Elite Island Resorts wellbeing menu. The group was the first in the Caribbean to introduce mobile free beaches in all resorts across Antigua, St Lucia, Barbados, BVIs and the Grenadines in 2007, and launched weekly wireless silent beach cinema in 2014.  Resort activities schedules already include Caribbean Choir workshops with celebrity vocal coach Mike King,  floatfit®CARIBBEAN aquabase® in partnership with Aquaphysical's innovative  Aquabase mats – A Fitness "first" in the Caribbean exclusive to Elite Island Resorts locations,  The Caribbean Colour Me Calm Club – A bespoke colouring book featuring views and landmarks at Elite Island Resorts locations created by Puffin illustrator Adam Stower with additional easy beach and at home mindfulness techniques by Existential psychotherapist Dr. Nicole Gehl, daily hiking and watersports, all included in the price of a stay.
-Ends-
Notes to Editors: