Enchanting Italian Escapes with Tuscany Now + More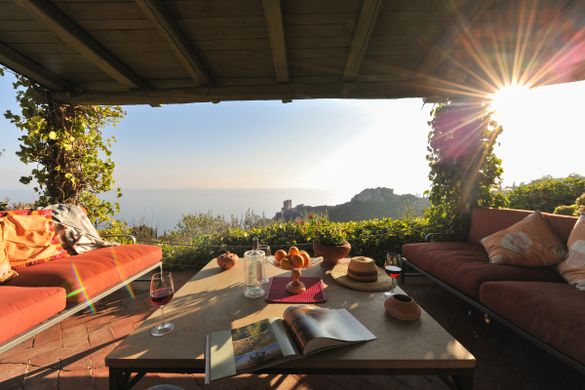 ---
Enchanting Italian Escapes with Tuscany Now & More
New Villas for 2018
2018…/ Tuscany Now & More offer the most exquisite and exclusive rental properties, each with their own story to tell, throughout the length and breadth of Italy, in Tuscany and beyond. Tuscany Now & More are proud to announce the newest addition of luxurious villas exclusively to their portfolio for the 2018 season.
Guests can experience an old farming estate, a country residence or a charming coastline home. For added bespoke touched, the concierge can organise exclusive activities such as a secret underground tour of the Vasari corridor, treasure hunt across Florence or the new Ferrari, Parmigiano Cheese and Balsamic tour.Guests will be captivated as Italian hospitality meets once-in-a-lifetime experiences, available only through Tuscany Now & More.
With an extensive collection of properties available for 2018, Tuscany Now & More have compiled a list of their top three new villas to explore this year:
Tuscan Exploration with Aromatica Rossa
Aromatica Rossais a charming stone farmhouse which enjoys beautiful views from its hilltop position, near the historical village of Chianni in the hills east of the Tuscan coast. The beautiful farmhouse dates back to the 19thcentury and was recently converted. With 6 bedrooms and 7 bathrooms, the villa sleeps 12 people and is ideal for large families or groups. The house is surrounded by well-kept gardens and a fantastic outdoor terraced living area complete with a summer kitchen, dining area and spacious contemporary seating area with settees and armchairs. The infinity edge swimming pool is set at the top of the garden and overlooks an olive grove, with a second shaded living area and loungers for sun bathing.
With Volterra, Siena and Florence within easy reach and close by to the town of Lajatico where the famous opera singer Andrea Bocelli was born, Aromatica Rossa ensures a true Tuscan experience.
This 6 bedroom property sleeps up to 12 people and Tuscany Now & More (www.tuscanynowandmore.com, 020 7684 8888) offers Aromatica Rossa from £4,359 per week.
Art Nouveau Charm with Villa Zacconi
  Surrounded by pine woods, 150-year-old cedar of Lebanon and three beautiful gardens, Villa Zacconioffers sweeping views of the Camaiore Valley with a medieval village in the foreground and the Apuan Alps as a backdrop. This exceptional villa dates back to the early 1900s and was originally built as a country retreat by Ermete Zacconi, one of the leading lights of the Italian stage and a contemporary and lover of Eleonora Duse. Pirandello, a friend of Zacconi, used to come and visit the great actor at the villa.
Following a complete renovation in 2017, the villa retains a unique 'Art Nouveau' charm with features including large, airy rooms and hallways decorated in an Art Deco style with selective additions of comfortable and contemporary pieces. The villa offers 6 bedrooms and 7 bathrooms, a living room with an open fireplace, an al fresco dining area, and can sleep up to 12 people.With fenced grounds to ensure total privacy, the private swimming pool is set at the edge of the woods with a solarium in Lecce stone and a shower with hot water. The whole area is a haven of peace and tranquillity with sitting and dining areas clustered under canvas and wooden pergolas. For the very first time, Villa Zacconi is opening its doors to those seeking an inspiring and restful environment in this most beautiful corner of Tuscany.
This 6 bedroom property sleeps up to 12 people and Tuscany Now & More (www.tuscanynowandmore.com, 020 7684 8888) offers Villa Zacconi from £4,634 per week.
The Monte Argentario Coastline with Passo Reo
Passo Reois a charming home set against the hillsideof a sparsely inhabited peninsula on the western coastline of Monte Argentario. Enjoying wonderful views of the sea and coastline with the famous 'Maddalena' outcrop silhouetted against the skyline, Passo Reo is composed of three buildingssituated on different levels and terraces. An inviting loggia wraps around the main house and includes a seating area and separate alfresco dining area complete with a wood oven. The private infinity-edge swimming pool sits on a separate terrace with a magnificent palm tree and lawn leading to one of the two guest houses. From here a pathway leads to the second guesthouse which has a private external lounge area, a private entrance and parking space.
With stone walls to ensure total privacy, the terraced gardens feature beautiful olive trees, palm trees, rosemary and broom flowers from which guests can take in the stunning sunsets over the rocky cliffs of the Tuscan coastline.
This 3 bedroom property sleeps up to 6 people and Tuscany Now & More (www.tuscanynowandmore.com, 020 7684 8888) offers Passo Reo from £4,107 per week.
For further information and bookings, please contact www.tuscanynowandmore.comor call 0207 684 8884.
Follow and Share with Jetsettersblog.