Exciting New Hotels in Canada for 2020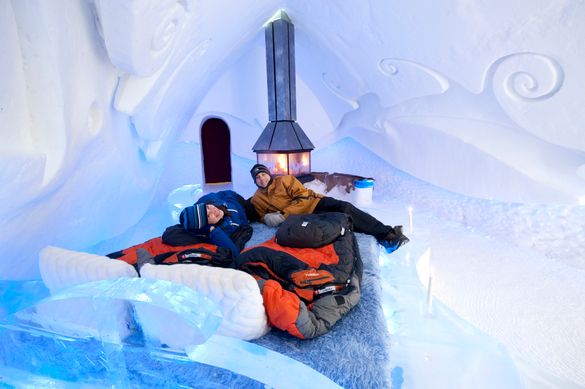 ---
From the Fairmont Le Chateau Frontenac, the most photographed hotel in the world, to remote wilderness lodges, Australian travellers are spoiled for choice when it comes to selecting a special property to enhance their unforgettable Canadian adventures.
Read on for 11 interesting new Canadian properties for 2020.
1. Hotel Zed, Tofino
Funky Hotel Zed is set to open in the surfing town of Tofino on Vancouver Island in June 2020.  Mandy Farmer, president and CEO of Accent Inns and Hotel Zed, will be first female hotelier in Tofino, with all other hotels and resort (not including small motels) owned by men or First Nations. Farmer's personality will be visible at Hotel Zed, with colourful decor, rotary phones, ping pong tables and vintage VW shuttle vans. The property will also feature a mini disco dance floor that lights up, a secret entranceway through a wardrobe to a 1980s arcade, a poker table and a bike lane running through the hotel.
2. Caribou Hotel, Yukon Territory
Yukon Territory's most famous – and haunted – hotel, this Klondike Goldrush icon is set to re-open in 2020. A Yukon Historic Site, the Caribou Hotel features 12 guest rooms, refurbished to its original style. The Surly Bird Saloon, named after a former resident parrot who lived in the hotel from 1918 to his death in 1972, is now open and chock-full of Yukon history. The hotel is scheduled to open June 2020.
3. W Toronto
Marriott International is set to open Toronto's first W Hotel in Yorkville. The hotel will be a nine-storey, 255-room luxury property surrounded by Bloor Street's high-end shopping boutiques and will feature its own DJ booth and recording studio. Opening in June 2020, the $40 million design transformation, which began in July 2019, will reimagine the property's guest rooms, restaurants and amenities.
4. Sutton Place Hotel, Nova Scotia
The Sutton Place Hotel is set to offer luxurious hotel living with classic European style to visitors to Halifax, Nova Scotia, in 2020. It will be located in the one-million-square foot Nova Centre, which includes the city's new convention centre, and is the first Sutton Place property for Atlantic Canada. The hotel will feature 262 guest rooms, underground parking, and a contemporary restaurant and lounge.
5. Midnight Sun Hotel, Dawson City
Re-opening in May 2020, the Midnight Sun Hotel in historic Dawson City, Yukon Territory, will offer 21 newly renovated rooms, a lounge, tavern, and an abundance of Klondike Gold Rush charm. The hotel is managed by NVD – Yukon Hotels, whose properties are known for their exceptional hospitality and quintessential Yukon atmosphere.
6. Hôtel de Glace, Quebec
Newly created each year, Quebec's famous Ice Hotel is celebrating its 20th anniversary in 2020 and promises to be even more impressive, thanks to new architectural prowess. Built using 500 tons of ice and 40,000 tons of snow, Hôtel de Glace is the only ice hotel in North America. Every winter, a new theme inspires the architecture and setting of this ephemeral masterpiece. Spend a magical weekend exploring the Grand Hall, chapel, ice bar, and more than 40 rooms and themed suites.
7. 1 Hotel Toronto
1 Hotel Toronto, opening in June 2020, is inspired by Canada's natural beauty and the character of Toronto's King Street West and marketplace. 1 Hotels have luxury and sustainable living in mind, with existing structural and reclaimed materials gathered from the local community, including timber, driftwood and local limestone, for use during construction.
8. Hôtel Uville Montréal
An undeniably cool hotel concept, Hôtel Uville Montréal aims to re-create the visionary 1960s and 1970s in Montréal, capturing the design savvy and excitement of the legendary Expo 67 and 1976 Olympics. Rooms come outfitted with vinyl players and records by favourites like Leonard Cohen, while in-room exhibitions tell the historic story of Montréal and curated films provided by the national film board bring the past to life.
9. Raven Inn, Whitehorse
This boutique addition to downtown Whitehorse, the capital city of Yukon Territory, will reflect the latest hospitality trends while respecting the rich historic and natural legacy of the Yukon. The 50-room, 4-star hotel will feature a historic rail themed Railwork Bar & Lounge and an outdoor hot pool overlooking the vast Yukon River. The Raven Inn is set to open in January 2020.
10. OPUS Hotel Versante, Richmond
OPUS Hotel Group will bring their award-winning Forbes four-star rating boutique experience (in partnership with British-based luxury brand YOO Hotels and Resorts) to the Vancouver suburb of Richmond with the boutique OPUS Hotel Versante, opening May 2020.
11. Hôtel Mile-End, Montréal
One of the coolest neighbourhoods in the world, the Mile-End is a Montréal must-see. With its four floors of stylish rooms, a restaurant, rooftop terrace, basement cinema screening room and main floor gallery space, the Hôtel Mile-End promises to be a fitting addition to the area. Created by Hubert Marsolais of the popular local eatery and bar Chasse et pêche and architect Henri Cleinge, this boutique hotel is sure to quickly become a Montréal favourite.
Follow and Share with Jetsettersblog.