Experience a Vacation That Gives Back to the Hawaiian Islands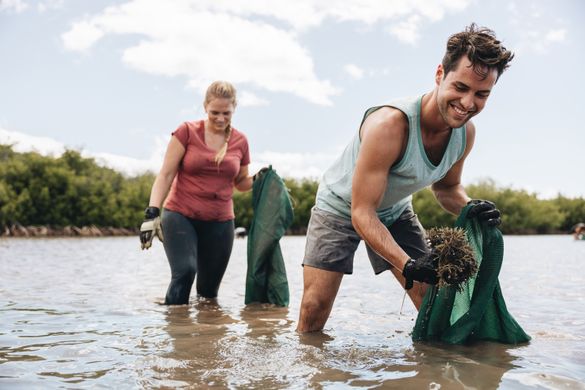 ---
In the Hawaiian culture, caring for the aina (land) is not just a responsibility for all who live on it, but an act that connects to life itself.
As visitors plan their travel to the Islands, participating in opportunities to malama (care for) Hawaii while traveling will provide a profound connection to our natural world. Volunteer organizations and travel partners statewide are now offering a range of opportunities for visitors to engage in mindful travel through its Malama Hawaii initiative.
Read on below for opportunities on four islands to engage in experiences supporting healthy natural habitats for our unique and precious native wildlife and plant species. It could very well be the highlight of your vacation.
Kauai
Travelers looking to help Kauai malama the ocean and shoreline while visiting can check in with the Surfrider Foundation, Kauai Chapter. They recently launched their Ocean-Friendly Visitor's Program which provides visitors with recommended ways they can protect shoreline flora and fauna as well as marine life including participating in a self-directed beach clean up, wearing reef-safe sunscreen and dining at ocean-friendly restaurants. These efforts go a long way to not only help keep the beaches and ocean clean, but also help protect the marine life such as highly endangered Hawaiian monk seals, green sea turtles and coral.
Oahu
Travelers headed to Oahu can check in with the community group Malama Maunalua to participate in a volunteer activity allowing them to malama aina. Volunteers will learn about ecological issues affecting Maunalua Bay and participate in removing three types of invasive algae threatening marine sanctuaries in the bay's nearshore waters. Sightseers interested in an immersive, hands-on malama aina experience will want to consider a volunteer workday with eco-nonprofit Papahana Kualoa, sinking their feet into the satisfyingly muddy earth of its loi kalo (irrigated taro terraces) to do the good work of helping plant or harvest kalo, a staple crop of the Native Hawaiian diet.
Maui
Want to visit to Maui? The ocean conservation activities at the nonprofit Pacific Whale Foundation are a must-see. Visitors in the foundation's Coastal Marine Debris Monitoring Program will want to head out to Maui's scenic coastline areas to collect and track debris — data recorded by the foundation helps to mitigate and prevent shoreline and marine life damage. If visitors want to participate in the critical environmental work of removing invasive species from Maui's protected lands, stop by the volunteer restoration and conservation projects of the nonprofit Hawaii Land Trust, which does vital stewardship work contributing to wildlife protection efforts at the island's Waihee Coastal Dunes and Wetlands Refuge.
Island of Hawaii
Visitors looking to be surrounded by nature on their travels are invited to join in on the work of the Waikoloa Dry Forest Initiative volunteering to help restore and replant its 275-acre lowland dry forest preserve. Activities for volunteers include building trails, tree planting, clearing invasive plant life and more, all while taking in the sights and sounds of the preserve's tranquil landscape. Adventure seekers interested in mountain hiking and volunteer work are encouraged to look into the workdays of Uluhao o Hualalai for a private eco-tour traversing the mature koa and ohia forests of 8,271-foot Hualalai volcano. In addition to hiking to one of the volcano's many craters and learning about the cultural significance of the surrounding landscape, visitors are also invited to participate in the group's reforestation efforts by planting native trees.

Follow and Share with Jetsettersblog.