Experience Santa Cruz County's Redwood Forests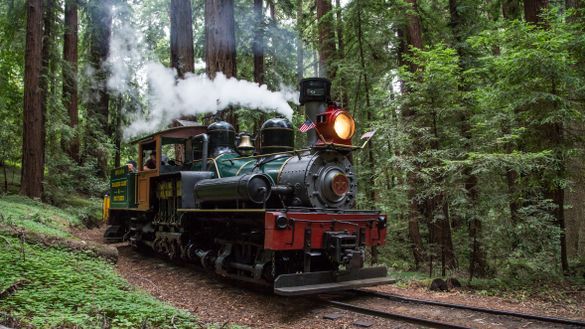 ---
SANTA CRUZ COUNTY, CA – The year 2021 will be a year of recovery for people worldwide. As the travel and tourism industry opens up and life begins again, so too with the forested state parks in Santa Cruz County.  Specific to this region, just 90 minutes south of San Francisco on the Monterey Bay, Basin Redwoods State Park, California's oldest state park, was heavily damaged by the CZU August Lightning Complex Fire in summer 2020 which in total burned over 85,000 acres in Santa Cruz County and adjacent San Mateo County and which began as a lightning strike. Established in 1902, Big Basin's more than 18,000 acres is a mix of old-growth and second-growth redwoods, including the largest continuous stand of ancient redwoods stand south of San Francisco. Visitors have come from every corner of the globe to admire these majestic giant redwood trees – some more than 50 feet around and standing as tall as the Statue of Liberty.
The wildfires ravaged the park resulting in an almost total loss of the historic buildings, campgrounds, and visitor amenities. The once lush green forest was blackened and muted by the flames. However, some encouraging news has surfaced: most of the massive coastal redwoods have survived – including the famed "Father" and "Mother" of the forest: two of the oldest trees in the park.
THE HISTORY OF CALIFORNIA'S OLDEST STATE PARK 
On May 18, 1900, a party of writers, scientists, artists, and citizens concerned about the rampant logging of redwoods in the Santa Cruz Mountains camped between a waterfall and the base of a peculiar sloping rock formation at the edge of the forest. That night they formed a plan. They would call themselves the Sempervirens Club and dedicate themselves to saving the mighty redwood trees from the saw. They passed a hat to fund their fledgling operation: the take was $32.
Within two years the men and women of the Sempervirens Club had succeeded in saving 3800 acres, including a magnificent old-growth grove, and persuading the California legislature to purchase the tract as California's first state park. The establishment of California Redwood Park, now known as Big Basin Redwoods State Park didn't just launch the state park system, it was the start of the modern conservation movement in California.
MODERN-DAY 
Big Basin is now comprised of 18,000 acres, and before the CZU August Lightning Complex Fire, featuring over 80 miles of trails for hiking, biking, and equestrian use. With the immense destruction of the forest and park infrastructure, Big Basin will likely be closed for over a year for safety, cleanup, restoration, and for the rebuilding process to occur.
THE RESILIENCE OF THE REDWOODS 
Reports from scientists, state parks representatives, and redwood experts all agree on the resilience of the redwoods. "The forest is not gone. It will regrow. Every old-growth redwood I've ever seen, in Big Basin and other parks, has fire scars on them," Laura McLendon, conservation director for the Sempervirens Fund.
Redwood trees have thick bark – sometimes a foot deep – that protects dormant buds. When the tree's main stem is damaged or even dies, these dormant buds are stimulated beneath the bark and often sprout, even after a fire. Whether the trees still stand with new battle scars from the fire or if they ultimately fall, the redwoods are already in the process of flourishing once again at Big Basin.
EXPLORING THE REDWOODS IN SANTA CRUZ COUNTY 
As 2021 will bring the rebirth of Big Basin, there are many other opportunities to celebrate and admire the redwoods in Santa Cruz County. From hiking among the giants, riding a relaxing steam train ride through the Santa Cruz Mountains, or zip-lining high up in the canopy, there are still a variety of ways to get up close and personal with these magnificent coastal redwoods.
Hike Nisene Marks
Located in Aptos, The Forest of Nisene Marks State Park is a tribute to nature's resilience. This dense, redwood paradise was clear-cut as recently as 1923, but today, towering second-growth redwoods populate the hillsides. The 10,000-acre park offers 30 miles of trails for walking, running, hiking, horseback riding, and mountain biking. Interesting sites include an unusual, twisted grove of redwoods, remnants of an old sawmill, and the epicenter of the devastating 1989 Loma Prieta earthquake. If you're looking for a longer trek with big rewards, hike to Maple Falls where you'll enjoy all the splendor of the redwoods, plus a few creek crossings along the way.
Hike Henry Cowell 
Henry Cowell Redwoods State Park is known for its rich history and lush, towering redwoods native to the land. Notable visitors such as President Theodore Roosevelt spent time among the old-growth redwoods and inspired preservation efforts to keep our nature pristine. Located in Felton, Henry Cowell Redwoods State Park's wheelchair and stroller-accessible Redwood Grove Trail circles around the park's oldest and largest trees. More trails crisscross the San Lorenzo River and its steep, redwood-covered canyons.  
Take a Train Ride at Roaring Camp
Adjacent to Henry Cowell Redwoods State Park, Roaring Camp Railroads offers a tour of California's towering redwood trees from two historic trains. Travel on authentic 19th-century steam trains through the Big Trees to the summit of Bear Mountain or ride early 1900s Pullman cars on open-air excursion cars along a scenic river gorge through Henry Cowell Redwoods State Park to the beach of Santa Cruz.
Mount Hermon Adventures
For the thrill-seekers, you can climb, crawl, swing and soar through a redwood canopy at Mount Hermon Adventures. Take a Redwood Canopy Tour, where six zip lines and two suspension bridges hang serenely above a babbling creek among towering redwoods. This continuous canopy tour experience keeps you high above the earth in the branches of ancient trees. For a more active adventure, take the Sequoia Aerial Adventure and traverse rope and timber obstacles suspended between the redwood trees high above the forest floor.
Getting There:
Located along the Central Coast, Santa Cruz County, California is approximately 70 miles/113 km south of San Francisco and 349 miles/562 km from Los Angeles. Many visitors choose to take scenic Highway 1 along the California coastline to Santa Cruz, or Highway 17 through the Santa Cruz Mountains. Visitors can also choose to fly into San Francisco International Airport, Oakland International Airport, or Mineta/San Jose International Airport
About VSCC: A private, non-profit corporation, Visit Santa Cruz County (VSCC) exists to enhance tourism and the economy by positioning Santa Cruz County as a visitor, conference, and film destination. For more information, contact VSCC at +1.831.425.1234. Or visit VSCC's website at www.VisitSantaCruz.org
Follow and Share with Jetsettersblog.