Experience Secluded Accommodation in the Yukon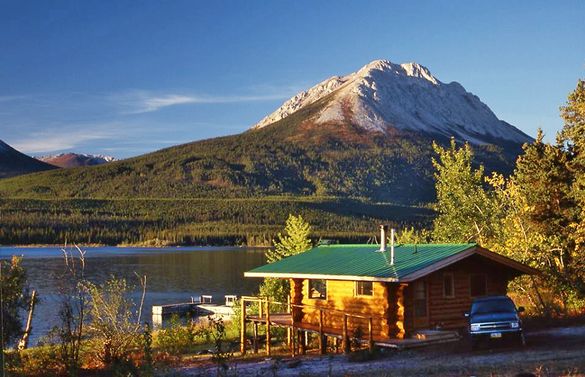 ---
The vastness and diversity of the Yukon means that the accommodation options available are extremely remote too. When travellers can venture to Canada's Northwest corner again, they can escape the crowds and stay in places they had only imagined in their wildest dreams, from lakeside inns, wilderness retreats and lodges, rustic cabins and uniquely situated bed & breakfasts.
The Yukon is pure North American wilderness, with 5,000-metre peaks, forested valleys, unspoiled waters and untamed wildlife. The Yukon is home to more than 160,000 caribou, 70,000 moose, 22,000 mountain sheep, 6,000 grizzly bears, 220 species of birds and only 40,000 humans. With national and territorial parks in abundance, including the UNESCO World Heritage site, Kluane National Park, four Canadian Heritage Rivers, and 3,000 miles of road, some of Canada's most remote areas become accessible to visitors in the Yukon.
Here is a selection of the top remote accommodation options in the Yukon:
Arrive by plane to Inconnu Lodge
Nestled among the mountains and valleys of the eastern Yukon lies Inconnu Lodge. Located on a fly in lake 185 miles north east of Whitehorse, it is a world class fishing resort. Mountain Caribou, Moose, Grizzly bears, Black bears, Wolves, Lynx, Wolverine and Eagles (bald and gold) all make their home in the mountains and valleys surrounding Inconnu Lodge. There are many opportunities to spot wildlife roaming the shoreline or foraging among the wetlands. The daily fly outs also offer many opportunities to encounter wildlife in this unspoiled habitat. There are also alpine Heli-hiking excursions available. The lodge boasts 8 guest cabins, a lounge and bar, a sauna and hot tub, as well as a restaurant run by an experienced executive chef who designs a unique dining experience for all pallets. https://inconnulodge.com
Package: https://www.gofishingworldwide.co.uk/destinations/canada/the-yukon/
Mountain views and private yurts at Boreale Ranch
Boréale Ranch is an all-inclusive, year-round adventure lodge located just 30 minutes from Whitehorse. The lodge has four private interior rooms, two detached suites and a summer-only bedroom yurt. The restaurant offers a carefully selected beer, wine and cocktail list as well as a menu serving traditional northern foods including wild cranberries, elk, salmon and melt in the mouth Arctic char. Packed lunches are also available.
From mid-August to mid-April, visitors can watch the aurora dance in the night sky from their own private bedroom balcony, the aurora viewing platform, the spa or by the cosy bonfire. During winter, guests can also use the toboggan hill or borrow snowshoes and fat bikes to explore the local woodland. https://be-yukon.com
Package: https://www.mycanadatrips.co.uk/holiday/boreale-ranch-aurora-viewing/
Switch off and enjoy an eco-friendly digital detox at Discovery Yukon Lodgings
Located on the Alaska Highway and nestled in the foothills of Kluane National Park, halfway between Whitehorse (Yukon) and Fairbanks (Alaska), lie five idyllic hand-crafted log cabins, offering panoramic mountain views. Set in lush botanical gardens, this property is perfect for a digital detox. Explorers, botanists, wildlife enthusiasts and bird watchers, are all welcome to discover the majestic lands. Each of the cabins have a bathroom, deck, barbecue and fully equipped kitchens. Twin or queen suite options are available and each day a home-prepared breakfast is offered. The property is open 1 May until 30 September. www.discoveryyukon.com
Package: https://www.audleytravel.com/canada/tours/spectacular-yukon
Experience the magic of the Yukon at Northern Lights Resort and Spa
This remote property is hidden far away from busy city life and is the prime location for viewing the spectacular Northern Lights. Visitors will have an unforgettable stay as they can view this phenomenon from the privacy and comfort of their own personal cabin. Located just 20 minutes south of Whitehorse, the property is found in 160 acres of private land, close to the Yukon River and surrounded by pine forests and mountains. After an adventurous day exploring, visitors can relax in the luxury outdoor jacuzzi or enjoy a treatment at the wellness spa. An incredible place to stay during both the summer, when there is 20 hours of sunshine, or in the winter, when it is a dreamy snowy wonderland, the lodge offers year-round, un-obscured views of the soaring Aurora Borealis. www.northernlightsyukon.com
Package: https://www.magneticnorthtravel.com/hotel/details/northern-lights-resort-and-spa
Fine dining and floatplanes at Southern Lakes Resort
Only an hour from Whitehorse, and accessible both by road and by floatplane, this property offers five private log cabins (including a superior cabin and a family cabin with kitchenette) with spectacular views of Tagish Lake. From the resort, visitors can explore one of the world's last untouched frontiers and enjoy hiking, mountain biking, canoeing and, in the winter, dog-sledding. Private sightseeing boat tours and fishing charters are also available. Each of the lakefront cabins offers guests total privacy but visitors are encouraged to relax in the communal lounge and dine at the lakeside restaurant, known for its homemade lake burgers and eclectic menu with dishes prepared with locally sourced ingredients. The property is open May-September and November-April. www.southernlakesresort.com
Package: https://www.trailfinders.com/tours/canada-and-alaska/northern-canada/tour-southern-lakes-resort-a-winter-adventure
For further information on the Yukon, visit www.travelyukon.com
Follow and Share with Jetsettersblog.