Experience Wonder. Full in Asia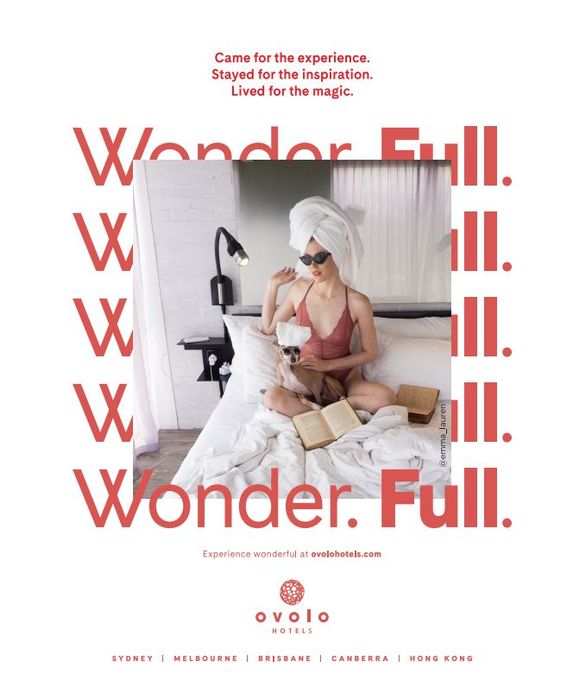 ---
More than places to stay, Ovolo Hotels are destinations to experience brimming with character, each hotel is a uniquely rich adventure, full of eye-catching art and vibrant atmosphere. Add to this an eclectic portfolio of restaurants and bars bursting with flavour and you have a world where every moment of every stay is filled with wonder. Alongside renowned branding and identity agency THERE, Ovolo set out to create a brand evolution that celebrated this idea, packaging the sentiment in one all-encompassing brand positioning – introducing Wonder. Full.
"A major component of Ovolo's brand evolution was realigning the identity with the overall and unique hotel experience. Sophisticated yet creative and quirky interiors, and an increasingly design-savvy audience gave us an opportunity to elevate our brand whilst maintaining the innovative, disruptive yet cheeky spirit that continues to drive us in everything we do," Ovolo Hotels Founder and CEO, Girish Jhunjhnuwala said.
Aimed at capturing moments of wonder, inspired interiors and delightful details, a fresh approach to art direction was developed to support the idea of 'Wonder. Full.' and to better convey each hotel's unique character and offering.
Further enriching the brand and referencing Ovolo's unconventional nature, guests will be meeting 'Curios' at every turn – Ovolo's collection of rare, unusual or intriguing objects with the power to spark imagination or prompt a smile in the mind. A little bit odd and curiously cheeky, just like Ovolo.
Wonder. Full. has come to life across a suite of key guest touchpoints, covering everything from hotel key cards to print advertisements, in-room 'loot bags', website to social media assets and beyond. And a set of 'Rules for Rule-Breakers' guidelines ensures Ovolo have the right tools to bring the identity to market.
"Wonder. Full. not only demonstrates the alignment with of Ovolo's hotel experience but also our commitment to continually innovate and create an enhanced customer experience," said Stephen Howard, Group Director of Marketing, Ovolo Hotels. "Each unique, Ovolo hotels are famous for delivering consistently rich experiences to our guests. So, the idea of celebrating a place full of wonder was an obvious inspiration and insight to inform the brand evolution."
In addition to the brand evolution, Ovolo has unveiled a new brand architecture introducing the By Ovolo Collective – each hotel unique, each one special, the more guests explore, the more they'll find. This distinctive collection of hotels includes Nishi Apartments Canberra, the introduction of The Sheung Wan Central Hong Kong (formally Mojo Nomad Central) and Ovolo's new Bali property due to open in the 4th Quarter of 2020.
"We have worked with Ovolo since their first venture into Australia. During our relationship we have looked to bring a sense of Magic & Logic to their brand," said Paul Taboure, Cofounder / Executive Creative Director THERE. "With logic, we have galvanised a strategic framework with both Wonder. Full. & the By Ovolo Collective to underpin their brand. With magic we looked to bring a sense of wondrous fun and delight to the creative."
Experience Wonder. Full. at Ovolo from February 10, 2020.
Wonder. Full. First Look here:
https://www.dropbox.com/sh/ry4yalthqgkt7ns/AADvpDE5MdOIj8ncQzrEYy8Za?dl=0
Wonder. Full. Project team:
Ovolo Hotels
Girish Jhunjhnuwala, Founder & CEO
Stephen Howard, Group Director of Marketing
Raoul Gundelach, Brand Director
Avni Jhunjhnuwala, Brand & Innovation Consultant
Dave Baswal, COO Australia
Tim Alpe, COO Hong Kong
Alan Wong, Graphic Designer
THERE
Paul Taboure, CoFounder / Executive Creative Director
Dean Hazelgrove, Design Director
Jessica Hunt, Account Director
Matt Player, Senior DesignerAbout Ovolo Hotels:
Ovolo Group was founded by entrepreneur Girish Jhunjhnuwala in 2002 and has quickly become one of Hong Kong's largest and most dynamic independent owner and operator of hospitality firms. The Group provides both business and leisure guests with the best in effortless living across numerous hotels and F&B outlets internationally.
The company prides itself on being in touch with the modern traveller through award-winning interior designs, detail-driven comforts, complimentary value-added services like the mini bar, breakfast, Wi-Fi, and more, and cutting-edge technology – all done in signature Ovolo style. At the 2019 HM Awards, Ovolo Hotels were acknowledged for Hotel and Accommodation Excellence, receiving the accolade "Hotel Brand of the Year".
A proud Hong Kong brand, Ovolo Group remains a family-owned and privately-operated business operating four hotels and four restaurants in Hong Kong, and six hotels and five restaurants across Australia in Sydney, Melbourne, Canberra and Brisbane. Ovolo is also developing new hotels in Melbourne, Australia (South Yarra and South Melbourne) and Bali, Indonesia.
About THERE:
THERE are a specialist agency with a focus on harnessing the power of place through creating place-led brands, and the environments that bring them to life. They currently work with Ovolo, Uber, CBA, Westpac & Google.
Follow and Share with Jetsettersblog.