Experiencing Czech Republic Virtually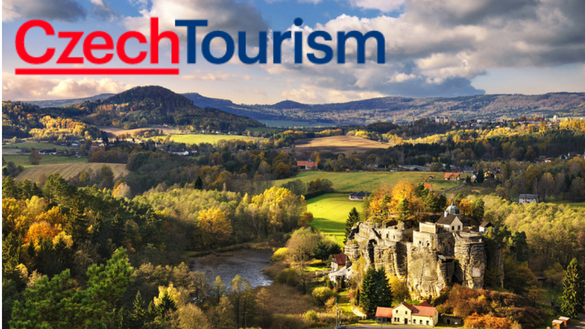 ---
360-Degree Tours of the Czech Republic
All you need for an aerial exploration of seven Czech destinations is an internet connection and a bit of curiosity. Click through to the video, press play, and use the buttons in the upper-left corner of the video to turn your gaze  in any direction, as if you were there in person.
Bustling city streets of Prague
Kayaking and castles in Český Krumlov
Natural beauty of Moravian Karst, Punkva caves
Expansive elegance of the Lednice Chateau and gardens
Bohemian spa town of Karlovy Vary
Hiking the hills of Hřensko, Bohemian Switzerland
Following the Royal Route through Prague
Virtual Views of the Czech Republic:
UNESCO Sights
Start planning your future trip with virtual visits to the Czech Republic's UNESCO sights, including the gardens of Kroměříž, the Olomouc Astronomical Clock, and the pastel facades on the streets of Telč. You can also take a virtual tour of Brno's famed architectural example of modern architecture (normally booked out for months in advance).
Monuments & Museums
The Prague Castle website is open for virtual tours including garden strolls and a crowd-free look at the golden glow inside St. Vitus Cathedral. Check out the 360-degree views from the top of both Charles Bridge Towers (Old Town and Lesser Town), see the bright colors and arched ceilings of the Ctěnice Chateau, and step inside the unassuming Podskalí Custom House at Výtoň.
Arts & Culture
Bring the legends of Czech Opera into your home by streaming:
Antonin Dvořák's "Rusalka"
Bedřich Smetana's "The Bartered Bride"
Leoš Janáček's "Jenůfa"
Standing ovations in your living room are still welcome and encouraged.
Curious About Seeing Prague Without the Crowds?
No need to risk your health (or others) to see the empty streets of the Czech Republic. We'll bring them straight to your screens. Janek Rubeš of the Honest Guide, complete with a state-mandated mask required in public spaces, captured the eerily quiet streets of Prague on video.
Wanderlust in Words
The Czech Republic has inspired numerous authors over the centuries – Franz Kafka, Milan Kundera, and Umberto Eco just to name a few. Dive into this collection of books to satisfy your love of stories and see the Czech Republic through vivid prose and imagination. If you're looking for company, share your favorite reading spot with us on Instagram @VisitCZ. We'd love to see what you're reading!
Czech Republic – Film Locations
Hollywood location scouts and film crews have long loved using the beauty of the Czech Republic as the backdrop. Think Prague (and Liberec) in Spiderman: Far From Home, the whimsical hills of North Bohemia in Amazon's Carnival Row, or the Czech capital standing in for historical France in Season 2 of Outlander. Bring a little bit of the Czech Republic into your living room with these additional films and series shot on location across the country.
The Flavors of Czech Easter
We want to bring a little piece of Czech Easter into your home this year. So many traditions surround the Easter holiday in the Czech Republic. Some may be familiar (e.g. decorating colorful eggs), some may seem  unusual (hello, willow-tree whips).  The holiday is also filled with bright colors, aromas, and festive flavors you can try anywhere.
– Try a green beer or spring herbs in your meal for Maundy Thursday.
– Skip the chocolate bunnies and try our recipe for an Easter lamb cake.
Wishing a Veselé Velikonoce ("Happy Easter") to all!
"Which Castle in the Czech Republic Would You Live in?"
Need a little extra fun for your imagination? Try this quiz from bloggers Bobo & Chichi to find out which Czech Castle is the ideal home for you and your loved ones (whether you're quarantined or not).
We Look Forward to Seeing You… Someday Soon!
While none of us can predict exactly when travel will resume, we can say with confidence that we'll be glad to see you when it happens. For the latest information on travel rules, restrictions, and guidance, you can visit the Ministry of Foreign Affairs for answers.
Follow and Share with Jetsettersblog.