Explore the Best of Santorini From Carpe Diem Boutique Resort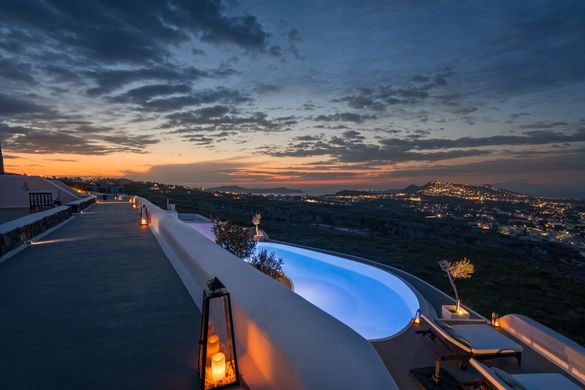 ---
LONDON, 25 June 2018: Love Greek culture, history, wine and attractions but want to explore the best of them with ease? Carpe Diem Exclusive Boutique Resort provides all the above, right near Santorini's best sights yet away from the crowds. See how you can enjoy unique Santorini experiences in the most relaxed way possible.
An Effortless Stay 
A stay at Carpe Diem will make you feel like royalty. From the moment you walk out of the airport arrivals gate, your VIP treatment begins. Whisked off in your luxe private transfer to the boutique resort, you can leave all your worries at the door. Everything will be taken care of by your butlers, who will not allow you to lift a finger.
Without a care in the world, you'll have plenty of time to seize the day, especially in such a prime spot on the island.
Location, Location, Location
Carpe Diem is strategically located, not only for your complete serenity and privacy but also as the perfect base to explore Santorini. Pyrgos sits in the heart of Santorini's cultural hub, so there are many attractions to discover right on your doorstep.
A popular option to see all the sights is the private luxury car tour of Santorini, which you can ask your butler to organize for you. Complete with an expert guide and driver, the 3-hour trip takes you the most Instagrammable spots on the island. Take in the Caldera crater, behold the black sand beaches of Perivolos and finish at one of the best spots for sunsets at the Akrotiri lighthouse.
When you need a break from exploring the heritage, history and untouched beauty of Pyrgos, head back to your sanctuary that is Carpe Diem. On the highest hilltop in the village, you can kick back and admire the panoramic views and a dreamy sunset from your private pool.
Tailor-Made Experiences
Along with VIP service and amazing views, Carpe Diem goes to great lengths to make your stay unforgettable.
Fancy something authentic and out of the ordinary? For a bit of adventure, hike through mountainous landscapes and beautiful vineyards to the Prophet Elias Monastery. One of Santorini's oldest monasteries, built on the island's highest peak, the historical landmark boasts sea views that will leave you in awe. And the sunset scenery is nearly impossible to beat.
Like the views, Santorini's wines are also hard to compete with, and Carpe Diem gives you direct access to the world's oldest surviving vineyards. Most vineyards date back to prehistoric times and have soaked up the volcanic soil's unique properties, giving all the wines an exquisite mineral taste. Exclusive wine tastings in a boutique winery near the resort are available April – October.
Up for more bespoke experiences in Santorini? Carpe Diem offers everything from yachting and scuba diving to travelling back in time at the old towns and monuments of Ancient Greece.
See them all at carpediemsantorini.com/experiences
About Carpe Diem
Carpe Diem is Santorini's most original and exclusive resort. The ultra-private complex features ten lavish suites complete with individual plunge pools. The suites are the largest on the island.
Carpe Diem boasts incredible panoramic views from Santorini's highest village, Pyrgos. The boutique resort offers amenities such as a champagne bar, Bang and Olufsen sound systems, and a butler service. A 1-1 staff-to-guest ratio guarantees high levels of privacy in all aspects of your stay.
Carpe Diem is a proud member of the Small Luxury Hotels of the World.
em
Follow and Share with Jetsettersblog.