Explore's New Cycling Trips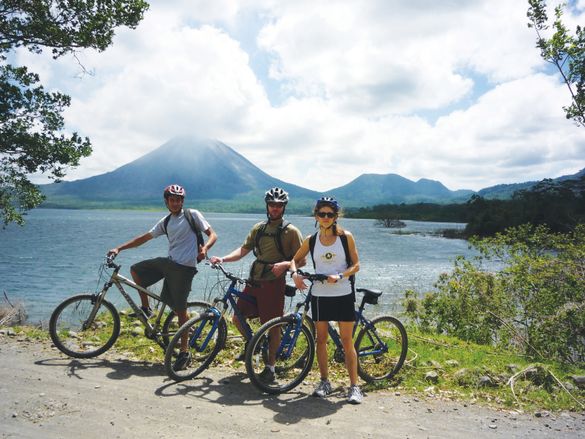 There's no better way to soak up the atmosphere of a country than on two wheels, closer to the sights, scents and tastes that make it unique. Whether it's a gentle ride between picturesque villages or a longer ride, Explore guide you on your journey in the saddle.
From gentle cycles along the turquoise coastlines of Turkey and Italy to more remote areas of Japan and South Korea, there's something to suit all abilities and groups.
Cycle Japan – Shimanami Kaido and the Inland Sea
This trip is an ideal way to visit areas of Japan that are rarely visited by Westerners. Starting in Kyoto, journey around Japan's scenic Inland Sea dotted with verdant islands starting on the quiet backroads of rural Awaji Island. Discover the impressive Naruto whirlpools before traversing Shikoku Island on two wheels on moderate-to-challenging rides to enjoy views of impressive mountain peaks and equally beautiful seascapes. The cycling culminates with a highlight ride across the Shimanami Kaido cycle way on bridges that span the Inland Sea with superb views. The trip also includes train and ferry travel, taking in many of the region's must-sees such as Kyoto, Osaka and Hiroshima.
Prices for the 12-day Cycle Japan: Shimanami Kaido and the Inland Sea trip start from £4,325 including flights, internal transfers, 11 night's standard hotel, 11 breakfasts and 4 dinners, and an Explore Leader.
Cycle South Korea
The successful winter Olympics hosted here in early 2018 has sparked increased interest in this beautiful, history-packed nation. The new Cycle South Korea trip combines the mainland with the little-known island of Jeju – home to the Hallasan volcano and large stone statues, or Harubangs thought to represent ancient Gods. On the mainland, explore the historical temples and ponds of Gyeongju, ride the attractive modern corniche at Pohang and enjoy the long coastlines and sleepy fishing villages of the East coast before reaching the thriving capital of Seoul. Cyclists cover between 40 and 60km for seven days of this 11-day moderate grade trip.
Prices for the 11-day Cycle South Korea trip start from £3,199 including flights, internal transfers, 8 night's standard hotel and 2 night's simple guest house, 10 breakfasts and 3 dinners,  and  an Explore leader.
Cycling in Georgia
Characterised by its landscapes of snow-capped mountains, deep gorges and medieval villages, Georgia has proven popular in recent years. In 2019 cyclists will be able to cycle to the ancient Silk Road cave towns, past castles and into the wine producing region of Kakheti. Travelling by bus and bike, discover a proud and welcoming people emerging from the shadows of the Soviet Bloc and experience Georgian hospitality with a hosted lunch, visits to local farms, vineyards and delicious traditional homecooked food in guesthouses.
Prices for the 10-day Cycling in Georgia trip start from £1,635 per person including flights, internal transfers, 9 nights' accommodation, 9 breakfasts, 6 lunches and 3 dinners, and an Explore leader.
Cycle Cilento to the Amalfi Coast
This trip cycles through a beautiful hidden corner of Campania along the dramatic coastline and fishing villages, into the rugged interior of the UNESCO Cilento National Park. Getting off the beaten track, ride along secondary roads towards mountain hamlets, visit Greek archaeological sites at Velia and Paestum and cyclists can sample local delicacies including mozzarella di bufala and Cilento wines. After five days of moderate grade riding, leave the bikes behind to discover the dramatic beauty of the Amalfi Coast on the jaw-dropping 'Walk of the Gods' and a cruise to Amalfi.
Prices for the 8-day Cycle Cilento to the Amalfi Coast trip start from £1,495 per person including flights; internal transfers 7 nights' accommodation, 7 Breakfasts and 2 dinners are included, and an Explore leader.
Cycle Turkey
This new moderate grade week-long trip travels along Turkey's beautiful Turquoise Coast, along the shores of Lake Koycegiz and through the farmland, forests and hillside villages of this pretty region. Explore the ancient sites of Patara and Xanthos, relax on the golden sands of Patara Beach, take a dip in the hot springs at Sultaniye, and indulge in the delicious local seafood. The 30-45km of daily riding gives the opportunity to stop and spot turtles, tortoises, eagles, tree crabs, as well as beautiful roadside orchids. Cycle Turkey runs in spring and summer, when temperatures are perfect for cycling.
Prices for the 8-day Cycling Turkey trip start from £999 per person including flights, internal transfers 7 nights' accommodation, 7 breakfasts, 3 lunches and 1 dinner are included, and an Explore leader.
Explore's other new trips include a cycle journey between Porto and Lisbon, and an exploration of Sicily on two wheels.
For further information please visit www.explore.co.uk or call 01252 883 409.
Follow and Share with Jetsettersblog.