Fforest – Luxe Glamping This Summer: Welsh Farm Meets Japanese Forest Retreat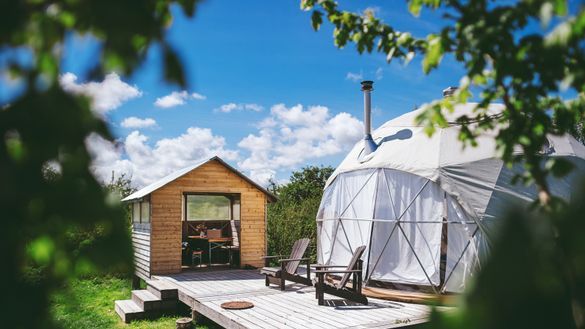 ---
Reconnect with nature this summer at Fforest – the ultimate wild glamping in Wales
Fforest is a 200-acre farm in west Wales, bordered by a wild nature reserve and the river Teifi, housing six different accommodation options carefully dotted and placed to make the most of the natural beauty and nature of the farm, from a traditional Welsh crog loft to a spacious geodesic dome with Japanese-style onsen outdoor bath area. Fforest was created as a place to enjoy the simplicity, pleasures and beauty of outdoor living in an outstanding natural environment, and offers the ideal location for those desiring a rural and remote escape this summer.
Conceived by owners Sian Tucker and James Lynch (formerly in property design and textiles in Shoreditch), the site provides a myriad of different accommodation styles, combining warmth, craft and comfort in both the spirit and the thoughtful design, which fully embraces the natural surroundings. Structures are built from rugged farm materials, combining weathered corrugated iron, worn wood and local slate stone, with warm touches from traditional Welsh-wool blankets commissioned by Sian and made at a local woollen mill. There are always enamel jugs of wild flowers in the outdoor kitchens and thick, cosy duvets for the unpredictable Welsh weather.
Fforest has a tradition of encouraging and including community at breakfast and evening suppers, this year they are doing things differently but will look to keep the community spirit alive. With every accommodation enjoying its own private kitchen, guests have the option of fully self-catering or making the most of the delicious takeaway food available on site. Where restrictions are in place, there will be an onsite farm shop selling Fforest classics, local produce, fresh home bakes and great coffee. Available selected evenings, there is the option to enjoy takeaway dishes from the barbecue or the wood-fired pizza oven. Expect barbecued spatchcock chicken, local lamb, freshly caught fish and the very best from the Pizzatipi, Fforest's popular pizza restaurant in nearby Cardigan.
One of the highlights of Fforest is the Bwythn, a 200 year old stone-and-slate farmworker's cottage, which was transformed into one of the smallest pubs in Wales. Inside, a limited number of tables will be available, or guests can take out beers and gins that Fforest have created in collaboration with their favourite local producers.
Fforest farm sits between the nature reserve and river Teifi providing a range of walks and running trails along the gorge and through the marshes, with a couple of wild swimming spots along the way. Within striking distance there are beautiful beaches and coves, including the National Trust's Mwnt and Penbryn. Fforest also runs an activity company offering canoeing down the gorge and local coasteering, climbing, surfing, dolphin-spotting boat trips are available with external activity providers.
This summer, Fforest will be inviting as few of their favourite artists and craftspeople to record Fforest-themed projects or workshops for guests to enjoy and complete during their stay. Materials can be bought from the Fforest farm shop. They also plan to show projections of family favourite films on a screen in the giant hat tipi, with guests invited to watch, tucked up in Welsh blankets.
Although Fforest naturally lends itself to being isolation-friendly, Sian and James have added further measures to ensure a safe environment, offering all guests private showers and toilets if not already provided en-suite.
James Lynch, Fforest founder said: ​"Though current travel guidelines within the UK are not yet confirmed, we have seen a significant spike in enquiries and booking requests for July onwards. There seems to be a real yearning to get back to nature and reconnect after this stressful time in isolation. In a way, we are pleased that this will encourage people to explore their own backyard, appreciate the beauty of our land and slow down a little. We believe we offer something truly unique here at Fforest and cannot wait to share our Welsh secret this summer."
Accommodation Details
(all prices for two nights, minimum stay)
Ty Forest farmhouse
Sleeps 14 – perfect for extended families and friend bubbles
Price from £788
From the outside, this is a farmhouse a child would draw: stout as a cottage loaf with a flour-white face and proud chimneys. Inside, the interiors evoke a Scandinavian ski lodge, with pine cladding, Welsh-wool blankets, a huge farmhouse dining table and a cosy wood-burning stove. The Georgian farmhouse sleeps 14 in 5 cosy bedrooms, each with their own bath or shower room. A Peter Doig painting hangs in one bedroom and chairs are made with planks painted by Hirst, Emin and others, a flashback to Lynch's Hoxton past.
Onsen domes
Sleeps up to 4, ideal for a romantic break yet big enough for families
Price from £260
With solid wooden floors, sturdy futon beds, chandeliers of twisted oak heartwood and wood-burners, the Onsen domes offer a luxurious and romantic camping experience, centred around a Japanese-style onsen bath house. Created for quiet reflection and relaxation amongst nature, the bathing area features a shower, basin and cast concrete, sunken soaking tub, perfect for stargazing.
Each spacious yet cosy dome, featuring a king sized futon bed and two additional single futons, connects to an insulated cedar and zinc clad pod with an en-suite shower room, indoor table & seating area. Alongside, the fully-equipped outdoor kitchen and dining area has been custom built from reclaimed hardwood with a combined outdoor wood-burning stove and barbeque. From the decked area, guests can fully relax on the custom-built outdoor sofa overlooking the beautiful Welsh countryside.
Crog lofts
Sleeps 4 – perfect for families
Price from £228
Formerly an old barn, four crog lofts have been designed to seamlessly engage with the outdoor ethos of Fforest by offering dining and kitchen areas on the outside terraces, sheltered underneath the porch. Traditionally housing a bedroom on a mezzanine level, each modern crog loft sleeps 4, and features slate floors with underfloor heating, luxurious bathrooms, bespoke furnishings & textiles, combined with stylish mid-century furniture.
Garden shacs
Sleeps 6
Price from £195
The three Garden Shacs at Fforest farm are designed to provide simple, characterful accommodation overlooking the raised bed garden in the farmyard area, and also feature covered outdoor dining and kitchen areas. Each has 3 bedrooms and a custom-built sofa on the decked area with views across the gardens and hills beyond.
Geodesic domes
Sleeps 4
Price from £161
With vast windows overlooking the fields or forest, each dome sleeps up to 4 with a king sized bed and 2 single futons. Each dome is carefully positioned to ensure a feeling of solitude combined with welcome hi-tech touches such as USBs sockets built into the headboard. All guests will be allocated a private shower and toilet in the cedar and green oak-clad shower building.
Hill Shacs
Sleeps 8 – great for extended families
Price from £293
For larger groups, the two Hill Shacs house four bedrooms in each alongside a communal kitchen/dining area for everyone to be together, with sliding doors opening the space up onto the hillside. Within each Shac, each suite of two bedrooms shares an en-suite toilet with beautiful private woodland showers just a short walk away. Grown ups can enjoy a glass of wine on the deck while the kids run around in the fields.
—
Fforest also owns a separate, smaller coastal campsite, which offers fully self-catered accommodation ranging from a farmhouse to geodesic domes and cabins. It is a short walk from the award-winning Penbryn beach.
For more information visit: ​www.coldatnight.co.uk
Follow and Share with Jetsettersblog.