Five-Star Maldivian Luxury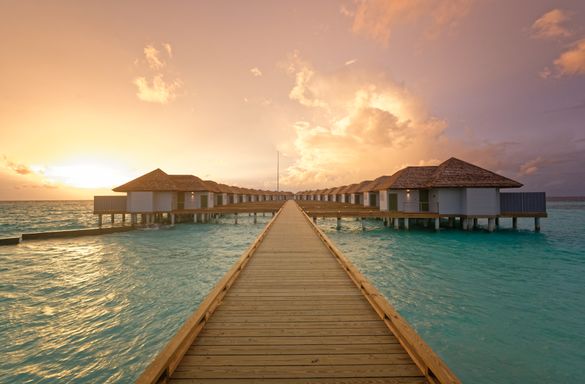 Embrace the magic of the festive season with five-star Maldivian luxury
Five-star, Small Luxury Hotel of World, Kandolhu have a host of celebrations planned throughout December, from daily sundowners, in-villa breakfasts, and various master classes for foodies.
The main event begins on Christmas Eve; watch the fiery Maldivian sun set over the Indian Ocean with a glass of bubbly and graze delicious delights from the Raw Bar. Wake on Christmas morning and celebrate Kandolhu-style with an in-villa Mimosa Breakfast followed by a day of unwinding in the Spa and snorkelling, before the evening's socially distanced Gala Dinner, set on the beach under the stars.
Celebrate New Year's Eve on the beach with your favourite cocktail or opt for a more intimate affair and enjoy Kandolhu's Cinema Under the Stars and watch your favourite movie on their private jetty over the turquoise waters of the lagoon. Kick of 2021 with everyones essential; New Years' Day "Not Your Typical Brunch" – a surprise luxury feast prepared by the island's head chef and served in the Market restaurant.
Guests visiting through December can experience the island's wonders ahead of the festivities. For those intrigued by life below the Maldivian waves, join Kandolhu's Marine Biologist to learn all about Kandolhu's reef, and the majestic Sea Turtles that live there. Or opt to take your winter escape to the next level with acompletely personalised wellness journey at Varu Spa. Foodie guests will revel in the selection of culinary experiences…
Join chef Ragu as he guides you through the many facets of Indian cuisine, from spices to native ingredients, and cooking methods to create some delectable home cooked curries you can re-create at home for when you need something to satisfy your taste for travel. Elsewhere on the island, enjoy a 4-course Sushi tasting Lunch at The Market, or join David, Frandi and Marc at Vilu Bar for a casual wine-tasting where you can sample some of their favourite wines.  For more culinary delights, join the Wine & Cheese tastings or the Rum Masterclass to keep your tastebuds delighted through the festive season.
Kandolhu Maldives 5* Beach Villa 7 nights, RB From £3379# per person. Flights based on Emirates from London Heathrow (#applies to selected departures in January 2021) SAVE UP TO 25%. *Book by 15th December 2020*. Enquire with Kuoni 0800 540 4826, www.kuoni.co.uk.
Kurumba's festive season is full of treats for adults and children alike. Join the fun from the 23rd December 2020 to the 6th January 2021.
Bringing family and friends getting together to celebrate this special time of the year, Kurumba is the perfect place ring in 2021 and make the best of this year's Festive Season!
For little ones, the celebrations kick off on the 23rd December with Christmas Tree decorating at the Kids Club, followed on the 24th by Gingerbread decorating at Kandu Bar.  Santa arrives to the Maldives on the 25th to present t gifts at the main pool, making the perfect afternoon activity for the whole family.
An array of activities for children take place every day from the 26th December to the 3rd January with events for teens and younger kids including a Scavenger Hunt, a Sand Art Competition, Pirate-themed cruises, a fashion show and races. These activities can provide an ideal break for parents to relax on the beach or visit the spa.
Kurumba is the ultimate escape for adults to unwind and celebrate over the Christmas period. Christmas Eve dinner is a celebratory affair, with something for everyone and all the trimmings you'd expect! After dessert, join the festivities with live entertainment and merry drinks at Kandu Bar into the evening. Enjoy Christmas Day with loved ones, and after the sun goes down join Kurumba for a special Christmas move under the stars, complete with popcorn and cocktails.
New Year's Eve at Kurumba is a lavish affair. Ring in the New Year with cocktails, champagne, and canapes by the main pool, followed by a decadent Gala dinner and party to count down to 2021. Wake on New Year's Day to a recovery (!) brunch, with options for detox, or carry on the party with sparkling wine. The first sundown of the New Year is always an event at Kurumba and 2021 will be no different, with drinks and views for days at Athiri Beach Bar.
Festivities will continue the 4th with a bonfire at Raha Beach, followed by Orthodox Christmas Eve Gala Dinner and live entertainment ay Kandu Bar on the 6th.
Kurumba Maldives 5* Superior Room7 nights, RB. From £2349# per person Flights based on Emirates from London Heathrow.  (#applies to departure 22nd December 2020) SAVE UP TO 50%. *Book by 15th December 2020*. Enquire with Kuoni 0800 540 4826, www.kuoni.co.uk.
Lti Maafushivaru welcomes guests to celebrate a sparkling festive season through a line-up of scrumptious menus, live music performances and events for all guests, from the 2rdth December 2020 through to the 1st January 2021.
Join them on the 23rd to decorate Maafushivaru's Christmas Tree before enjoying a special, traditional multi-course Japanese dinner, Kaiseki Menu at Umi. Christmas Eve kicks off with a guided house-reef snorkel. Bubbles at Water Bar from 6pm are followed by a Gala Dinner at Cuisine Gallery. This indulgent buffet buffet will include live cooking stations, 5 cold counters, a roast station and more. For a Christmas Eve dinner with a little more spice, Moodhu Grill offers guests the chance to sample a traditional Indian Thali.  Live music and our resident DJ at Water Bar will fill the hours until Christmas Day.
Christmas Day begins with breakfast Bellinis followed by Santa's Christmas Pool Party throughout the afternoon (accompanied by the resident DJ). Guests can enjoy a taste of Sangria at Water Bar between 6 and 7pm. Dinner is a choice of a la carte from Umi, Moodhu Grill or a traditional candlelight Christmas dinner, with all the trimmings at Cuisine Gallery. From 10pm at Water Bar, guests can experience a 'Magic of Christmas' movie screening under the spectacular Maldivian night sky.
From Boxing Day until the 31st December an array of activities and events will take place for guests to enjoy, including a Waterball and Beach Volleyball Tournament, Spike Ball Tournament, G&T cocktail competition, Sandcastle Competition (a great activity for the whole family) and family cooking lessons at Cuisine Gallery. Daily DJ sessions range for daytime chill out to evening tunes at Water Bar.
For foodies a range of special dinners are available to choose from including Moodhu Grill's offering of Sri Lankan delicacies on the 29th and house wine tasting at Cielo and Umi's Nikkei menu on the 27th.
To welcome in the New Year on the 31st December, guests can explore life below the waves on a special guided New Year's Eve snorkel, the evenings festivities commence with bubbles from 6pm, followed by a sumptuous Gala Dinner at Cuisine Gallery and New Year's Eve Celebration with Live Music and tunes from our resident DJ until the early hours at Water Bar!
The next day, on the 1st January 2021, indulge with breakfast mimosas, followed in the evening by a special Cinema Under The Stars screening complete with popcorn and freshly mixed drinks on the beach. Those feeling a little more active can take the plunge with the first dive of the year, an easy drift dive not too far from the island.  Either way this sounds like the perfect start to 2021.
Maafushivaru Maldives 5* Water Villa, 7 nights, HB  From £3499# per person. Flights based on Qatar Airways from London Heathrow (#applies to selected departures in December 2020) SAVE UP TO 40%. *Includes Christmas Eve Dinner*. Enquire with Kuoni 0800 540 4826, www.kuoni.co.uk.