Five Ways to Reconnect With Nature in Brisbane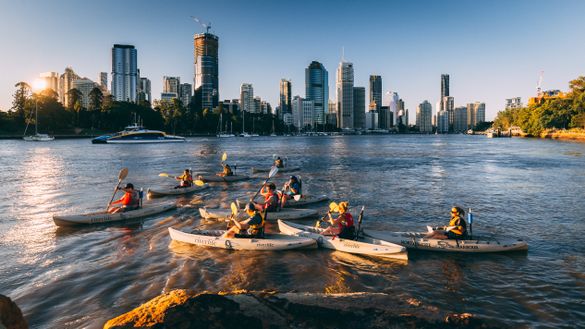 Need to leave your familiar four walls for a breath of fresh air? Our beautiful open-air city is coming back to life, so it's time to get back out there and reconnect with Australia's nature capital. It's a glorious time of year. The air is crisp; the sunshine is warm, so start planning your way back into our great outdoors and re-connect with nature. From river to bay, sky and mountains, we've got you covered.
Make sure you adhere to the latest social distancing guidelines here.
1. Get out on the river
Mix up your usual exercise routine and relish the natural playground that's right on our doorstep. Hire a kayak from Riverlife for $25 per two-hour session, or grab a canoe from One Tree Canoe for $50 a day. There's something extra relaxing about the views of Brisbane when the water's lapping at the side of your canoe in the winter sun.
Want to see Brisbane and experience all that it offers a little faster than on foot? Join Brisbane by Bicycle for a fun, leisurely adventure winding along the river through South Bank, New Farm and Teneriffe with a picnic lunch in the middle – a perfect way to refresh and restore some of the calories you burned.
2. See the first light in the sky
Sure, you might have been getting extra sleep working from home, but this view should motivate you to set that early alarm again. Book an unforgettable hot air ballooning experience through Floating Images Hot Air Balloon, which allows you to enjoy glorious sunrise views while floating majestically over the heritage city of Ipswich, the Scenic Rim and Somerset countryside. What could be more freeing from the pressures of isolation than taking to the great blue sky to witness a priceless golden sunrise?
Want something more thrilling? Oceanview Helicopters provide a stunning aerial view of Brisbane's coastline in the Moreton Bay Region. A helicopter trip takes you along our stunning coastlines for a chance to see the beach like you've never seen it before.
3. Embrace the wonders of the ocean
More than 20,000 humpback whales migrate through Moreton Bay every winter. Get up close and personal with these majestic creatures with Straddie Kingfisher Tours or Brisbane Whale Watching (commencing on July 11th and now offering a premium upgrade for bookings).
Point Lookout on North Stradbroke Island just happens to be one of the best land-based whale watching spots in Australia, providing a prime view of "Humpback Highway" as the whales pass surprisingly close to the sand island. Want to get the most most out of the island paradise? You can now book your overnight stays with Minjerribah Camping at Main Beach and Flinders Beach.
If whales are not your thing, book a session to meet and feed some dangerous marine life with Shark and Ray Gardens. Kids in particular will love the chance to get face-to-face with some scary creatures you would want to avoid in any other circumstances.
Seeking adventures? You can now return to Moreton Island with Australian Sunset Safaris for a variety of exciting activities. Sandboarding down a tall sand dune, snorkelling around the Tangalooma wrecks, kayaking in a transparent boat and admiring the magnified coral and fish below… whether you're in search of relaxation or adrenaline, they have you covered.
4. Venture into the mountains
There is no better way to reconnect with nature than climbing a mountain, and Brisbane is spoilt with choices. When you reach a summit, the gain makes the pain all worthwhile. Plus, the weather is finally cool, so you won't work up too much of a serious sweat while trekking the mountains.
Stay with O'Reilly Rainforest Retreat and experience the wonders of World-Heritage-listed Lamington National Park. Get amongst daily family-friendly activities including the wildlife encounter, Flying Fox Adventure, Birds of Prey Show and Glom Worm experiences. Camping lovers get excited, as you can now book camping spots at Mt Barney Lodge and experience a series of guided walks and adventure programs.
Upgrade your camping experience with Ketchup's Bank Glamping or Nightfall Wilderness Camp. Chasing adventure but don't want to travel far? Check out our guide of hikes and walking trails within 30km of Brisbane – these will make you equally revitalised and ready to take on the world.
5. Explore the land and country
The winter sun is glorious in Brisbane, which makes it a great time to head out of town and enjoy the region's natural beauty. Why not take the road less travelled and explore the hidden pockets of nature and history surrounding Brisbane?
Journey west for about an hour and you will be in the region known as "Australia's Salad Bowl" – the Lockyer Valley. Gifted with some of the most fertile soil in the world, the Lockyer Valley is also rich with relaxing experiences perfect for a weekend away to experience country living. Learn to milk sheep, enjoy a cheese tasting or delicious lunch in the picturesque surrounds with Awassi Cheesery. Stop by German Bake and Wurst House to stock up on low sugar treats and traditional German fare. Too full to walk on your own? Jump on horseback with Fordsdale on one-hour, two-hour or full-day rides. If you're loving the country feel, opt to stay on the 1000-acre grazing property and do it all again the next day.
You can check out more experience offers in Brisbane at visitbrisbane.com.au.