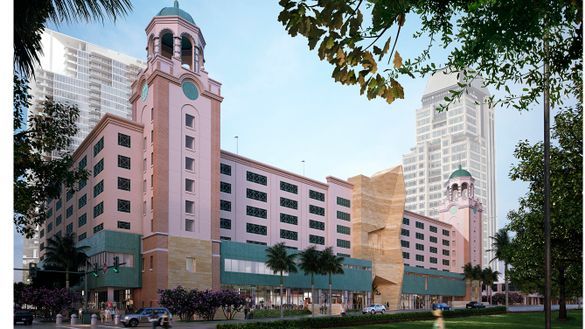 ---
NORTHERN REGION
Wild Willy's Adventure Zone – Fort Walton Beach – 2018. This popular local attraction will open their latest activities, including two go-kart tracks, bumper boats and much more.
Gilbert Glassworks – Santa Rosa Beach – 2018. South Walton local, Russ Gilbert, owner of Fusion Art Galleries is pleased to announce the opening of Gilbert Glassworks. The newly opened studio will offer private teaching for adults and will explore a variety of glasswork techniques. Gilbert opened his first gallery in Seaside over 20 years ago and has over 40 years of experience creating glass art. The studio will offer workshops for beginners as well as advanced studies for those more experienced in glass working.
Underwater Museum of Art – South Walton – 2018. The Cultural Arts Alliance is partnering with the South Walton Artificial Reef Association to create the first Underwater Museum of Art (UMA) in the United States of America. The underwater sculpture garden will be placed in the clear waters of the Gulf of Mexico, off Grayton Beach State Park. The project will begin with the deployment of 7 sculptures acting as artificial reefs to provide anchor points for marine life to inhabit. The collection of underwater sculptures are expected to be in place summer 2018.
The 77th Annual North Florida Fair – Tallahassee – November 8-18, 2018. The North Florida Fair is an outstanding entertainment value, there is always something going on at the fair to captivate your attention and entertain your family. We'll see you at next year's fair, November 8-18, 2018!
CENTRAL REGION
TreeUmph! Treetop Adventure Course (2nd Location!) – Brooksville – 2018. Swing through Florida's Adventure Coast and find out why "the ground is overrated!" TreeUmph! Adventure Course invites you to harness up for the adventure of a lifetime. With over 130 obstacles for climbing, swinging, soaring and zipping through the treetops, you will be head over heels – or heels over head – in fun. The expansive and perfectly outfitted course covers over 30 acres of forested landscape. Feel the rush of excitement as you move through the five different courses, with increasingly challenging obstacles and ziplines up to 500-feet long. Truly a destination for all ages, TreeUmph! Brooksville features the unique "Little Ninja" course. This special course brings all the fun of the obstacles closer to the ground, with 34 specially designed obstacles for children ages five through eight. Centrally located at 6440 Cedar Lane, TreeUmph! is just seven miles west of I-75, at Exit 301 and is minutes away from conveniently located lodging and dining.
LEGOLAND Florida Resort – Orlando – 2018. In 2018, LEGOLAND Florida Resort will unveil 12 months of exciting special events and grand openings throughout the year. These family-friendly events will be the perfect way to spend another brick-tastic year of fun at the place #BuiltForKids. Explore the new theatrical "4D" real-world effects of "LEGO NINJAGO: Master of the 4th Dimension" opening January 20. Complete The Great LEGO Race and Brick Dash 5K, opening Spring 2018, these family events are some of the most popular events of the year. Celebrate America's independence on Wednesday, July 4 as the sky lights up above Lake Eloise with one of the biggest fireworks shows of the year! Join in on the fun through the annual Christmas Bricktacular, select dates in December, and have yourself a merry LEGOLAND Christmas!
SeaWorld Orlando – Orlando – 2018. Take a trip to SeaWorld in 2018 for exciting, inspiring and family-friendly events, which are included in park admission. In January, during the all-new Three Kings Day celebration, families are invited to help commemorate the arrival of the Three Wise Men. The new event brings SeaWorld's holiday season to an incredible close with festive cuisine and celebratory experiences that honor the cherished traditions of Latin cultures. In April, attend the NEW Just For Kids event, in which families will enjoy dancing to the beat and learning together along with everybody's favorite furry, finned and flippered friends during these special weekends crafted with young guests in mind. As the sun goes down, the park comes alive with the glow of Electric Ocean at SeaWorld, returning from May through September, for another summer of fun. With exciting nighttime shows and electrifying music, guests are immersed in a sea of wonder that ends in "Ignite", a spectacular fireworks finale.
Disney's Hollywood Studios – Orlando – 2018. There are plenty of exciting updates to announce for Walt Disney World Resort including a new lineup of attractions at Magic Kingdom Park, Epcot and Disney's Hollywood Studios, new resort hotel experiences and concepts, and two new transportation options. At Disney's Hollywood Studios, the highly-anticipated Toy Story Land will make its grand opening in summer 2018.
Disney's Epcot – Orlando – 2018. In preparation for the park's 35th anniversary, Epcot will continue to evolve to make it more timeless, more relevant, more family and more Disney, while staying true to its original vision beginning with several newly revealed offerings.
Universal Orlando Resort – Orlando – 2018. Opening in spring 2018, a brand new action-packed ride, Fast & Furious – Supercharged, will take guests on a high-octane journey that fuses an original storyline, incredible ride technology, popular characters, exhilarating environments, nonstop action, and high-speed cars.
Imagine Museum – St. Petersburg – 2018 – Opening January, a new fine art institution in the up-and-coming Central Arts District of St. Petersburg, Florida. Its primary collection displays the explosive growth and diversification of the studio glass movement in America since the 1960's, and extends to new directions in contemporary glass.
American Freedom Distillery – St. Petersburg – 2018. Opening January, American Freedom Distillery is a dream turned into reality by a group of four retired Special Forces (Green Berets) friends from the South (mostly Florida) who fought for our nation's freedom during the darkest of days. They have since traveled the world honing their passion for craft distilling to bring passion and pride to every bottle produced. The Distillery will be located in St. Pete's up-and-coming Warehouse Arts District, offering whiskey, rum, vodka and gin, and also be home to an inviting upscale American restaurant – America Neat.
The James Museum of Western + Wildlife Art – St. Petersburg – 2018. Opening April 2018, Downtown St. Pete's newest museum will be home to approximately 400-500 premier works of art from Tom James, emeritus chairman of Raymond James Financial, and his wife, Mary James' personal collection of more than 3,000 pieces. The couple has invested nearly $50 million into the 80,000 sq. ft. museum, which will feature 30,000 sq. ft. of gallery space, a 120-seat theater, event space, 2,500 sq. ft., two-story indoor sculpture court with an indoor waterfall, store and café.
The Dali Museum – St. Petersburg – 2018. In 2018, The Dali Museum will take attendees on a trip into surrealism. The Dali/Duchamp exhibition from February-May 2018 explores their relationship, both personally and aesthetically, through 60 ground-breaking pieces.
Leepa-Rattner Museum of Art – Tarpon Springs – 2018. New Exhibit Opening: Let's Get Surreal: Works on Paper from the Collection, January 21 – April 15, 2018. Featuring works from the permanent collection, Let's Get Surreal explores the surrealist movement through printmaking by artists such as Salvador Dali, Stanley William Hayter and contemporary artists.
ATX® Center – Titusville – 2018. Kennedy Space Center Visitor Complex will welcome the new ATX® Center with a sleek, high-tech design, and located amid the other attractions at the visitor complex, the facility will be themed to a mission to Mars. All ATX® Center activities are designed with a focus on problem solving, communications and collaboration, making them ideal for team building in an interesting and inspirational environment.
Florida Hospital Center Ice – Wesley Chapel – 2018. Florida Hospital Center Ice is turning up the heat with premier 2018 team hosting and events. The Pasco County facility is the Olympic 2018 training home for the U.S. Women's National Hockey Team, as well as a variety of international figure skaters preparing for the games in Pyeongchang, South Korea. FHCI began operations in Wesley Chapel in February 2017, and is the largest ice rink sports complex in the Southeast United States. The state-of-the-art 150,000 square foot, four-rink ice complex offers three NHL rinks and one Olympic rink, with the option to convert any NHL rink to dry floor. The TORHS 2Hot4Ice Roller Hockey Tournament Series will capitalize on this capability when they host their 2018 National Championships at FHCI in July, drawing teams from around the world. The facility also includes a wide range of amenities and services including a mini-rink, and a new full-service restaurant with elevated views of the ice is set to open in January 2018.
SOUTHERN REGION
Florida Keys National Wildlife Refuges Nature Center – Big Pine Key – 2018. This nature center is currently under construction and is scheduled to open in Fall 2018. The new center is to showcase the Keys' four national wildlife refuges: National Key Deer Refuge, Great White Heron, Key West and Crocodile Lake. The center is to feature 1,500 square feet of exhibit space, located at 30587 Overseas Highway, near mile marker 30.5 on Big Pine Key.
Morikami Museum & Japanese Gardens – Delray Beach – 2018. Exhibit Opening: Nature, Tradition, and Innovation: Contemporary Japanese Ceramics from the Gordon Brodfuehrer Collection. Featuring 43 exceptional Japanese ceramic artists, this exhibition showcases ceramic objects of unsurpassed beauty made for everyday use. The 55 works chosen are closely associated with Japan's historical pottery centers and reinterpret traditional methods in a modern context. The almost spiritual link between ceramic making and nature is poetically highlighted by eleven digital photographs taken by photographer Tajiro Ito. Organized by International Arts & Artists, this exhibition provides a dynamic survey of the diverse and innovative practices of creating ceramic wares in Japan – from exquisite flower vases and serene tea bowls to whimsical candle holders and robust platters – revealing the earthly beauty of Japanese ceramics.
Calypso Sailing – Florida Keys – 2018. Key Largo–based luxury charter sailing operator, has launched a new custom-built flagship catamaran — the Lady Susan, a 58-foot Leopard billed as the only one of its kind in the Keys — for private charters from Key Largo to Key West. Calypso Sailing's charters aboard six vessels feature the 44-foot Second Star, also a Leopard catamaran with 45-horsepower engines, and the Big Easy II, a second 44-foot Leopard.
Keys Cable at oTHErside Adventure Park – Key West – 2018. A new 1,600-square- foot retail and outfitters shop, selling gear for kiteboarding, skateboarding wakeboarding and paddleboarding, and an island marketplace with local vendors, artists and Keys-crafted goods. A new half-mile art walk loop around its lake includes two Florida Keys Sculpture Trail works, "Everyone Breaks," by sculptor Tanda Francis, and "Stand Tall Stand Loud," by Aaron Bell. The new air-conditioned retail outlet, with 66 solar panels, is built to sell board lifestyle goods and sportswear, Keys-crafted skateboards, works by Keys artists and Keys-made products such as Keez Beez honey. Keys Cable park is located at 59300 Overseas Highway or mile marker 59.3.
Key West Room Escape – Key West – 2018. A brand new team-building activity is offered at Casa Antigua, 314 Simonton St., a private residence built in 1919 that originally was one of Key West's first hotels. The escape room experience, "Escape the Study," is offered for groups of two to eight. The 60-minute activity requires participants to communicate and work together to escape the room by figuring out clues and solving puzzles in a fun, themed environment.
A Blessing of Animals – Naples – 2018. A juried exhibition of monumental animal sculpture in collaboration with the National Sculpture Society, is on display at Naples Botanical Garden through January 31, 2018. On display are the 29 winning entries of almost 300 submissions, featuring your favorite animals, big and small, scaly and fluffy. These beautiful sculptures will be displayed throughout the Garden, on view daily and included with regular Garden admission.
Peace River Botanical & Sculpture Gardens – Punta Gorda – 2018. Florida's newest garden park offers a sanctuary of art and nature, featuring botanical collections and contemporary interpretive art with 11 sculptures emerging from the lush landscape. The gardens will cover 27 acres of which 17 will be developed and 10 will remain as waterways, marshland and heritage mangroves. Currently, 11 acres have been developed, including the Garden Community Center where visitors can get a light bite and enjoy the visiting exhibit. When complete, the Peace River Botanical & Sculpture Gardens will be one of Florida's largest botanical and sculpture gardens.
Marie Selby Botanical Gardens – Sarasota – 2018. Marie Selby Botanical Gardens will continue integrating the arts in February 2018 with the "Warhol: Flowers in the Factory" exhibit, exploring Andy Warhol's conservationist leanings.
Riding the Waves – Opening Second Location on Florida's East Coast – 2018. The Englewood-based catamaran tour company is expanding service of their guided boat tours to Stuart, FL. Guests can experience the beauty of Florida's waters with Riding the Waves' 2-person powered catamarans. Guests will learn all about the local ecosystem and natural environment from a certified Florida naturalist as they cruise along with a friend in their own private catamaran. It's the perfect way to spend a day on the waves and explore this beautiful part of the world.
South Florida Science Center and Aquarium – West Palm Beach – 2018. An Astronaut exhibition will arrive, boasting 26 hands-on, interactive exhibits which relay the physical and psychological effects of living in microgravity and the technology required to complete space missions. The immersive experience surrounds guests with life-sized living quarters necessary to survive outside of Earth's atmosphere. Anyone who has ever wondered what it is like to sleep, eat, shower and use the toilet in space will get their questions answered at this blockbuster exhibit. Visitors will also experience the importance of science in space and the future of space exploration. The exhibit will be on display October 14, 2017 until April 15, 2018.
The Norton Museum of Art – West Palm Beach – 2018. This cultural icon has been in the destination since its founding in 1941, is set to debut its new transformation in 2018. The expansion and renovation, which began in February 2016, will further serve visitors by enhancing its 6.3-acre campus with an additional 12,000 square feet of gallery space for exhibitions, an education center with two new classrooms and student gallery, a 210-seat, state-of-the-art auditorium, an adjoining 9,000 square foot sculpture garden, a 4,000 square foot soaring Great Hall, a versatile dining pavilion with garden terrace, and six restored historic houses to accommodate an artists-in-residence program and the Director's home. This September through next January, Earth Works – Mapping the Anthropocene* comes to the Museum with more than 30 of artist and photographer Justin Guariglia's works. During the past two years, Guariglia was embedded in missions undertaken by NASA scientists working over Greenland to study how melting glaciers are affecting sea level rise. His works from the missions will be on display through January 7, 2018.
Follow and Share with Jetsettersblog.