Florida Oceanographic Ocean Ecocenter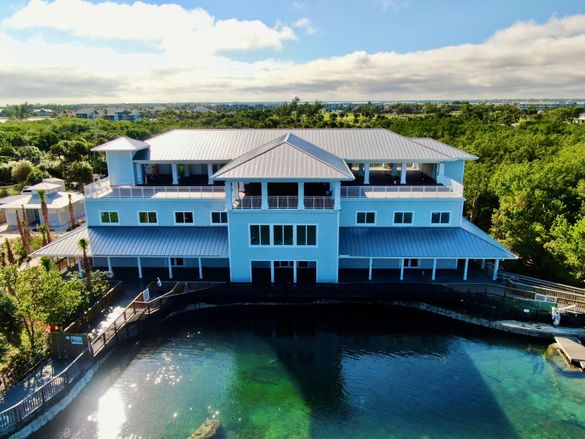 ---
S
TUART, FLORIDA – Florida Oceanographic Society's Ocean EcoCenter, the first phase of a multi-million dollar capital expansion, opens to the public on July 16th at the organization's Coastal Center on Hutchinson Island in Martin County, Florida. The Ocean EcoCenter features exhibit galleries dedicated to Florida's coastal ecosystems including 2,000 gallons of aquariums showcasing local fish and invertebrates, 30 exhibit elements, educational interactives, digital displays and games. The Ocean EcoCenter includes 5,000 square feet of exhibit space, including the Ocean Exploration Lab, a multi-purpose space that will provide educational outreach, classroom space and can host private meetings and events. This new building complements the existing educational programming and aquariums including the 750,000 gallon Gamefish Lagoon, 10,000 gallon Stingray Tank with opportunities for interaction and feeding, the invertebrate Touch Tank and one-mile of nature trails to the Indian River Lagoon.
"Through informative, interactive exhibits, the Ocean EcoCenter inspires visitors of all ages to protect Florida's coastal ecosystems" says Mark Perry, Executive Director at Florida Oceanographic. "We are so excited to share the Ocean EcoCenter with our community and continue our mission to inspire environmental stewardship. The exhibits in these galleries are engaging, fun, educational and elevate the experience for visitors to the Coastal Center. This capital expansion is a necessary and invigorating step in the organization's journey of over 55 years to advocate for clean waterways in Florida's local environments."
Guests will be educated on key components of Florida's flora and fauna, including why estuaries are essential to wildlife, how baby sea turtle hatchlings reach the ocean, where seagrass population growth is vital, and what can individually be done to save local waterways. An immersive Estuaries gallery invites visitors to explore life amongst the mangroves, including the fish and invertebrates that make their homes in the underwater prop roots, seagrass beds and oyster reefs. A visit to Life Along the Shore features interactive, educational displays and an aquarium modelled after the local Sabellariid worm reef featuring fish found in tide pools and nearshore reefs.
The Society is planning a ribbon cutting ceremony on July 16th at 9am for media and invited guests. The Ocean EcoCenter will open to the public at 10am on July 16th and be open during Coastal Center hours, Wednesdays – Sundays from 10am – 4pm. Entrance to the Ocean EcoCenter is included with admission to Florida Oceanographic Coastal Center.
The Ocean EcoCenter includes interactive displays and exhibits designed by Florida Oceanographic staff together with CambridgeSeven, and built by Color-Ad. The project team for the building also includes Hooks Construction, Lucido & Associates, Brent A Wood Architecture, Zabik & Associates, and LaConte Engineering. The Ocean EcoCenter construction is possible thanks to the generosity of many donors that support Florida Oceanographic Society and the organization's efforts to save Florida waterways! Naming opportunities are still available. For more information about the expansion and ways you can contribute, please contact the Florida Oceanographic Society Development Office at 772-225-0505 x108.
About Florida Oceanographic Society:
Florida Oceanographic Society is a non-profit organization founded in 1964 with the mission to inspire environmental stewardship of Florida's coastal ecosystems through education, research and advocacy. Visit the Florida Oceanographic Coastal Center, a marine life nature center on Hutchinson Island between the Indian River Lagoon and Atlantic Ocean, to enjoy daily education programs and hands-on learning for all ages. For more information, please call (772) 225-0505 or visit www.FloridaOcean.org.

Follow and Share with Jetsettersblog.