France: What Is Happening Behind Closed Doors?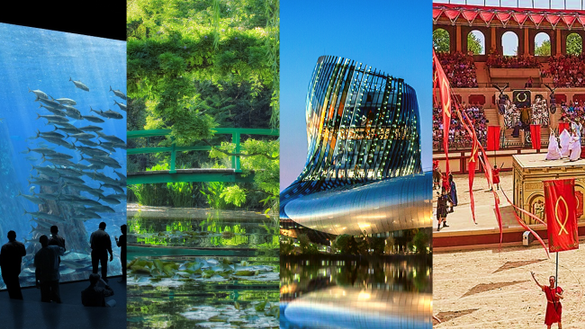 ---
As we're all currently seeing a lot more of the inside of our homes than perhaps we'd like, we may all be finding new, imaginative ways of spending our free time.
Perhaps you're daydreaming about past trips to all of your favourite places (France, of course)?
Or maybe even deciding where to go for your first trip away (France, obviously) once this is all over?
As you had probably guessed, most of these places are closed at the moment, and all seems quiet on the surface – but is it really?
What actually happens in some of these museums, theme parks and tourist attractions? Who is looking after them? What goes on behind closed doors and what is it like looking after these places with no-one there?
Well, look no further, as we have picked out four of our favourite places, got in touch with the people who manage them, and found out for you what it is really like behind closed doors.
So relax, read on and enjoy a bit of French escapism!
A bientôt,
The Atout France press team x
—————
NAUSICAA: Life at the largest aquarium in Europe
Since its opening in 1991, Nausicaá has welcomed over 17 million visitors from all around the world. Today, with the global spread of a coronavirus pandemic, the centre had to follow the French government's guidelines and, like most touristic sites in France and across the world, had to close its doors to the public until further notice. However, behind closed doors, life continues at Nausicaá in the most exceptional and endearing way. We had the pleasure of chatting with Dominique Mallevoy, Aquariologist at Nausicaá, in charge of keeping everything running smoothly for the animals, until the official reopening.
https://franceuncovered.com/2020/04/30/behind-closed-doors-nausicaa/
GIVERNY: Claude Monet's house and famous garden behind closed doors 
Claude Monet lived for forty-three years at his house at Giverny, Normandy. With a passion for gardening and colours, he conceived his flower garden and water garden as living works of art. In the absence of visitors, the Fondation Monet has created a virtual tour of the artist's beautiful home on its website, alongside an interview with head gardener Jean-Marie Avisard on how the famous gardens are faring amid the lockdown. Visit the France Uncovered blog for English versions of the virtual tour commentary and interview, and immerse yourself in one of the most beautiful and inspiring places in France.
https://franceuncovered.com/2020/04/30/behind-closed-doors-giverny/
LE PUY DU FOU: A sneak peek at Vendée's historical theme park
With five hotels, 20 food outlets, 15 shows and thousands of performers both human and animal, Vendée's swashbuckling historical theme park is second only to Disneyland Paris in terms of visitor numbers in France. But what's going on here during lockdown? There may be none of the two million annual visitors swarming the grounds, but with such a complexity of structures, systems and species to maintain, it couldn't be as simple as downing tools and abandoning ship. We find out how the technicians, designers, gardeners and animal trainers are continuing their work.
https://franceuncovered.com/2020/04/30/behind-closed-doors-puy-du-fou/
LA CITE DU VIN: The Wine Museum in Bordeaux
Located in Bordeaux, the Cité du Vin has provided a unique experience to 400,000 visitors every year since its opening in 2016. With its iconic architecture, the museum's different experiences and exhibitions are dedicated to promoting wine culture and heritage around the world. Due to the current lockdown, its temporary exhibition 'Drink with the gods' has been postponed to spring 2021. Marion Eybert explains the processes behind postponing an exhibition and how the teams at the Cité du Vin are currently adapting to their new work conditions during the lockdown.
https://franceuncovered.com/2020/04/30/behind-closed-doors-la-cite-du-vin/