Free Flights to Japan for Travel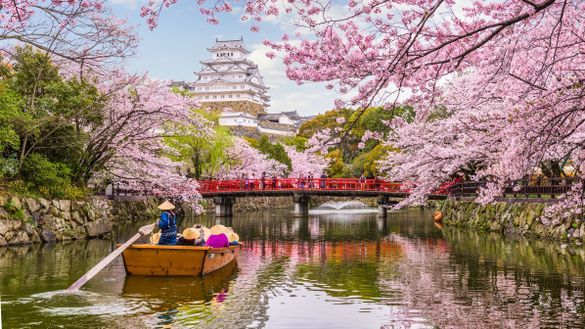 ---
Starting 8 October, and for one week only, Wendy Wu Tours, the UK's leading touring specialists to Japan, are offering FREE flights across all group tours to Japan. With savings up to £800 per person throughout February to November 2021 and 2022, these departures take in two of the greatest natural shows on earth, Japan's spectacular spring cherry blossom as well its impressive autumn leaves extravaganza.
Commenting on the offer, Wendy Wu, founder and CEO Wendy Wu Tours said: "Japan is proving to be our number one best-selling destination for 2021 and 2022. Carrying full 'air bridge' and official recognition by the UK government as one of the safest places to travel in the world, it's clear to see why Japan is the must-visit destination for 2021 and 2022. Ms Wu goes on to say: "Japan has seen massive investment in infrastructure and accommodation over the last few years, in the run up to the 2021 Olympic Games, and with this now completed and available to visitors, travel over the next two years represents a great opportunity to benefit from these new and impressive facilities."
This free flights offer applies to departures from ALL UK airports and covers All airlines. Departures include the operators NEW 21-day 'Japan by Rail' (from £8,990pp) – UK's first epic three-week, three island, fully inclusive rail journey in Japan covering the length and breadth of Kyushu, Honshu and Hokkaido. The ultimate Japan rail adventure following the most scenic train journeys in Japan; NEW 11-day 'Experience Japan' (from £5,190pp) the perfect holiday for your first visit all within an easily manageable 11-day timeframe. In addition to the all of the 'must see' sights such as Osaka, Nara, Kyoto, Mount Fuji and Tokyo; Plus, flagship tours, 17-day Japan Uncovered from £6,640pp and 11-day Jewels of Japan from £4,940pp.
Offer ends 14 October 2020.
Visit www.wendywutours.co.uk for more information plus full details of Wendy Wu's new holiday collection for 2021/2022 and pioneering new 'Travel with Confidence' programme.
– Ends –
Why travel with Wendy Wu Tours?
With over 20 years' experience, Wendy Wu Tours is recognised as market leaders in specialist travel to Asia and South America. The company offers a portfolio of group, private, solo and tailormade tours in over 40 countries across Asia and South America. All tours come with a fully inclusive price with no hidden extras and include the best award-winning guides in the business. In addition to all major airport gateways, you can choose to fly from many regional airports, again returning to the airport of your choice. There's no visa hassle with Wendy Wu Tours as we have a dedicated visa reception team who will take care of everything for you, plus the service is included in the holiday price. With a team of highly trained consultants, all of whom have travelled extensively throughout Asia and South America, on hand to help you every step of the way it's no wonder that Wendy Wu Tours continually receive outstanding customer satisfaction reports. ABTA, ATOL and IATA accreditation means every holiday booking is secure, giving full financial peace of mind.
Our customers' safety and wellbeing is and has always been our highest priority. In the wake of COVID-19, stringent safety management processes have been incorporated into all of our holidays, ensuring the safety of our customers and local staff. These new measures include protection whilst travelling, sightseeing, at mealtimes and at hotels. Guided by the UNWTO (United Nations World Tourism Organisation) and WTTC (World Travel & Tourism Council) as well as local government regulations, our protocols include personal protection, extensive disinfecting as well as social distancing measures.
About Wendy Wu
Wendy Wu is the founder and CEO of the multi award-winning Wendy Wu Tours, the number one specialist tour operator to China, Japan and Vietnam in the UK and Australia. Established in 1998, and with offices in London, Sydney, Auckland, Beijing, Shanghai and Xian, Wendy Wu Tours operates escorted tours and tailor-made holidays in over 40 countries across Asia and South America. Alongside Sir Richard Branson, Wendy is a distinguished member of the esteemed British Travel Industry Hall of Fame, highly commended for her extraordinary commitment and achievements in shaping and inspiring the travel and tourism industry. Wendy is consistently acknowledged as one of the most influential women in travel in both the UK, Australia and New Zealand.
Wendy has been a pioneer in making China and Japan accessible to everyone, having invented the world's first China e-Visa in 2019.
Wendy hails from a medical family, both her mother and father were senior doctors in China, and now lives in London. She is a frequent keynote speaker at travel industry, business and international news events and conferences in the UK, Australia and New Zealand.
Follow and Share with Jetsettersblog.