Gambia Experience supports mangrove planting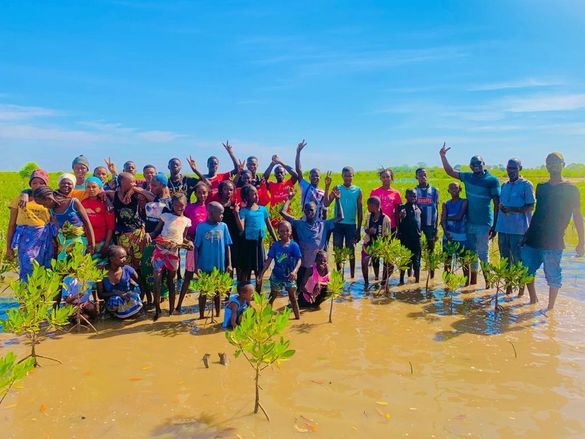 ---
The Gambia Experience is pleased to announce its collaboration with *CAPED (Community Action Platform on Environment and Development) on a tree-planting project in The Gambia. Through its Carbon Offset Scheme, the tour operator will support a large-scale mangrove planting exercise at Soma, south of the River Gambia, where over 150,000 propagules are to be planted to restore 15 ha of degraded wetland.
Planting commenced on December 27th and 28th and will continue this month. The goal is to restore the damaged ecosystem and help combat and mitigate the effects of climate change by increasing the availability of fish, crabs, and oysters; providing a safe habitat for marine life; supporting biodiversity; and reclaiming vast hectares of rice fields that were lost to salt intrusion.
Over 200 women who are rice and oyster farmers, fishermen, and the entire community are expected to benefit directly from the project. A hectare of mangroves can produce over 4 tonnes of fish, 3 tonnes of oysters, and crabs, as well as other seafood.
From its base in rural Gambia, *CAPED-Gambia operates as a grass roots non-profit organisation, which was founded by inspirational conservationist Momodou Inkeh Bah. Aged just 36, Bah received the Commonwealth Point of Light 200 award in October (22/10/21), from 10 Downing Street, in recognition of his shining example of making positive environmental change. CAPED's focus on agriculture, environment, public health, education, and youth empowerment within The Gambia has had great impact, and its mangrove planting project is the latest one of several impressive schemes The Gambia Experience has supported in recent years.
In addition to tree planting, The Gambia Experience has further demonstrated its ethical ethos through its Community Development Fund (CDF). Set up to provide funding and support to villages by matching customer donations and contributing funds in exchange for completed customer holiday questionnaires, it has supported projects that have included the implementation of solar power and the construction of school facilities.
ENDS
For more information email press-office@serenityholidays.co.uk
For more information about The Gambia Experience Offset Scheme and Community Development Fund, visit
https://www.gambia.co.uk/carbon-offset-scheme
https://www.gambia.co.uk/our-company/community-development-fund
The Gambia Experience is a trade name of Serenity Holidays, an independent and fully bonded tour operator under ATOL 1866 and a member of ABTOT 5216, ABTA, IATA and AITO. Now in its 35th year, The Gambia Experience is proud to be the UK specialist to the destination and offers a year-round programme featuring the widest choice of accommodation along with excursions and tours and direct UK flights.

Follow and Share with Jetsettersblog.