GIC The Villa Collection's Azure Seas and Sunny Greece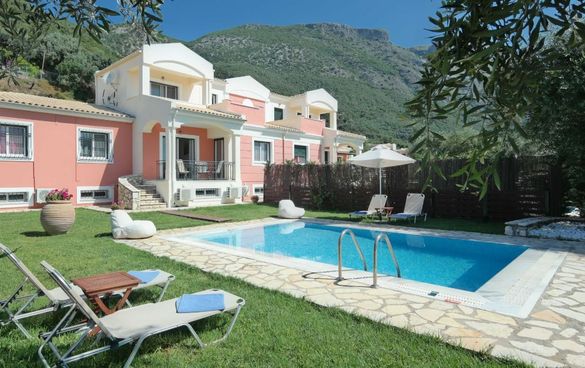 ---
Book now for July, August, September and October holidays!
Herete!  (Good Afternoon!)  And what a very good afternoon it is, with Greece now open for tourism (as of 15 July), to visitors from Britain.

The Hellenic state has done rather better than we have in the UK on the Covid 19 front, with under 200 deaths amidst its 10.7M population (UK numbers are around 45,000 deaths with a population of 67.9M).
The Greek Tourism Minister has confirmed that Greece is looking forward to welcoming British visitors back to the country, with direct flights having commenced yesterday, 15 July, and that it has taken all due steps to protect both visitors and Greek nationals from any potential risk of infection.
Chris Wright, MD of GIC The Villa Collection, has just returned from a pre-opening trip to Greece and stayed on Corfu.  He says: "It was a joy to see those endless vistas across the sea, intense blue skies, olive groves in the sunshine and people enjoying themselves in the lovely warm July weather – and no crowds.  Visitor numbers are currently much at April levels.
"In my view, visiting Greece in 2020 will be an unforgettably joyful experience, and one to remember and to talk about for many years to come.  All the normal welcoming smiles are there, and all those I met were looking forward hugely to welcoming British visitors back.
"I personally encourage everyone to revisit Greece; our reservations team looks forward to assisting with bookings together with information that will reassure.
"And, of course, we have some excellent deals on offer. One week at a GIC The Villa Collection property with private pool, sleeping up to six people (three bedrooms) will cost just £899 pp. Staying at San Nikolas Villa on Corfu, this includes flights (LGW), 20 kg of luggage per person and car hire (with our lovely reps to meet you at the airport). There are villas to suit couples, families, groups of friends and more, at all budget levels, from modest to extravagant – perhaps for a special occasion.
"Whether or not you are pushing out the boat or simply seizing the opportunity to get away, we have properties of all shapes and sizes, to suit all budgets.
"It is most definitely time to return to the Greece that we all know and love!"
Simple steps taken by the Greek government to ensure health security for all include:
A form (PLF, or Passenger Location Form) to be completed online at least 24 hours prior to travel; this will generate a code which you should show on arrival at the airport (either on paper or on your mobile phone).
Ad hoc passenger tests (a simple swab) on arrival.
Social distancing (1.5m) is requested if you shop indoors in a supermarket (enjoy the air conditioning to cool down slightly while shopping!).
Even the smallest of shops or businesses will accept contactless payment by card, by law.
Masks are required in taxis or on public transport, but not elsewhere.
The Minister of Tourism has also confirmed that any visitor who falls ill will be looked after by the Greek health system at no charge.
To book, call GIC The Villa Collection (www.gicthevillacollection.com), telephone 020 8232 9780.